Photos of Wigan
Photos of Wigan
Album Contents
Album Contents
Wigan Album
Liptrot family.
4 Comments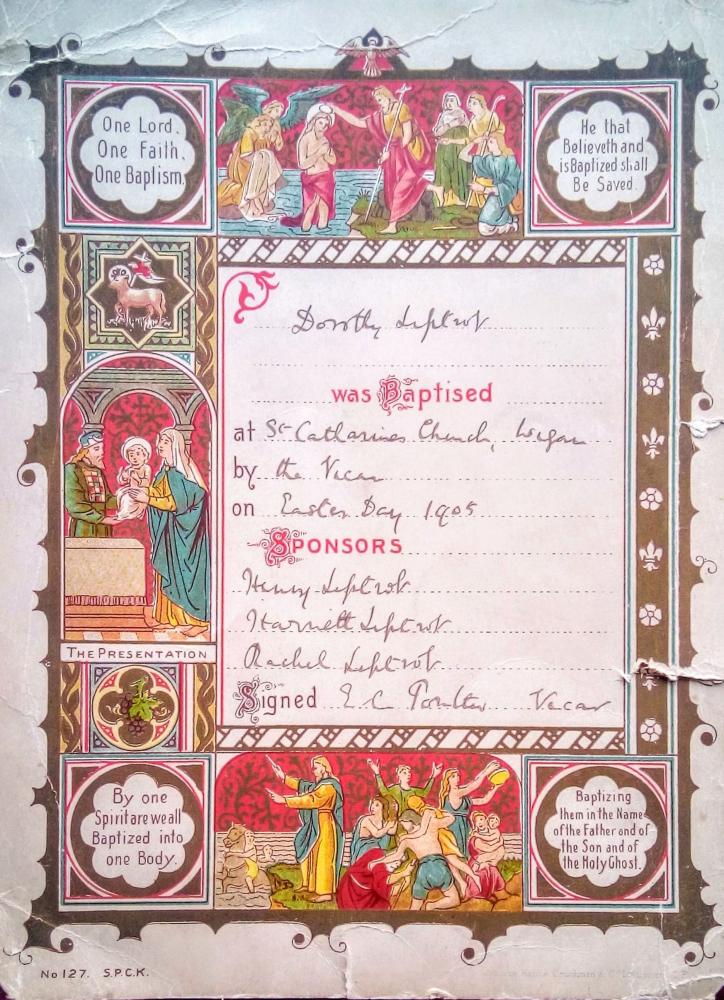 Illustrated Christening Card.
Photo: stuart liptrot
Views: 431
Item #: 32825
Christening card for Dorothy Liptrot.
St.Catharines Church . 1905.

Comment by: Elizabeth on 19th December 2020 at 17:37
What a lovely card to mark a baptism.
Comment by: Edna on 19th December 2020 at 18:27
I agree Elizabeth, this card is beautiful.
Comment by: Barrie on 26th December 2020 at 09:50
This must be have been the standard baptism card of the era as in my family's The Holy Bible past down from Father to Son, I have a card exactly the same for my Fathers younger sister Nellie Winifred born 8th October 1905, baptised 9th November 1905 and died 5th October 1906. This card says The Parish Church of Newport Pagnell and was carried out by the Curate who signed it. As far as I know it is the only one in the family. The Bible is a heavy weight with metal covers and clasps. It was given to my grandfather in 1877 when he was 18. I think these were popular in the Victorian era.
Comment by: Barrie. on 26th December 2020 at 12:01
Further to my comments on the family bible, browsing through "Assorted" of the WW album, #27864 shows a similar bible from an entry in 2016.