Photos of Wigan
Photos of Wigan
Album Contents
Album Contents
Wigan Album
Holland family
12 Comments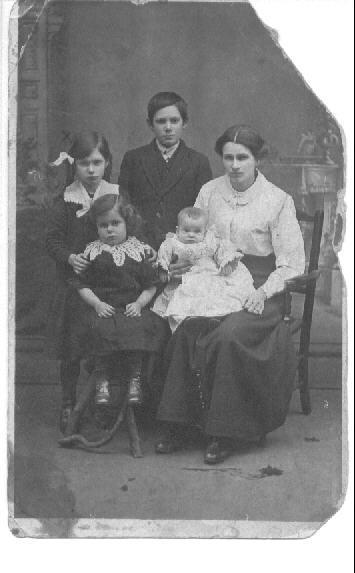 Holland Family, Woodhouse Lane
Photo: Sandra Moore
Views: 1,734
Item #: 3279
Unknown Holland Family (can anyone name them)
Just found out this is my Grandma Elizabeth Holland with Uncle James, Aunty Ethel, Aunty Lily, Aunty Elsie
Comment by: Lynn on 10th August 2007 at 18:39
Was James Holland related to a John Holland from Canal Street
Hi John Holland was born 21 Holt St, 25 Dec 1921. Father James Mother Elizabeth nee Bate, they did live in Canal St. just found a lot more info on John
John had brothers James, Thomas, sisters Ethel,Lily,Elsie,Edith my mum
Comment by: Jacqui on 5th November 2007 at 12:20
Does this Holland family have anything to do with Aaron Holland, Clogger. Aaron married Jane Peers.
Comment by: kelly holland on 1st December 2007 at 09:39
hiyah i wonna no if any of these are related to me? :)
Comment by: Sandra Moore on 10th December 2007 at 15:27
Hi kelly my Mother Edith Holland was born 21 Holt St, they lived, Canal St, & 294 Woodhouse Lane Wigan, from about 1913. who where your Hollands
Comment by: kath kirwan on 23rd September 2012 at 19:26
I am researching the Hollands of Patricks Row, are there any links to this family please? Any info gratefully received!
Kath, I am related to quite a lot of the Holland's from Patricks Row. My E Mail is attached
I am looking for any relatives of Barbara M Holland who married John Blinston in 1957 in Wigan Parish church, before going to Australia. I would love to have news of her. Thank you.
Please could you give me any information on John Holland and what happened to him. Many thanks x