Photos of Wigan
Photos of Wigan
Album Contents
Album Contents
Wigan Album
Myers family
15 Comments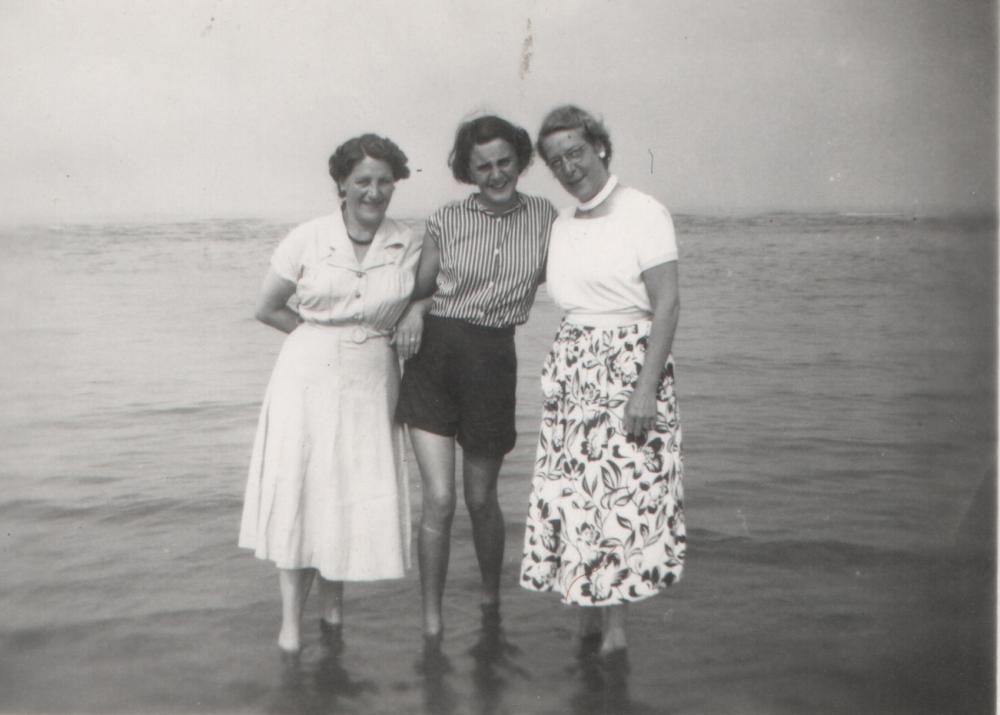 Blackpool summer holiday
Photo: Adrian Roxburgh
Views: 1,606
Item #: 32424
Vivien Myers with her Aunt Jane (Jenny) on right and her Mum Florence on left at Blackpool in the late 1950s.
Comment by: Terry on 26th May 2020 at 13:27
This site used to be about the history of the Wigan District. Now it seems to be a free alternative to the Cloud or A photo hosting site where people can dump their family albums.
Comment by: Adrian Roxburgh on 26th May 2020 at 19:04
These are Wiganers on holiday in the 1950s. Its social history. This website asks for peoples old Wigan related photos. So whats the problem?
Comment by: RayW on 27th May 2020 at 08:19
Adrian Roxburgh. You can get too much of a thing.
Everybody has pictures of family on holiday. They aren't of special interest even if they come from Wigan.
Comment by: Kathleen on 27th May 2020 at 10:10
Hear hear Ray W. You definately can get too much of something.
Comment by: Adrian Roxburgh on 27th May 2020 at 12:03
Fair enough I was only thinking they were interesting from a fashion sense.
Comment by: Pw on 27th May 2020 at 19:27
No problem to me Adrian.l like looking at old photos and find them interesting,snapshots of the past.
Comment by: DerekB on 27th May 2020 at 20:14
Adrian, thanks for these photographs of a cousin and aunt who I last had any contact with in the late 70s.
Hi Derek, which bit of the family? I would love to connect you to the family tree. Also i have more photos that i could email you if you like ?
Cheers
Ady
Comment by: Veronica on 28th May 2020 at 11:25
Reminds me how people in the 50's, when I was a child ' dressed up ' to go on the sands at Blackpool. Men with their trousers rolled up and women hitching their skirts up to go and have a paddle. How things have changed in 60 odd years. Lovely clear photos, I wish I had some photos like this to bring back memories. Not many owned cameras then.
Hi Adrian. I am from the Bond family. My father Thomas, or Tommy as he was generally known, and my Auntie Florence were brother and sister. Florence being the youngest of five girls and four brothers. Vivien was born in the same week in 1943 as my late sister Kathleen. I would be very interested if you would e.mail any other photos you have and I am curious in your connection to the Myers family. Thank you.
Comment by: Adrian Roxburgh on 28th May 2020 at 18:04
Hi Derek,
Wow ! hello, yes Florence was my grandmother. What a lovely surprise. Ive just emailed you!
love the photographs Adrian no need for all the negative comments my grandma was frances bond sister of Florence think your mum will remember my sister Julie more pass on our regards to her xx
Comment by: John G on 30th May 2020 at 19:27
Adrian Roxburgh: I'am so made up you found some long lost relations, this is what Wigan World is about, I bet you feel over the moon and shocked at the same time. Terry/ Ray W / Kathleen go and have five minutes in the sin bin and eat some humble pie.
Comment by: Veronica on 31st May 2020 at 08:04
I was fortunate enough to find photos on here of my Grt Grt Grandfather and Great Grandparents and a photo of my grandmother as a little girl on my maternal side of the family. Also photos from my paternal side of family. I also posted 2 photographs of an Aunt who had two daughters who had never seen them before as she had died when they were children. You can imagine their joy. I was in touch with people I had never met who were part of my family. The people category is for those type of photos, very handy when searching Family History. Folk who complain about them should post photos themselves if they can find anything better.
Comment by: Adrian Roxburgh on 31st May 2020 at 22:07
Thank you John and Veronica for the lovely warm words.. Yes its amazing that Derek and Sheila spotted my posts. It has connected us after a 50 year gap !!! fantastic.