Photos of Wigan
Photos of Wigan
Album Contents
Album Contents
Wigan Album
Conroy, Mary Agnes
12 Comments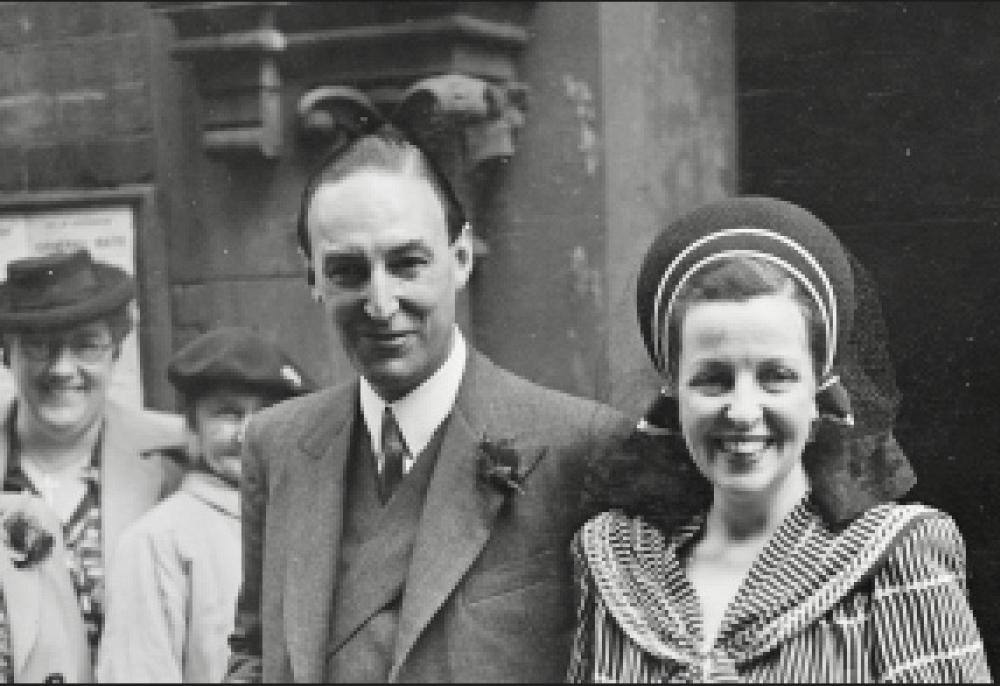 CONROY WEDDING
Photo: Keith
Views: 1,619
Item #: 31462
Extracted from a newspaper report.......
A photo from 1946, showing the marriage of Mary Agnes Conroy, a member of a prominent Wigan Roman Catholic family, which has been associated with the wholesale fruit trade for three generations, yesterday became the Countess of Winchilsea.
The bride wore a brown and white-striped dress with brown hat and short brown veil and carried red roses.
She is one of a family of seven and met the Earl while working at Delamere Forest Sanatorium Cheshire.
Comment by: Helen of Troy on 18th August 2019 at 21:07
We have a wooden apple crate or maybe it was a veg box in our garage that has been carted around by my family for years..on the side it is stamped with the words Conroy Bros, Wigan.
Comment by: Veronica on 19th August 2019 at 07:43
There was a small greengrocer's shop on a corner in Scholefield Lane of the same name, were they the same family? I vividly remember going there many times.
Comment by: Roy on 19th August 2019 at 11:01
We of the 'right' age will remember Conroy's very well their fruit outlet was situated on Hope St, on the Hope St / Marsden St corner probably where the rear entrance to B&M Bargains now is. Another well known Wigan establishment was on the opposite Hope St / Marsden St corner, The Park Hotel.
I knew Michael Conroy,(i presume Mary was his sister) he was a very flamboyant gent and part of the Conroy fruit business and also a senior member of Wigan Old Boys RUFC in their Prospect Park, Standish days. A very keen horse rider who used to ride his horse to the ground on match days and perform his version of equestrianism to the delight of the watching few by jumping the fence in front of the clubhouse, I was fortunate enough to be there on the day he fell off whilst 'performing' which dented his ego somewhat.
Comment by: Roy on 19th August 2019 at 12:17
Just as a matter of interest Mary married Christopher Finch - Hatton the 15th Earl of Winchilsea in London at the Corpus Christi Church. Unfortunately the marriage didn't last very long as he died aged in 1950 at the very young age of 38. The following is part of an article from the New York Times 23rd June 1964.
LONDON, June 23 - Agnes, Countess of Winchilsea and Nottingham, widow of the 15th Earl of Winchilsea and 10th Earl of Nottingham, died yesterday, she was 53 years old. The couple were married in 1946.
Comment by: John on 19th August 2019 at 14:54
Roy, Conroy's was on the other corner of Marsden Street and Hope Street on the same side of Marsden Street as the Market Hotel. The Park Hotel was immediately next to Conroys after you went round the corner from Marsden Street into Hope Street. I bet the area has changed a bit since those days ! but that's how I picture it.
Picture #:4099 shows it how it used to be.
Comment by: jack on 19th August 2019 at 17:19
Roy,I think he was also a member of the Holcombe Hunt.
Comment by: Mick on 19th August 2019 at 21:59
Helen of Troy, Bennie a member of Wiganworld who died a couple of weeks ago was a Conroy
Comment by: Roy on 20th August 2019 at 00:47
John, The Park Hotel and The Market Hotel were virtually back to back. Conroy's was on the right hand side of Marsden St as you looked down towards Mesnes St, as per the photo you directed me to.
Comment by: Mick LD on 20th August 2019 at 07:07
When Conroy's building was demolished (early 1970s?), a branch of Barclays Bank was built on the site.
A Hospice charity shop now occupies the bank building.
Comment by: Roy on 20th August 2019 at 09:32
Thank you Jack, that definitely rings a bell !!
Comment by: Roy on 20th August 2019 at 09:41
John, I've looked at 4099 again this morning,(without alcohol inside me, lol)and you are right about the positions of the two said businesses, apologies.
Comment by: Gabrielle on 22nd July 2020 at 16:25
My father was Peter and Michael was his first cousin. Uncle Michael inherited Conroy Bros. and my father inherited Peter Conroy both wholesale fruit and veg. businesses which moved out to Maurus Bridge in the 70's. My mum is Beth now 88 years old. Her sister Rita married Michael who sadly died from MS about 1980, my dad died 2 years later. His brother Faud who was also in the business had a tomato farm at Aughton. I am one of five children, my dad was one of 8 children. Mum and Rita had brothers Mark and Anthony.