Photos of Wigan
Photos of Wigan
Album Contents
Album Contents
Wigan Album
LACE, Thomas Livingstone
6 Comments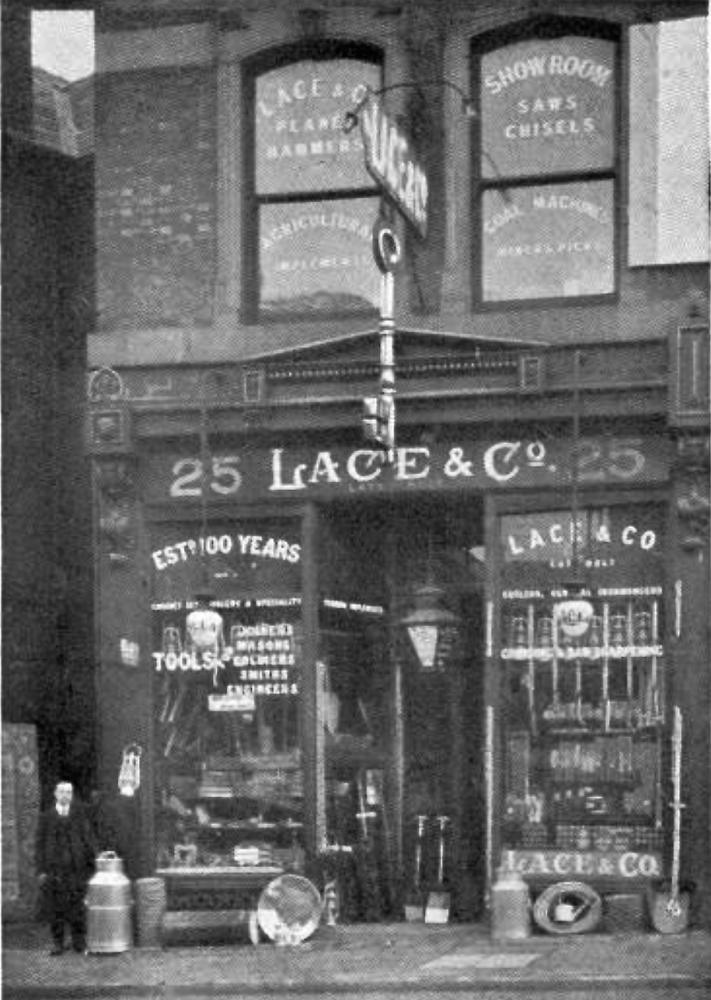 Lace & Co., 25 Market Place.
Photo: Keith
Views: 1,974
Item #: 30811
A photo taken from the 1910 Wigan Old Borough Guide, of Lace & Co., 25 Market Place, Wigan. This is now occupied by "Wigan News" which is itself next to "Greggs". The alleyway shown is Coopers Row.
The gentleman standing to the left may be the owner, if so, this is Thomas Livingstone Lace (b.1860 - d.1946 aged 85) who lived in Kenyon Road.
This was the gentleman who revealed he'd interviewed sons of the workers at Haigh Foundry of the 1850's, and confirmed that the Laxey Wheel in the Isle of Man, had indeed been constructed at the Haigh Foundry. He had a special interest, he'd been born at Foxdale in the Isle of Man.
By comparison the frontage of "Wigan News" presents an anaemic and characterless frontage compared to Lacey's 1910 Victorian hand crafted and individualistic shop front. Plastic v Wood - only one winner, just my opinion.
Comment by: irene roberts on 2nd November 2018 at 08:33
Wonderful photo. I thought it was Lace's Confectioners until I clicked on it. I wonder if it was the same family who owned Lace's Cake-Shop? I notice when we visit places like Skipton and Settle, and even small villages like Grassington, they still have ironmonger's/hardware shops and butcher's shops. Why have they disappeared locally?
Comment by: Veronica on 2nd November 2018 at 14:08
I bet their garden tools were made to last years and years - unlike today's. I bought some shears which were stainless steel - guess what the wooden handle split! ( Spear and Jackson!). Hardware shops like Laces were wonderful to 'poke' about in I recall Adam's hardware shop in Scholes - and Sherringtons.Every Saturday I would buy things for my 'Bottom Drawer'. From cutlery to pegs to tea towels - anything I thought I would need. At least wooden pegs lasted far longer than today's which seem to split in two after a few months! Plastic pegs - I won't say anymore!
Comment by: DerekB on 2nd November 2018 at 15:00
This shop was still there in the mid 1950s. At one time they also had a branch on Wallgate at the top of the passage leading to the Princes cinema.
Comment by: Neil Cain on 11th January 2019 at 19:23
My dad's tools were bought here. I still have them...beautiful chisels,planes, saws etc. I also have the bill...around £7 the lot.
Comment by: Simon Walsh on 29th January 2021 at 11:36
Anthony Craston was Brock Mill Forge, Haigh Foundry manager for 25yrs. I found some evidence that the Laxey Wheel or at least some of it was made at the Haigh Foundries - Wigan Observer and District Advertiser - Wednesday 15 October 1902

https://www.britishnewspaperarchive.co.uk/viewer/bl/0001974/19021015/091/0005