Photos of Wigan
Photos of Wigan
Album Contents
Album Contents
Wigan Album
LOCAL LADS IN CAMP 1914
10 Comments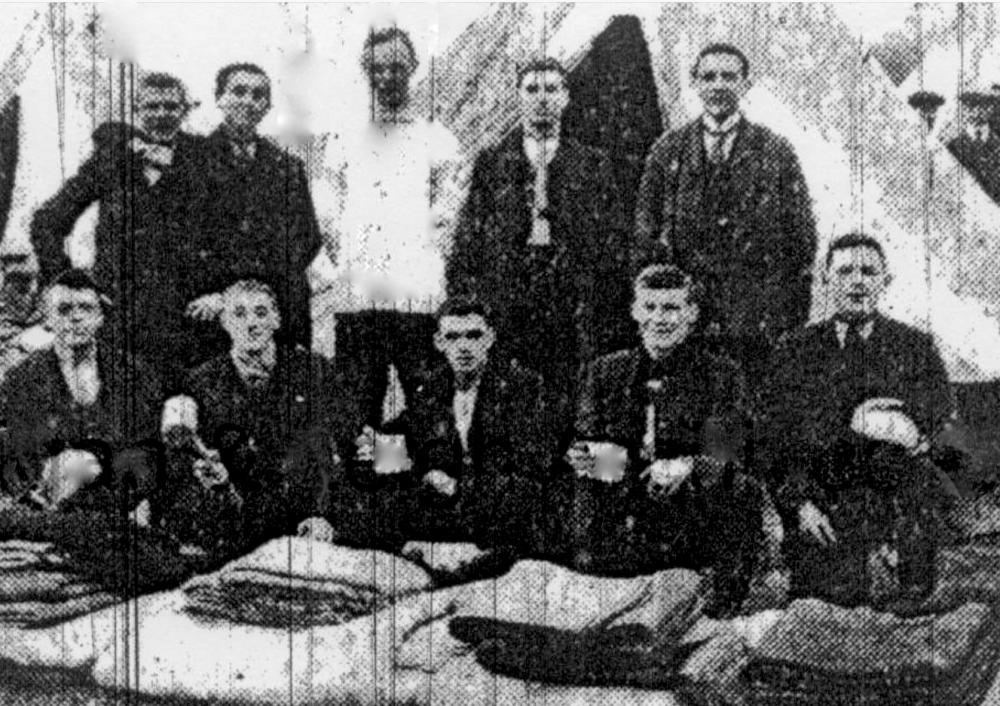 Church Lads' Brigade Battalion, King's Royal Rifle Corps. 1914
Photo: Keith
Views: 1,452
Item #: 30799
A photo taken in October 1914 of local Wigan recruits at their camp based in Denham, Buckinghamshire.
Back row (left to right) :- W. Ball (Platt Bridge), S. Winrow (Haigh), W. Painter (Ashton-in-Makerfield), J. H. Stopforth (Wigan, Acting N.C.O.), H. Livesey (Wigan, Acting N.C.O.).
Front row (left to right) :- F. Green (Wigan), Tom Stopforth (Wigan), Wm. Taylor (Wigan), A. Sinclair (Wigan), and Hy. Cartwright (Haigh).
The following description appeared alongside this photo in the Wigan Observer on 24 October 1914, with the title "Local Lads in Camp"
The photograph is of local lads who are members of the Church Lads Brigade Battalion of the King's Royal Rifle Corps. They are in Golf Station Camp, Denham, Buckinghamshire. Acting Corporal Hy Livesey sent the following daily routine of camp training, which is as follows :- "6 a.m. Reveille. 6. 30 a.m. Early tea. 7 a.m. Recruits' parade, 8.15 a.m., Breakfast, (bread and jam or brawn or butter, boiled hams). 10 a.m., Second recruits' parade. 1 p.m., Dinner (silly, i.e., potatoes, meat, turnips, onions, barley). 2.30 p.m., Third Recruits' parade (route march 10 to 12 miles). 5 p.m. Tea (bread and brawn or jam or butter). 9.30 p.m., First post. 9.40 p.m., Roll Call. 10 p.m., Last post. 10.15 p.m., Lights out. Rifles were issued on Monday to "C" Company. Captain Barnard is in charge of "C" Company, and Acting-Captain Lindsay, brother to the Earl of Crawford and Balcarres. Lieut. Gee (son of Colonel Gee, founder of C.L.B.), is in charge of one line or platoon. I have been acting as corporal since the 7th inst., and Harold Saunders, son of Mr George Saunders, fruiterer, Chapel-lane as captain's orderly, etc., J Hy Stopforth is also acting as N.C.O. No permanent appointments will be made until after N.C.O. examination. The food is splendid, and the health of the camp very good. We hope to be on the Rhine by Easter. All men have to grow moustaches? All the Wigan men have not yet been mobilised. Uniform was issued to "C" Company last Saturday.
They went into the 16th Battalion of the KRRC - and three of them were killed - William Ball and Harry Livesey on the Somme in 1916, and Henry Cartwright in 1918.
Comment by: Josh on 21st October 2018 at 16:09
On the Commonwealth War Graves Commission site I've sadly been able to trace two of these Wigan lads who died in the conflict. Rifleman Wilfred Taylor Serv. no., R/19811, died 8 Jan., 1917 aged 22 of the 8th Bat. King's Royal Rifles, son of John and Sophia Taylor of Wigan and Lance Corporal Henry Cartwright Serv. no., C/257 died 13 April 1918 aged 24 of the 16th Bn., King's Royal Rifle Corps, son of the late John and Jane Cartwright, Bolton Road, Aspull.
Two others I strongly suspect also perished, F Green and William Ball but no details of their home origin is stated so I cannot be 100% sure., but it looks as if 40% of this group may have not returned.
Comment by: Josh on 21st October 2018 at 17:25
Looks like half of these poor boys did not return home.
Josh - are you sure about Wilfred Taylor? The caption gives Wm. Taylor, and the CLB Battalion was the 16th.
Comment by: Josh on 25th October 2018 at 21:37
I think you are correct Reverend. I hadn't noticed that his surname was William not Wilfred. The fact that Wilfred came from the Wigan area misled me, I must be more careful, apologies all round. Strangely I've not been able to find Wilfred again despite re-visiting the CWC site and although I've found a couple of these men in the 1939 register, married with family living in Wigan there were simply too many Taylors to do likewise. "Lest we forget".
Comment by: Josh on 25th October 2018 at 21:49
Ooops! Of course I meant christian name not surname.
Comment by: Keith on 16th November 2018 at 14:14
According to the King's Royal Rifle Corps Chronicle, a certain Lance Corporal F Green was honoured with the MM (Military Medal?) on 1st August 1917. Whether it is the same F Green as above is unproved but it seems to me quite likely.
Comment by: Pete on 19th December 2018 at 09:48
John Henry Stopforth (4th from the left back row) was my grandfather and Tom Stopforth (2nd from left on the front row) was his brother. Both survived the war although I know my grandad was wounded - from research I've done, 5 of the 10 were killed in action.