Photos of Wigan
Photos of Wigan
Album Contents
Album Contents
Wigan Album
CATTERALL
13 Comments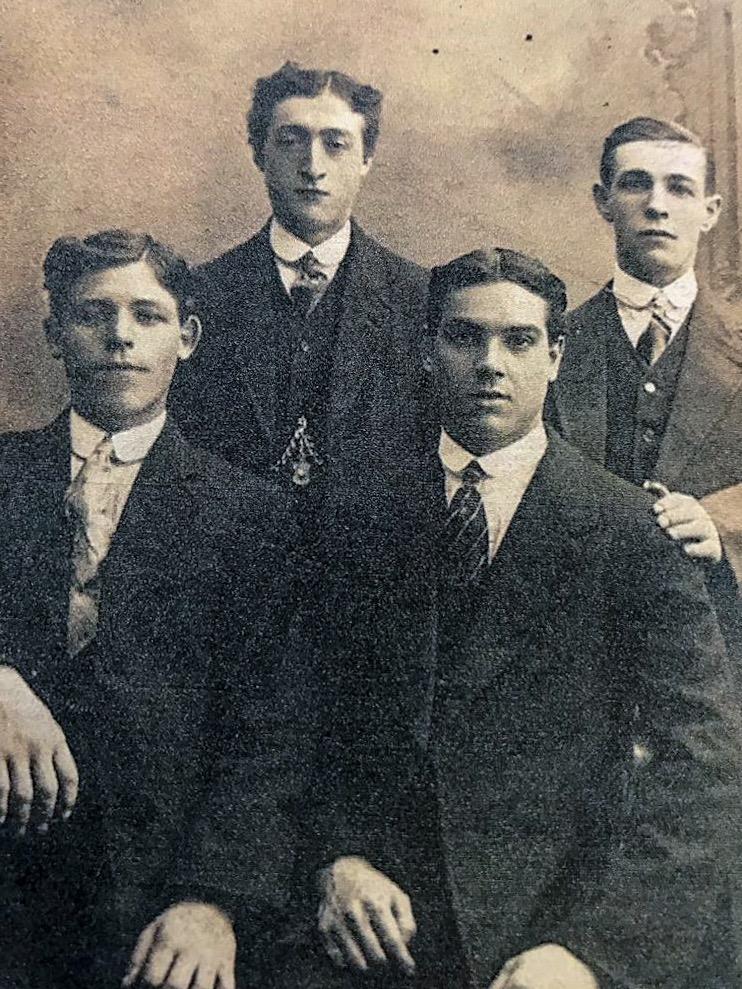 Paula's Photo
Photo: DTease
Views: 1,586
Item #: 30663
Paula, I was getting a stiff neck trying to look at your photo so I turned it round. Hope you don't mind.
Comment by: Veronica on 25th July 2018 at 00:04
Phew! That's better now we can see how handsome they are!
Comment by: John G on 25th July 2018 at 10:02
Veronica: This is only my old grey cells working overtime, but when the Rev David Long stated that Samuel married a woman named Betsy from Ashton then I got to thinking. I used to go to Downhall green primary School North Ashton with a young lady named Susan Catterall, and ironically she had the looks of the stocky gent on the front right, also the names Joseph and David Spring to mind, could be her Father or Brother. You never know Veronica this could be another piece of the jig saw puzzle.
Comment by: Veronica on 25th July 2018 at 10:32
You could be right John G all these Catteralls may have sprung from the same nest a couple of centuries ago! It's fascinating really.
Comment by: Joseph on 25th July 2018 at 11:31
Gent to the left at the back is the image of John Lennon.
Comment by: Veronica on 25th July 2018 at 13:08
He certainly does look like John Lennon and the one on the front at the right looks a bit like Gorgeous George Clooney...
Comment by: Maureen on 25th July 2018 at 13:13
Comment by: Veronica on 25th July 2018 at 16:08
Glad you're back Maureen you seem to have been 'missing!'
Comment by: Maureen on 25th July 2018 at 16:57
I look in every day Veronica..I woke up when I saw his handsome face.ha ha.
Comment by: Johnny on 28th July 2018 at 08:14
And I thought you only had eyes for me, Maureen! He He!
Comment by: Maureen on 28th July 2018 at 10:38
Most definitely Johnny...
Comment by: Johnny on 29th July 2018 at 09:11
Maureen...Was it the Levis that swung it? ;-)
Comment by: Maureen on 29th July 2018 at 12:11
Yes Johnny,and not forgetting the bonny face.
Oh gosh. I haven't looked at this page for a while and hadn't seen all of your comments. I already know quite a bit about my great grandfather Samuel so I better put in the loop before you start investigating more. Samuel was born on April 4 1884 in Goose Green. His father Joseph was 26 and his mother Margaret was 27. He married Betsy Atherton on July 20, 1907 in Ashton in Makerfield and they had four children during their marriage. He died as a young father on August 8, 1917, in Poperinge, West Vlaanderen, Belgium at the age of 33. He was baptised at St John the Divine in Pemberton. He was awarded the Military Medal for which I have details. I have photographs of Samuel Catterall from my personal collection and from Wigan Observer. I also have a soldier photo of James Catterall from the Wigan Observer. The issue is these faces don't seem to obviously match my photos. I can tell you they were a poor family, all coal workers. James and Samuel are both listed on the St Nathaniels' Church war memorial. Samuel Catterall is also on the roll of honour names at St Luke's and James is listed on the Victoria Pits Plaque in memoriam WW1. There was also a brother Peter which I can't quite work out if he is half brother because he seems to change his name between Taberner and Catterall. In my family tree I currently have James and Samuel the child of Joseph Catterall and Margaret Taberner and I have Joseph the son of James Catterall and Alice Belshaw and I have James the son of Thomas Catterall and Mary Holding but those older generations I am yet to properly confirm. I was just hoping I might get lucky and someone might recognise a face.