Photos of Wigan
Photos of Wigan
Album Contents
Album Contents
Wigan Album
Brooks Family
9 Comments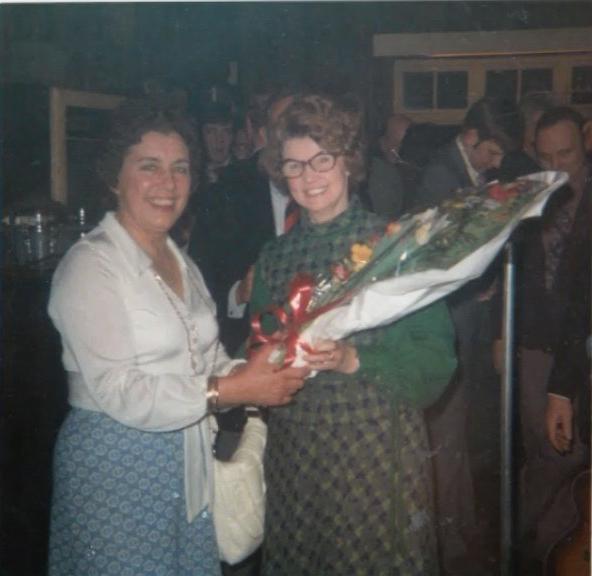 Ivy Brooks Retires
Photo: Gerry
Views: 1,425
Item #: 28619
Shows Inspetor Ivy Brooks (left) at her retirement party
Comment by: Albert on 6th November 2016 at 20:32
When was this photograph taken?. Knew Ivy well, from my days in the Wigan Borough Police. A great lady, with a great sense of humour. Always got on well with Ivy, as I did with all of the other Wigan police ladies.
Comment by: Gerry on 7th November 2016 at 07:09
Sorry i dont know the answer to that Albert the photo was found in an album belonging to my mums aunt Annie (pictured with the flowers) the info as written on the back
Comment by: Mick on 7th November 2016 at 07:44
It would have been in the early to mid 1980s Albert, I don't recognise the venue.
Ivy was Inspector at Pemberton for a short time in 1977/78, before going to work at force headquarters. A real lady and a good 'boss'.
Comment by: Albert. on 7th November 2016 at 10:17
Mick. When I was at Wigan Central, in the late fifties, early sixties. The police ladies were, Sergeant Alice Jewel. Ivy, (I forget her maiden name, that was, then.) Amy. Christine, she married Insp. Basil Whittaker. Margret Higham, she transferred to Lancs. County, on promotion to sergeant. Kitty Holden. There was also one other, Ina, the name Duxbury seems to jangle about in my brain, but I can't be sure. It is such a long time ago. They were just their own small unit, not involved with any particular section.
Comment by: Mick on 7th November 2016 at 11:25
Albert - I believe Ivy was Ivy Russell, before she married Joe Brooks.
I worked with Kitty Holding for a few years, she was one of the communicators on our shift. She retired in 1986, I think.
Some of the other names ring a bell, but I never served with them.
Comment by: Albert. on 8th November 2016 at 19:28
Mick. I know that Amy passed away, I went to her funeral, and I visited her a couple of months previous to her passing. Do you know anything of the others?.
Comment by: Mick on 9th November 2016 at 08:55
Albert - the only one I have seen or heard news of, is Kitty Holding, and that was about two years ago, when I saw her at a funeral.
I did hear the sad news about Amy. Although I never worked with her, I remember her well. A lovely lady.
Comment by: Albert. on 9th November 2016 at 09:31
Thank you Mick for your update.
Comment by: Dave 1624 on 5th December 2016 at 22:10
Totally agree Mick, a lovely, friendly, easy to get on with person, sad to hear she passed on. A complete contrast to some of the others we worked with.