Photos of Wigan
Photos of Wigan
Album Contents
Album Contents
Wigan Album
CATTERALL
24 Comments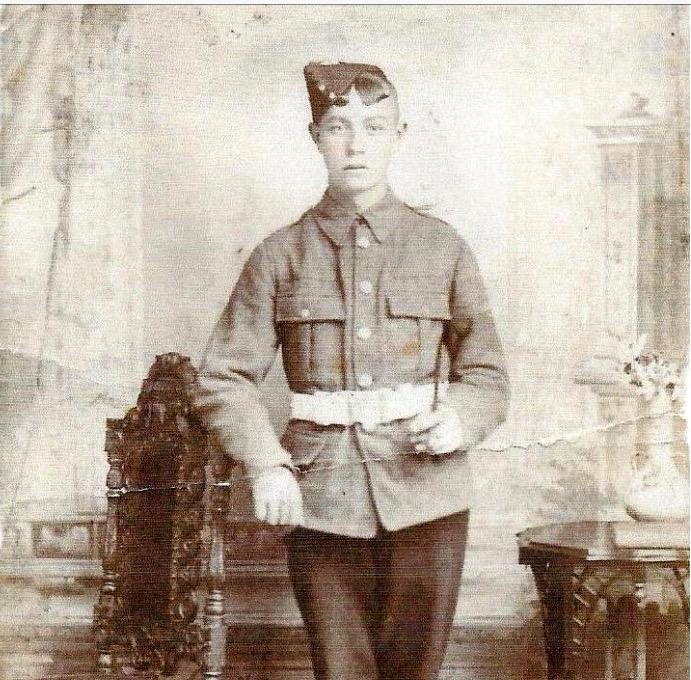 Joseph Catterall
Photo: Veronica Biggadike nee Catterall
Views: 2,789
Item #: 28165
Killed in 1914
There's a vivid description of the Battle of Le Cateau in which he was killed a few days after arriving in France here:
http://www.lancs-fusiliers.co.uk/gallerynew/2LFWW1/ww1Cambria/LeCateau.htm
He is buried nearby. There are two men from Standish, James Duckworth and James Duffy, who must have been among those posted missing that day - their names appear on the Regimental Memorial at La Ferte-Sous-Jouaree on the Marne.
Where were these Catteralls from, Veronica? Another man 'Remembered in Standish' was James Catterall, who appears on the Victoria Pit plaque in St Wilfrid's Peace Gate. His parents (Joseph and Margaret) lived in Walthew Lane, Platt Bridge, and his wife, also Margaret, in Chapel Lane. He was killed on the Somme, aged 34, July 14th 1916. Any relation?
Comment by: Vb on 27th July 2016 at 09:51
Thankyou for your interest and information Reverend. Joseph was one of ten children. On the casualty lists his address is Egerton St for some reason. Most of the children were born around Hardybutts and ended up at Caroline St Ince. There were many Catteralls around Scholes who were probably related. He was only 17 yrs when he died - I do intend to visit his grave sometime in the future. I have not had any luck finding any records of his very short service. I did find his last will and testament leaving quite a substantial amount of money for that time.
Comment by: Maureen on 27th July 2016 at 11:00
VB..my School friend lived at the top of Queen Street off Chapel Lane..and I remember a Derek Catterall used to live nearby...could he be some relation.
Comment by: GW. on 27th July 2016 at 11:29
Only 17... As a proud father of 3 grown sons i can only imagine the heartbreak so many families injured. Lets hope such carnage can never happen again.
Comment by: Vb on 27th July 2016 at 13:33
They might well be related Maureen they were all scattered around Wigan and all coming from large families! (there might be one or two ruffians as well). I have a 3times grt grandfather James Catterall marrying Alice in the very early 1800's at Wigan Parish Church and born in the 1700s -I can't keep up with the comings and goings!
Comment by: Vb on 27th July 2016 at 13:43
It's when you start delving into family history GW that the tragedy comes home to you especially seeing copies of wills and the telegrams the parents received. Out of 5 brothers 2 were killed and Joseph was the youngest. He looks about 12 to me!
Comment by: Albert. on 27th July 2016 at 15:29
If it ever happens again, G.W. God forbid. We will all disappear in one massive carnage, military, and civilians alike. We do certainly live in dangerous, and turbulent times.
Vb - your mention of the family living in Caroline Street caused me to look again at my work on the names on the Ince Cenotaph in Lower Ince Cemetery. There are three Catteralls listed: E, J & W.
I already had the E - Edwin, as he is also on the Memorial in St Mary's church, and the W - William, was easy to pin down because of the Caroline Street address given in the Observer (Wigan Archives), but I couldn't be sure of the J... and your pic and comments have me even more puzzled now. The only J Catterall killed in 1914 was indeed a Joseph - but the details in the Wigan Archive - see: http://archives.wigan.gov.uk/entity/62830 - have him as a 34 year-old living in Wigan - so I excluded him from my enquiries, and have yet to settle on someone to fit the 'J' entry.
You mention a record giving his address as Egerton Street - where is that record, please? It may clear up the issue.
Comment by: Vb on 28th July 2016 at 10:24
Hi Reverend -yes the j is Joseph and the W is William his brother. I went to the Museum at Wigan to find a photograph but there wasn't one as the girl explained it was probably too early but the citation in the Observer has him noted as wounded.(Regt 9519) on the site Soldiers Died in the Grt War he was KI A on the 26th Aug. the photograph shown I thought was William his brother but it must be Joseph as I saw a photo of William in the Archives and he looks older. William was killed in July 1917!! And buried at Dickebush. I have sent the cutting of William to WW but they have not shown it,- probably not clear enough. William was in the Border Regt. I admit I was puzzled about Egerton St.
I've just returned from checking in the Museum - there are two pics of 9519 Joseph Catterall in the Archive - both give the same details of a 34-year-old Boer War veteran - not a 17-year-old.
A mix-up somewhere....
Comment by: Vb on 28th July 2016 at 14:09
This must be William then and not brother Joseph. William was KIA in July 1917 and laid to rest at Dickebush. I know my father was named after him. Having said that the archive picture of William doesn't look much like him on this photograph! Are there any experts amongst people out there who might be able to say if the uniform is a Border Regt one or otherwise????
Comment by: Kas on 29th July 2016 at 00:17
Vb, There is a BR forum on the internet which may possibly help you.
Comment by: Vb on 29th July 2016 at 09:23
Thanks Kas - it's worth a look.
Comment by: Joseph on 30th July 2016 at 11:14
CATTERALL, WILLIAM

Rank:Private

Service No:19271

Date of Death:18/07/1917 Age:23
Regiment/Service:Border Regiment 8th Bn.

Grave Reference: III. E. 5. Cemetery:DICKEBUSCH NEW MILITARY CEMETERY EXTENSION

Additional Information:Son of Levi and Margaret Catterall, of 25 and 27, Caroline St., Ince, Wigan.

Any help?
Comment by: Vb on 30th July 2016 at 14:28
Thankyou Joseph I have the information and his service record. What I am puzzled about is who is the soldier on the photograph as the photograph in the Observer with William's death citation doesn't match this photo. Also it is not the Joseph who I thought it was! The plot thickens!!! He is definitely a member of my family. Regards
Comment by: Kas on 30th July 2016 at 17:04
border-regiment-forum. Wish you well Vb in your search. Face of a magnificent brave young man who stepped forward, like many , when it mattered. All it seems that matters these days to young people is what's on their mobiles. Breaks my heart but angers me more, Good luck
Comment by: Joseph on 30th July 2016 at 21:22
Kas, their sacrifice was so that we and the youth of today could live in relative peace and need only worry about what's on their mobiles. I thank God for that and them for their sacrifice.
Comment by: Kas on 1st August 2016 at 16:50
Absolutely Joseph. Lest we forget!
Comment by: baker on 3rd August 2016 at 13:41
cant help tinking about their poor parents losing at least two of their children.how did they cope.
War was no respecter of persons - not many families lost four sons, as did the Vicar of Haigh.
Comment by: kellyc on 16th May 2017 at 15:16
hi I am doing a family tree and have upto now a james catterall marrys alice have three children leslie Lillian and john catterall, leslie being my grandfather
Comment by: Veronica on 30th June 2017 at 15:29
Sorry Kelly I don't recognise those names! I do have a James Catterall in my ancestry who married an Alice but it was in the early 1800s. They originated at UpHolland.
Comment by: Barry H on 12th June 2020 at 18:41
Apparently I am a descendant of Levi Catterall who was Williams father.