Photos of Wigan
Photos of Wigan
Album Contents
Album Contents
Wigan Album
HARRY WALDER
18 Comments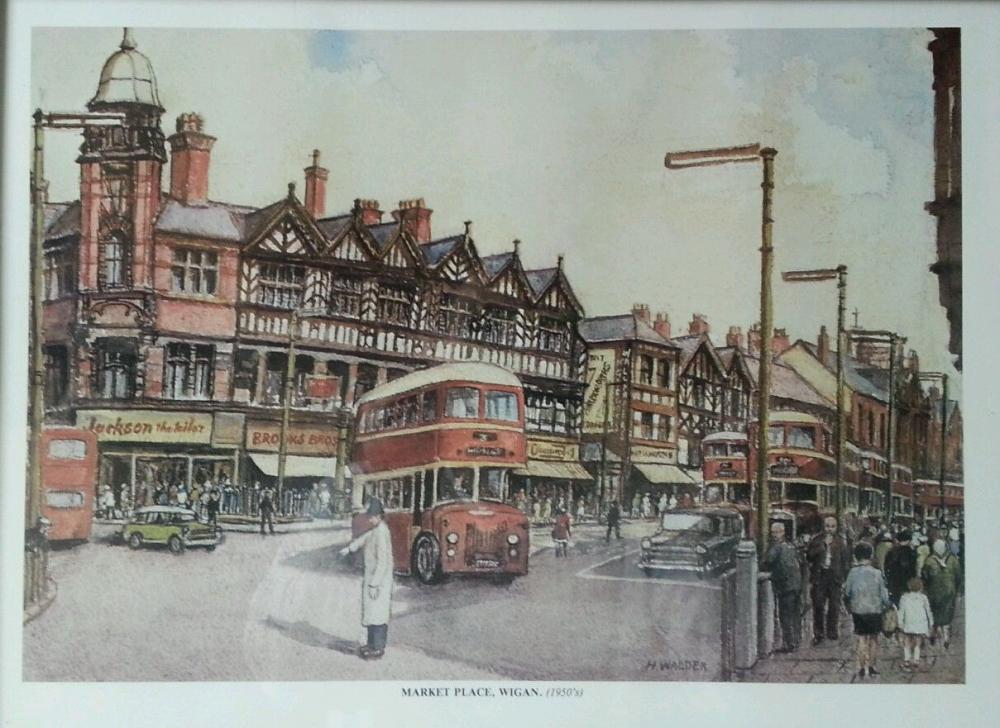 MARKET PLACE
Photo: RON HUNT
Views: 1,995
Item #: 28030
This painting may already be on the web site but I've put the collection of Paintings by Harry Walder into one folder.
Comment by: MarieM on 19th June 2016 at 17:54
Those were the days my friend. We thought they'd never end.
Comment by: Albert. on 19th June 2016 at 18:33
Ron. Did Harry Walder get any public recognition for his very artistic work, as L.S. Lowry did?.
Comment by: irene roberts on 19th June 2016 at 21:13
In my view, this shows far more talent, and "what the people want to see" than Isherwood or Major, but I have no doubt I will be shouted down by the art critics! However, we are all entitled to our own view. This painting is the Wigan we all remember, beautifully executed, in my humble opinion. Well done, Harry Walder.
Comment by: Linda Massa on 20th June 2016 at 06:40
This is the land of lost content, I see it shining plain, the happy highways were I went and cannot come again. Jackson's tailors, spent many times 'snogging' in that doorway waiting for the Standish bus.
Comment by: Mick on 20th June 2016 at 07:53
I remember Harry Walder coming to get his paintings framed at the place I worked, in the early 1970s.
A very pleasant man, who lived in either Brookhouse Street or Spring Street, as I recall.
Comment by: Gerry on 20th June 2016 at 08:21
I worked with Harry Walder Jnr he told me his dad (the painter) sold some of these paintings to Smiths the newsagent on Mesnes St. Smiths copied them and made a fortune selling them on
Comment by: Maureen on 20th June 2016 at 12:57
Harry Walder was a true painter..no squinting to see the meaning,it's there in front of you..and this scene is the scene of my youth,living so close to the town center..it brings back memories of going to the cinemas,the Emp and of course going to the clothes shops with my Mam,who always asked "do you like that love" whenever I looked at something nice...I could go on forever with my memories of lovely Wigan town center as it used to be..
Comment by: Maureen on 20th June 2016 at 14:10
I apologies for the spelling of 'centre',it's this new i-pad. .Irene..they think we're all American.
Comment by: A.WINSTANLEY on 20th June 2016 at 14:33
These painting's are a true reflection of Wigan and should therefore be rightly respected by the borough well done HARRY WALDER.
Comment by: Vb on 20th June 2016 at 15:53
I agree about Harry's paintings they are beautiful and I never tire of looking at them. I have three prints bought from the old Smiths years ago. I have them hanging on the stairway -they are the first things I see coming downstairs in the morning.
Linda
You may have been "snoggin" me!! :O)
Jacksons...where for ten bob a week (50p) you could ge a bespoke suit made! Happy days!
Who could forget the copper on point duty?
I recall he was on a platform on top of Market Place brow!
Comment by: Cyril on 23rd June 2016 at 15:35
he lived on Darlington Street East Mick, front of Dickinson's Bottlers, he had the outside privy for his art studio - true, also he told me he wasn't allowed to sell any of his paintings - not even to his own family due to the contract he had with the Smith's.
Comment by: Albert. on 24th June 2016 at 20:36
On point in summer you wore a light linen coat. In winter, it was a heavy rubber one, with shoulder covers. You breathed in more rubbish from the exhausts of the traffic, after it had chugged its way up Wallgate, than a collier on the coal face. No motorways then, and all traffic travelling north, came through Wigan. On a couple of occasions, when wearing the rubber coat, I got jammed in that rotating door of the pub, when called off point, was it the Red Lion?.
Comment by: Mick on 25th June 2016 at 11:30
Albert - I remember John Lydon telling me the point duty coats were kept in a long cupboard fitted in the recessed doorway of a shop at the top of Library St.
I can't be sure now, but the shop may have been Crook and Edmonson's barbers.
Comment by: Albert. on 25th June 2016 at 13:25
Yes Mick you are correct, but it is so long ago,my memory relating to where the cupboard actually was, I just can't remember. The lamp above this point was installed, prior to me moving to Pemberton.
Comment by: Joe Thomas on 27th June 2016 at 15:33
Johnny the shop in Hallgate used to sell them can't remember shop name