Photos of Wigan
Photos of Wigan
Album Contents
Album Contents
Wigan Album
Mr Justice Walton 1905
5 Comments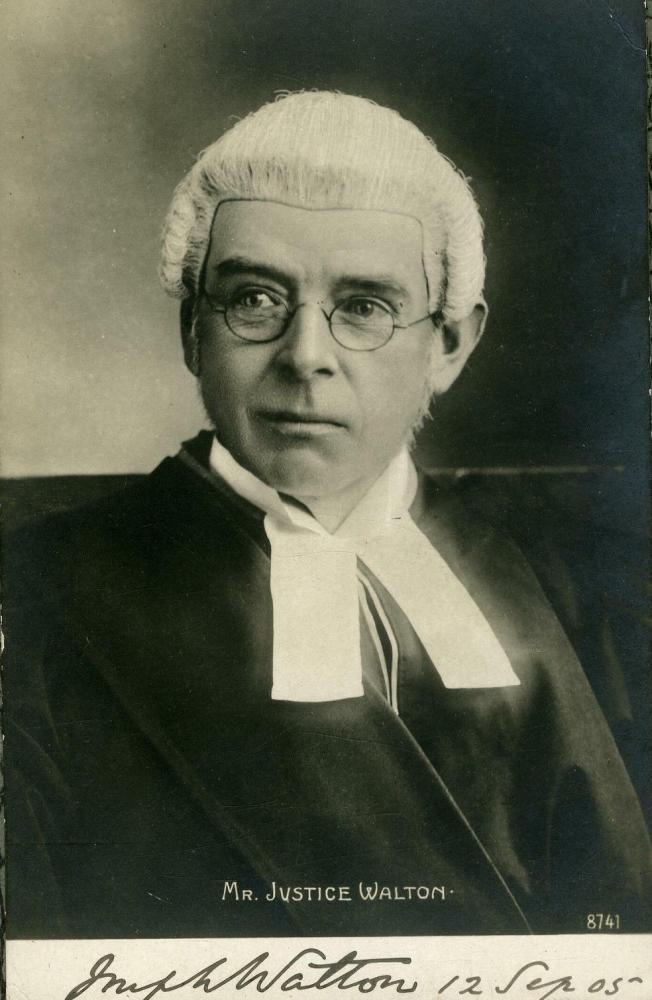 Mr Justice Walton Wigan Recorder
Photo: RON HUNT
Views: 1,449
Item #: 26906
Signed postcard dated 12th 1905. He was born in 1845 and died in 1910
Comment by: Stuart Naylor on 25th October 2015 at 12:10
He looks like a 'hanging' judge (a strict judge)
Comment by: John G on 27th October 2015 at 20:45
Ron: Have you got any history on the judge, to me looking in his eyes I think he would have been a decent judge, stood no messing but decent.
Comment by: RON HUNT on 27th October 2015 at 21:03
Found this I'll see if I can find any more info.

THE LATE MR. JUSTICE WALTON. — The following, says The Law Times,

is an interesting statement in connexion with the life of the late Mr. Justice Walton. In the year 1894 I had a case in which I acted for the plaintiff against the Cheshire County Council. I instructed Mr. Joseph Walton, K.C., and the present Mr. Eldon Bankes, K.C., as junior. It was heard before Mr. Justice Day ; he summed up dead against us, but the jury thought there was something in the plaintiff's .case, and were about an hour arriving at their verdict, which was ultimately in favour of the defendants, the Ccunty Council. Mr. Walton was not able to give that attenti m to the case which he thought he ought to have done, because he was engaged very largely in the Court of Appeal during the hearing of our trial. After the case was over, he called me on one side, and, addressing me by name, said : "I have not been able to attend to this case as I feel I ought to have done. I shall not take the fee." Of course I was absolutely astonished at such a remark, as I had not complained in any way whatever of his absence, knowing that we were in very good hands with Mr. Eldon Bankes as junior. We ultimately succeeded in maintaining the plaintiffs position in the matter. I have mentioned the incident to a large number of the members of the Bar, and have been repeatedly told they have never heard of such.an instance of great kindness occurring before. It is seldom one meets with an eminent K.C. or any member of the Bar who takes such a conscientious view of his obligation to is client.
Comment by: John G on 27th October 2015 at 22:23
Thanks Ron: It's nice to read that a man with honour who's job it was to judge others also had the decency to judge himself.
Comment by: Josh on 1st November 2015 at 14:16
A great comment John G - what a wonderful tribute to a fine human being.