Photos of Wigan
Photos of Wigan
Album Contents
Album Contents
Wigan Album
HUNT family
12 Comments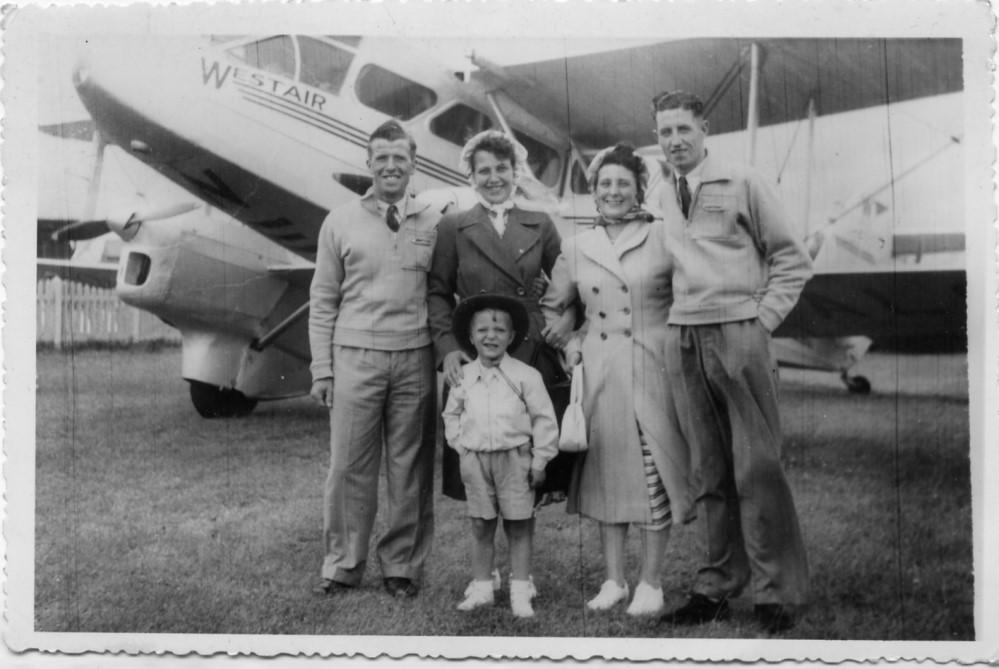 My First Flight Early 1950's.
Photo: RON HUNT
Views: 2,031
Item #: 25799
Before or after? my first flight. Blackpool Airport early 1950's It was just a flight around the Tower. Dad, Mother, Me, Aunty Teresa and Uncle Wilf, Walmsley.
Comment by: Ernest Pyke on 24th December 2014 at 18:18
Ron; My first flight was from Squires Gate Airport, Blackpool on Sunday 6th Sept.1964. My mother, nephew and myself (my sister wouldn`t fly) flew with British United in a Dakmaster (a Dakota)to Ronaldsway Aiport, Isle of Man on a day trip. We were coached to Douglas then left to our own devices. Coming back we had a grand view of Blackpool Illuminations from the air. The airfare was 55/- each.
The purpose of this trip was to see how we took to flying.
Mother and I next flew from Manchester to Detroit, to see relatives, in May 1965.
My longest flight was to New Zealand, but stopped for 4 days in Hollywood going and one night in the Hilton Airport hotel, Los Angeles on return.
Comment by: Albert on 24th December 2014 at 20:07
Ron/Ernest. I, together with my wife, flew from Squiresgate Airport,(Blackpool), to Jersey, on our honeymoon, 3rd September,1961. in a Dakota, Silver City Airways.
Comment by: Evelyn on 24th December 2014 at 20:54
Albert, 24th June 1961 Blackpool to Isle of Man on a Dakota,Silver City Airways on our honeymoon. Wonder if it was the same one? !!!!! (the honeymoon special. ???)
Comment by: Albert. on 25th December 2014 at 10:06
Evelyn. The aeroplane was named "City of Edinburgh". We were the last to see the flight sheet, so we kept it. It is only a couple of years ago that I sent it to the, Silver City Airway's Society.
Comment by: Aubrey on 25th December 2014 at 11:39
Jean and I also flew to the I.O.M for our honeymoon, 9th June 1962. Can't for the life of me remember the cost, or the plane, but it was very noisy.
My first flight was in the mid 1940's. My sister Marjorie who was only a baby caught Whooping Cough from me and my Dad said that going up in an aeroplane would do us both good. We went to Southport Airport for the flight, Mum was with us but refused to fly when we got there. On the flight I remember looking down at the floorboards and seeing the sea and the sand through the gaps between the floorboards .It was years later that I realised that perhaps Dad really wanted to go flying himself and took us along as well!
He also took us to breathe in the fumes from a barrel of boiling tar being used by road menders on Gidlow Lane to help with the effects of Whooping Cough. My sister and I recovered from the Whooping Cough anyway and are still around to tell the tale! He was lovely Dad, the best.
Comment by: owd viewer on 25th December 2014 at 22:22
My first flight from squiresgate around the tower was in the mid 50's.It was a great flight,It was my 1st & last flight as I have never flown since!
Comment by: Baldylocks on 26th December 2014 at 00:45
Aircraft is a twin engined De Havilland Dragon Rapide (DH 89).
Comment by: Giovanni on 27th December 2014 at 11:21
Why aren't the passengers wearing parachutes! It's a jet aeroplane or nothing for me!
Comment by: Jarvo on 3rd January 2015 at 08:28
Flying in the fifties and early sixties? Blimey, not many people could afford a day trip to Ormskirk market in those days on a Ribble bus. Middle class minted merchants! Lol...
Comment by: Brian Thilwind on 27th January 2015 at 19:23
I flew from Blackpool to Isle of Man in 1963 with my mam & dad on a Dakota on a day trip and we were not rich.
Comment by: David Edwards on 18th January 2021 at 00:45
In the last week of July 1958 my Mum, Dad and myself with Dad's spinster sister my lovely Aunty Gwen visited Blackpool for our annual weeks holiday.
Visiting Squiresgate I finally persuaded my Mum to get Dad to lend me the ten bob (50p) to be paid off at 6d a week from my 2 shillings pocket money for a flight around Blackpool tower. The man selling the tickets asked my age and when I replied that I was 8 and 3/4 he replied that I needed to be accompanied by an adult? I begged my Dad who finally gave in and we set off in the de Havilland Dragon rapide for my first flight and my Dad's first and last. He never looked out again until we landed. I joined the Fleet Air Arm at 17 as a Naval Airmen and have flown as a serviceman and civvy all over the world but that first flight still is the best. I can remember everything from the well worn leather seats to the smartly dressed pilot with his captain's bars on his shoulder slides. Oh what great days !