Photos of Wigan
Photos of Wigan
Album Contents
Album Contents
Wigan Album
Breakell Family
7 Comments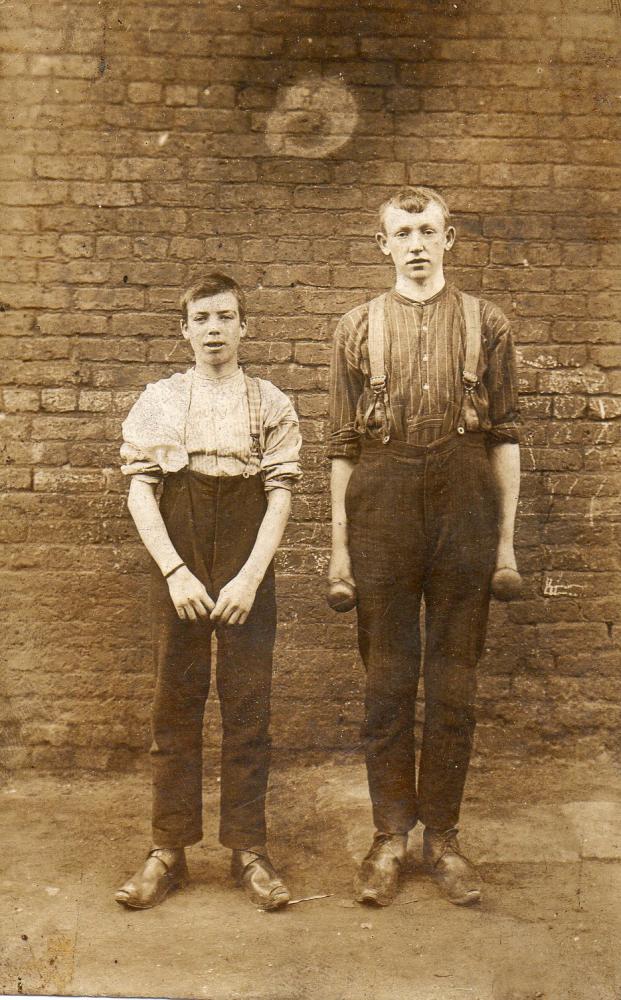 wendy_warne@hotmail.com
Photo: Wendy June Warne
Views: 1,381
Item #: 25366
Leonard Breakell 1896-1915 and William Ashworth Breakell (Bill) 1899-1949 my great uncles born in Shaw and died in Wigan
Comment by: Thomas(Tom)Walsh. on 19th July 2014 at 15:24
Wendy,thank you for posting your photograghs . Have you noticed the clogs , the gentleman on the left is wearing clasped clogs, the other laced.
Just an observation !
Comment by: Henry7 on 19th July 2014 at 16:37
Looks like the taller chap is doing a bit of weight training?
Comment by: George Chilvers on 20th July 2014 at 10:08
The lad on the left looks like he has a towel on his shoulder, like seconds at boxing have. Was the taller lad a boxer perhaps, and his brother helped him train (hence the barbells)?
Comment by: Bob on 20th July 2014 at 12:27
Comment by: Horace on 23rd July 2014 at 22:38
I wonder what size chest the lad on the lefts trousers are ? .....he wears them higher than Simon Cowell !
Yes I did notice the clogs. William on the right was a Clogger in 1934 and a Labourer in 1940. Leonard got some disease that distorted his face and made his lips really thick, on the 1911 census he was classed as an imbecile and died a few years later
Comment by: John Walsh's Best Mate on 30th December 2014 at 15:39
That's Doug and Dinsdale Piranah. The Piranah Brothers!