Photos of Wigan
Photos of Wigan
Album Contents
Album Contents
Wigan Album
Ashurst family
9 Comments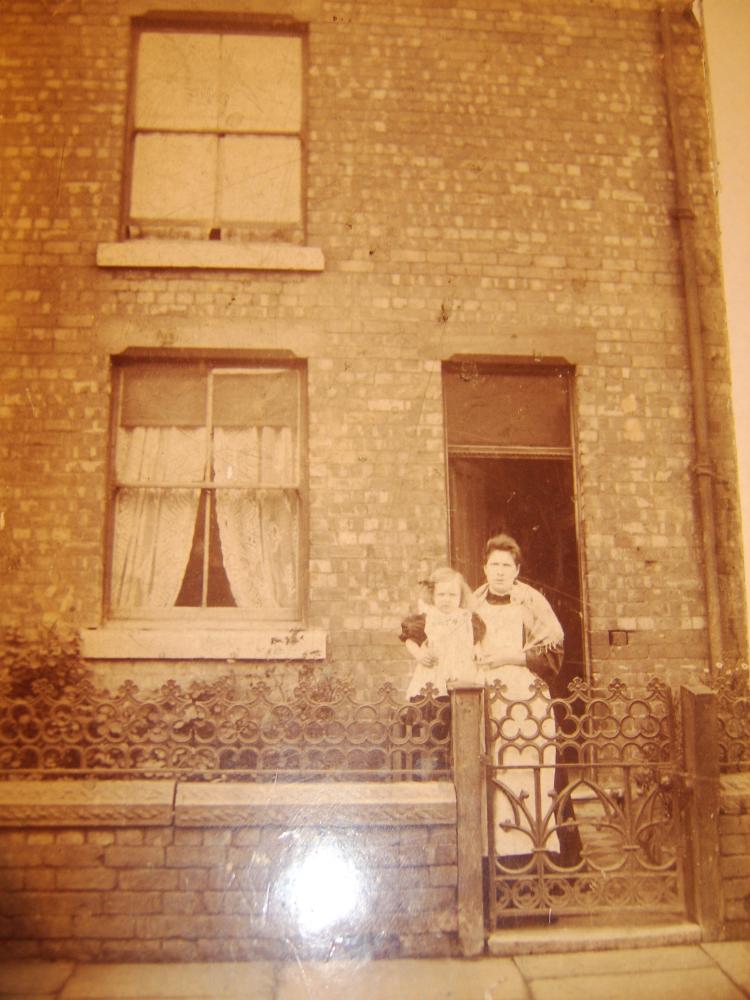 ELIZABETH ALICE ASHURST AT 172 BILLINGE ROAD PEMBERTON.
Photo: JEANNETTE GOLDING
Views: 2,042
Item #: 24855
ELIZABETH ALICE ASHURST ( B. 1841? ) PHOTO AT 172 BILLINGE ROAD, PEMBERTON
BERTHA ASHURST 1908- 1998( CHILD IN PHOTO)
PHOTO SHOWS MY GRANDMOTHER AND MOTHER.
Comment by: Paula on 17th February 2014 at 22:55
If the lady in the photo is the child's mother, that would make her around 67 when Bertha was born, so maybe a date is wrong somewhere? Nice photo.
Comment by: JEANNETTE GOLDING on 17th February 2014 at 23:35
MISTAKE ON DATES FOR ELIZABETH ALICE ASHUSRT- SHOULD BE 1870-1954
Thanks for pointing this out!
Comment by: Helen on 18th February 2014 at 08:25
We have a similar photo where my grandmother & her children are outside their house in Newtown. I wonder if it was taken by a 'travelling ' Wigan photographer as not many people would have a camera back in those days. Bradshaw pic posted in the album under people catagory.
Comment by: Marcus on 18th February 2014 at 10:57
I am puzzled Jeanette. Looking at 172 BILLINGE ROAD today, I see a stone (not brick) end terrace looking very different to the house in your picture - was it rebuilt or something ?
Comment by: Jimmy on 18th February 2014 at 12:16
I think Jeannette has made a mistake with the number, 172 Billinge road is the first in a row of stone cottages.
Comment by: Jeannette Golding on 18th February 2014 at 21:24
I am looking into this- photo is possibly 1912-1913? still searching family tree , have another address of 144 Warrington Road, Abram but grandfather died August 1911 Warrington Road so family could have moved. Window sills appear to be the same as 172 Billinge Road.
I think that this house is in the row just above Little Lane entrance. The house numbers had to adjusted when the semis near the delph were built just before the War
Comment by: Mick on 19th February 2014 at 10:29
Fred, the photo csn't be of the row commencing at the Little Lane junction, as all the houses in that row have their front doors to the left of the window, unlike this house.
It certainly isn't the present day 172 Billinge Road though.
Comment by: Mick on 19th February 2014 at 10:44
Jeannette - I think you will find this is 144 Warrington Rd, Abram. If you look at this address on Google street view, it has the same window and door lintels, and also the same distinctive narrow front door and tall fanlight.