Photos of Wigan
Photos of Wigan
Album Contents
Album Contents
Wigan Album
Misc
15 Comments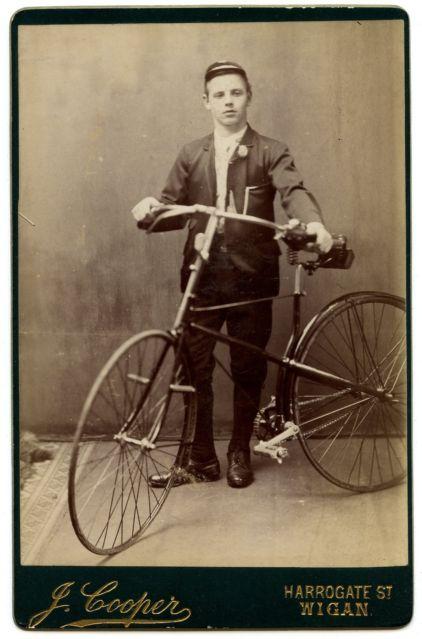 Bradley Wiggins's First Bike?
Photo: RON HUNT
Views: 1,350
Item #: 24820
Cabinet card by J Cooper late 1800's early 1900's
Comment by: Gary Winstanley on 12th February 2014 at 07:38
Looks like a very early CCM with a decent kickstarter.
Comment by: Mick on 12th February 2014 at 08:02
A fixed wheel bike, by the look of things.
The pegs on the front forks act as footrests, to keep your feet out of the way of the pedals, when going downhill.
Comment by: Gary Winstanley on 12th February 2014 at 09:06
Or high speed handlebars.
Comment by: Garry on 12th February 2014 at 09:36
You had to stop the thing with your feet, on the pedals, not easy going fast down hill. (fixed wheel no brakes).
Comment by: Ernest Pyke on 12th February 2014 at 10:57
Mick; Your comment reminded me of when I borrowed a schoolmate`s bike at lunch time. I was thrown over the handlebars - he didn`t tell me it was a fixed wheel!
You don`t need a puncture outfit with this bike!
Comment by: Josh on 12th February 2014 at 14:01
Intriguing photo, is the "cap" he seems to be wearing, a symbol of athletic (cycling) achievement, I wonder. If so perhaps his "records" can be looked up somewhere.
My granddad had a very similar bike. He reckoned that if you got your wheels stuck in the tram track, you had to dismount or the tyre would be torn from the wheel, as they were only held on by glue. Granddad's picture is under the Bradshaw family in "people" I reckon that the picture is around 1888
Comment by: Garry on 12th February 2014 at 15:34
Why thrown over the handle bars Ernest...it was rear chain drive???
You must be a young 'un, Garry - not to have ridden a fixie. But then I wouldn't dare ride one in hilly Wigan. We only had gentle slopes in Kirkby, so fixies weren't too bad a risk - but I still went over the bars a couple of times when I ran out of nerve on a hill and stupidly pulled on the front-wheel brake to try and stop. Well, the bike stops, but you don't - until you hit the ground!
But they were great fun until then - you could do one-pedal tricks - cocking your leg over so that both feet were on one pedal, and then swinging both legs over to the other pedal. Trick riding without the horse!
You couldn't ride one to full enjoyment nowadays though - you need the traffic-free roads we had in the 50s and 60s to stay alive.
I switched to free-wheel as soon as I could afford to - jealous of the back-wheel skids my mates could do on the cinder tracks, which just can't be done on a fixie.
Incidentally, this bike looks as if it does have a lever for a front-wheel brake.
Comment by: Harry C. on 13th February 2014 at 08:50
The cap could be part of a uniform, early telegram delivery boy perhaps, he also appears to be wearing gaiters, I can see the brake handle but nothing on the front wheel, also what looks like a bell near his left hand. I had a Claude Butler track bike in the fifties with a fixed wheel, bought from a chap who had finished racing, my dad took it to Oliver Somers bike shop and had gears fitted.
Comment by: Mick on 13th February 2014 at 10:35
The cap he is wearing is standard cycling gear for the time.
Looks like there is a 'spoon brake' fitted to the front wheel. This was a curved metal plate or fibre block, that came down onto the solid tyre, when the brake lever was operated.
Comment by: Harry C. on 13th February 2014 at 13:17
Your probably right Mick but I can't make it out on the photo, just noticed the mudguards and make up of the frame where the back tube curves around the back wheel. I like the photo too Ron.
Comment by: George on 13th February 2014 at 18:42
A fascinating historical photo - well done for posting Ron. After the comments to me it now seems to have a Post office type feel about it - could that "rosette" in his left lapel be in fact an identification tab of some kind - complete conjecture.
Comment by: Tommy J on 10th March 2014 at 12:54
Someone should have known he was a telegram boy, easy to spot,