Photos of Wigan
Photos of Wigan
Album Contents
Album Contents
Wigan Album
O'Brien
7 Comments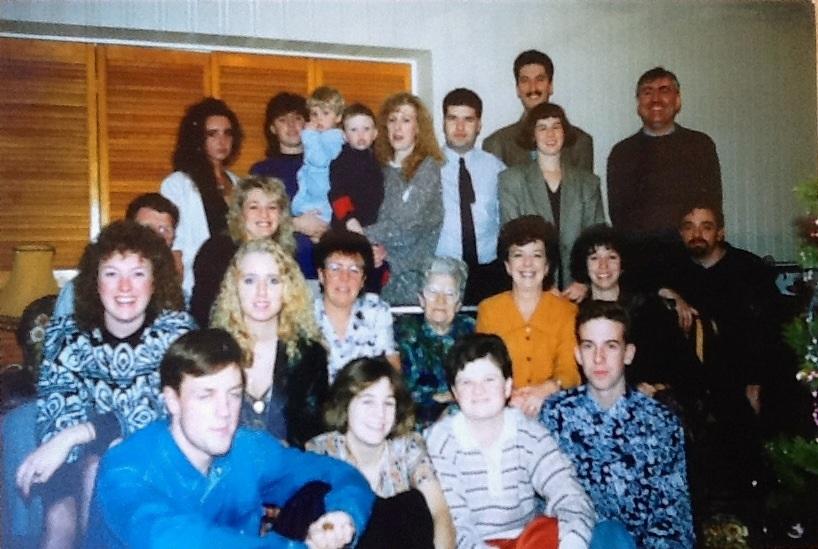 Family....The O'Briens
Photo: Liz Kearvell.....Lizzie down under
Views: 1,863
Item #: 23642
The late Norah O'Brien surrounded by her whole family and her three girls by her side....Maureen, Leanore and Jane.....the year I am not sure of, may be late 70s to late 80s. We had two visits out here for my Aunty Norah and she really enjoyed her holiday as we loved to see her. This is a great photo and I am glad that I finally found it....
Comment by: kam on 26th June 2013 at 16:56
Lizzie down under...Thank you so much for putting the picture on, i recognised Leonore and Jane straight away, the young man with the blue shirt on looks like jane, is that her son
Comment by: Lizzie down under on 26th June 2013 at 22:00
Hi Kam, thought you might be happy with this one....the young man is Jane's son Christopher he is wearing the blue and white groovy shirt.The young lady in the grey jacket stood in between Leanore and Jane is Jane's daughter Louise and the fellow stood to the right of Louise is Eric Jane's husband.....of course the lady sat to the left of Norah is Maureen......Maureen's daughter Catherine and her husband Ian are Appleby Catering who presently do some catering at Haigh Hall, they do the ice cream and such....glad to help Kam.....cheers!!!
Comment by: kam on 29th June 2013 at 20:51
Hello Lizzie down under...Thank you again for the update on Jane and her family, her daughter Louise looks very much like Jane also, especially with the straight hair that Jane had when she was younger, Leonore and Jane look very much alike, as they did when they were younger i thought, no mention of a family for Leonore.Thank you again for opening my memory files, and taking me back to the happy days of childhood, ....see saw marjorie daw jonnie shall have a new master, oh dear im ten again. cheers to you Lizzie.
Comment by: Lizzie down under on 30th June 2013 at 09:04
Hi Kam....used to sing the same thing when we used to see saw too....Leanore's two daughters are sitting next to Christopher and her husband Sam is obscured by one of Maureen's daughters I think....one of Leanore's daughters name is Pamela but I can't remember the other one.
Cheers Kam....glad to be of help. :-)
Comment by: Catherine on 15th November 2013 at 22:52
Hi Lizzie, Louise is the younger fair haired girl at the front and Julie Aunty Leonores eldest is the one in the grey jacket x
Thank you Catherine....just seen this post thanks for your info of who is who....x