Photos of Wigan
Photos of Wigan
Album Contents
Album Contents
Wigan Album
halsall
8 Comments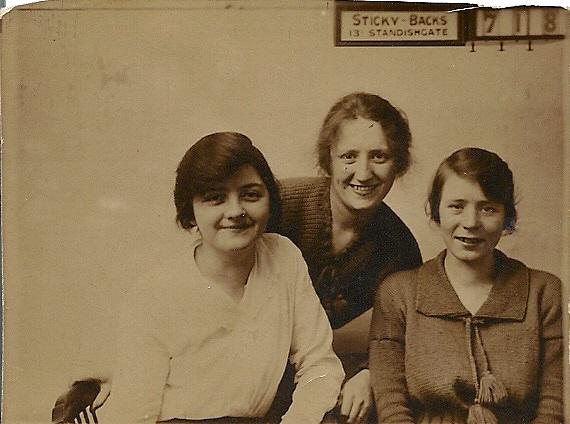 Sarah Ann(Sally) Cunliffe nee Halsall
Photo: Sarah Ann Halsall
Views: 1,339
Item #: 23002
My grandmother Sarah Ann Cunliffe nee Halsall(1902 - 1986)on right of photo. No idea who the other ladies are. Any ideas what 'Sticky backs, 13 Standishgate' was?
Comment by: Maureen Andrews on 25th March 2013 at 10:55
Don't they look feminine.
Comment by: Mick on 25th March 2013 at 13:38
"Sticky-Backs" were a chain of English photographic studios in the early 20th century.
The numbers in the top right hand corner were for the information of the photo processor/developer.
The company had this name because the back of their photos was covered in an adhesive like that on a stamp or envelope flap. This could be used to fasten their photos on mounts or in albums.
Comment by: Graham Parkinson on 26th March 2013 at 16:46
Many thanks for this information about Sticky backs. I wonder if they took the photo or whether by grandmother and her friends had some connection with the Wigan studio?
Comment by: Mick on 26th March 2013 at 18:55
Graham - This pic does seem to have a lot in keeping with other photos taken by this company, ie informal pose, no scenery backdrop or props etc.
Their Wigan branch would have been on the stretch of Standishgate between the present day WH Smiths, and Marks and Spencer.
Comment by: Mick on 26th March 2013 at 19:00
Article here about the studios: http://www.photohistory-sussex.co.uk/BoultwoodStickyBacksStudio.htm
Comment by: Vivian Halsall on 1st June 2014 at 05:16
Hi , can you tell me who Sarah Ann's father was. I have been doing the Halsall tree for over 10yrs. You can send to my email if you prefer.
Cheers Viv
Sarah Ann's father was Robert Yates Halsall. They lived at 32 School Street. Sarah, Sally as she was known to one and all, had the small shop at the top of Millgate, opposite the Weind
Viv, can you send me your email address? I would love to see the Halsall family tree that you've worked on. Thanks Graham