Photos of Wigan
Photos of Wigan
Album Contents
Album Contents
Wigan Album
Hughes family
5 Comments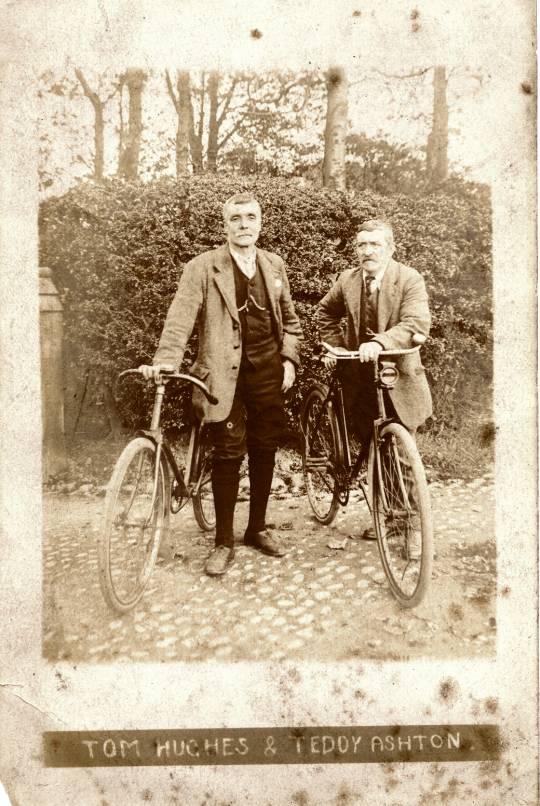 Tom Hughes and Teddy Ashton.
Photo: Ron Hunt
Views: 1,736
Item #: 2280
Tom Hughes and Teddy Ashton. Scanned from an old postcard.
Comment by: sheila on 21st January 2008 at 00:54
hughes from ashton or bryn i knew a tommy hughes wayne hughes chris hughes lez hughes and alot i cant remember there names there was that many
Comment by: mark on 17th June 2008 at 20:01
its not from the family your thinking sheila as thomas hughes is my dad and chris ,les, wayne n rest of them are my cousins, and uncles so dont know who this man is unless he,s related long distance
Comment by: Heather Bassham on 1st February 2009 at 03:24
My great-great grandfather was a T.W. Hughes
from Wigan, and looked a bit like the man on the left.
What year was this taken? He last visited in 1928, when he was an old man.
The cyclist on the left is Owd Tom Hughes , 1866-1950. He founded theAutumn Tints a national cycling club for over 50's. He was the father of Tom Hughes the cycle dealer of Wallgate & Mesnes St.
Teddy Ashton was a noted Lancashire dialect writer a keen cyclist. They cycled to Wembley in August 1924, does anyone know the event thy would be attending?
That trip to Wembley in 1924 would be to the British Empire Ehibition, opened by King George V on St George's Day, 23 April 1924. The British Empire contained 58 countries at that time, and only Gambia and Gibraltar did not take part. It cost £12 million and was the largest exhibition ever staged anywhere in the world with 27 million visitors.