Photos of Wigan
Photos of Wigan
Album Contents
Album Contents
Wigan Album
Baxter Family UpHolland
10 Comments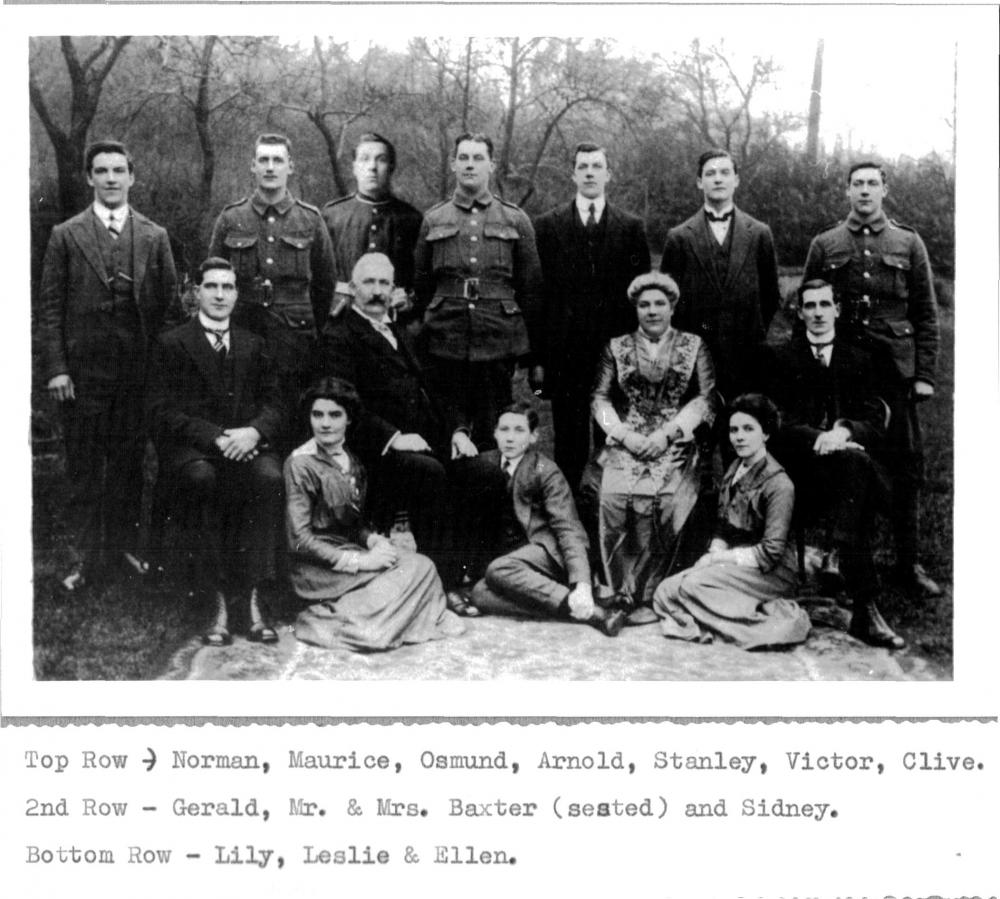 Baxter Family of Brooklands House UpHolland
Photo: D.
Views: 3,347
Item #: 22648
The Baxter Family of UpHolland from a family photograph taken duirng the 1914-18 war.
Comment by: Helen on 6th February 2013 at 08:40
Very interesting photo D. My sister Anne went to Upholland Grammer in the late 40's/early 50's. Her friend there was Yvonne Baxter & she lived down a lane oppostite the Lyric. In the late 50's Yvonne & family left Upholland & went to live in Devon. My sister's friendship continued & I recall we all went to Yvonne's wedding in a tiny church in Chumleigh (?) in Devon. I'm thinking this pic must be of an earlier family of Baxters.
Comment by: D. on 6th February 2013 at 10:25
Helen, the above Baxters are the ancestors of the Baxters who had shops in UpHolland until the 1980s. I think your friend Yvonne would have been connected in some way but don't know how.
Comment by: Helen on 6th February 2013 at 14:02
I have just been looking at the 1900/1911 census sheets D.
The family were living at Parliament St in 1900 & all the sons were working in the family owned Grocers & Drapers shop...living above the shop I suppose. In 1911 they had moved to Brooklands, the house had 10 rooms not counting, pantry, kitchen or bathroom...business must have been good ! The sons over school age were still working in the 'business' it makes for fasinating reading & I will go a bit further to see if there is a link with Yvonne Baxter who I think Married a Robert Sixsmith in 1961 in Devon.
Comment by: D. on 7th February 2013 at 15:44
Helen, the Wigan Observer printed an article about Mr & Mrs Baxter when they had their golden wedding in 1929. "They were married at St Peter's Swinton on Oct 29, 1879, they have had ten sons and three daughters of whom seven sons and tow daughters are living. All ten sons were over 6ft in height and the tallest beinga bout 6ft 4 1/4 in, they have seven grand children."

"The spacious up to date premises in Parliament Street and now styled Baxter's Stores Ltd, were designed to scale by Mr. Baxter in the short space of two hours".

"Over 30 years ago before the trams were running to Abbey Lakes Mr Baxter had a service of horse buses operating between Skelmersdale, UpHolland, Wigan and Platt Bridge".

The full article was printed in the Wigan Observer on Sat Nov 2nd 1929.
2
This was a formal photograph taken during the autumn of 1914. Osmund wasn't actually present for the photoshoot his picture was cut and pasted (in the old fashioned sense) into the picture later, an early example of photoshopping. Clive, Arnold, Maurice and osmund were about to leave for France. Clive and Arnold were killed on the same day, 25th January 1915. Maurice survived the war although he was taken prisoner and escaped twice before ending up in a POW camp in the north of Germany. Maurice, Gerald, Stanley and Ellen continued to run Baxter's Stores until the late 1950s when two of Maurice's sons, Lawrence and Arnold, formed their own business, Baxter Brothers. Osmund died of his wounds in the late 1920s. Ellen retired and lived out her days in Blackpool, Lilly married and lived at Abbey Lakes, Norman married Constance and lived at Vicarage Corner, Up Holland. Victor went to live in Australia, Lesley became a farmer and his farm was on Alma Hill Up Holland. The Baxter family business finally closed during the 1980s.
Comment by: Wigan88 on 6th May 2014 at 22:38
I'm wondering if this or a branch of this family used to live in a house I'm buying in Upholland by back school lane?
According to the census records of 1901 and 1911 a family by the name of Baxter used to live in No.50, could this be them? Can anyone help?
my sister Ann worked at Arnold Baxters and had her wedding reception there upstairs in 1968
Susan, I'm Arnold's daughter and I remember your sister Ann really well. She was a lovely person both in personality and looks. I was 14 in 1968 and I was devestated when she married and moved to Hampshire although I was also quite a bit jealous as I loved the area she moved to. She'd met her husband as a result of family and friends from Hampshire coming to stay with us. I remember going to see her in the South in about 1973. when I went to stay with my Aunt Silvia and Uncle Bertie in Mottisfont. Sadly I believe Ann died quite young if this is true it is very sad.
To celebrate my Greatgrandparent's golden wedding my father, Arnold Baxter told me there was a large family outing to the Hipperdrome Wigan. Dad would have been 8 at the time.
Janet, I think we are related. My grandparents were Sylvia and Bert Pragnell. I am trying to track my family tree and I am drawing a blank. I believe Doreen Baxter was my god mother. Is there any information you can give me please. Thank you