Photos of Wigan
Photos of Wigan
Album Contents
Album Contents
Wigan Album
Green family
4 Comments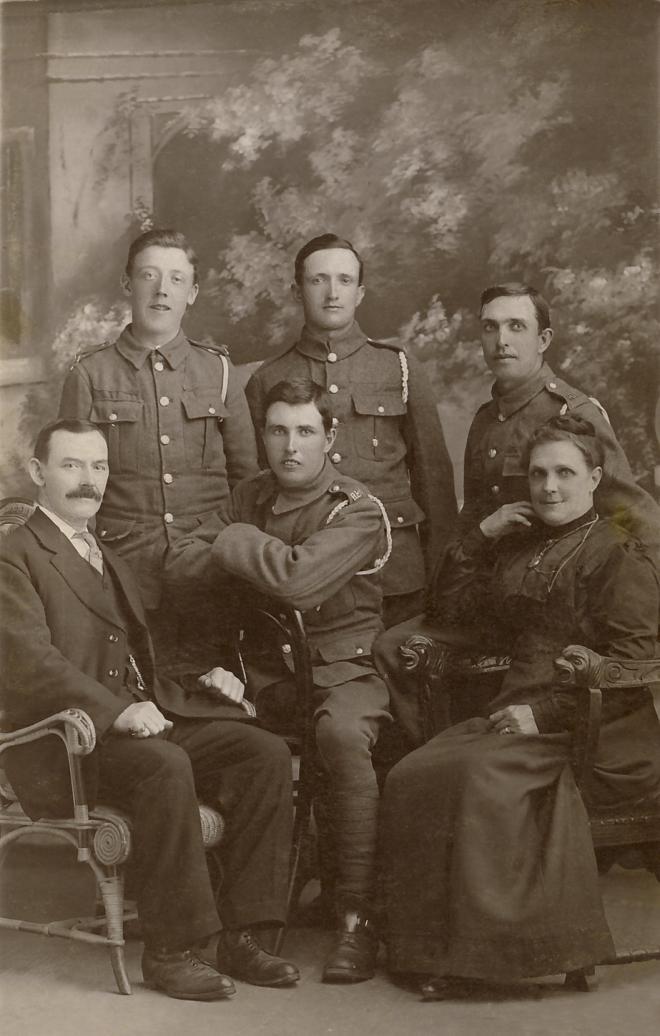 Green Brothers.
Photo: Martin Mercer
Views: 2,073
Item #: 2245
The group shot was taken early in WW1 and is of Maria and Thomas Penny and some of their sons about to leave for war. Maria Smith (Wigan, 1865 - 1937) married Frederick Green (Wigan, 1863 - 1904), then later married Thomas Penny (b1859 in West Bromwich, Staffs). This was also Thomas' second marriage, and at the time of their wedding he had 5 children and Maria had 8!

The young soldier on the left at the back was one of the Penny boys, either John or William.

The one standing centre was William Green (1888 - 1957), the one standing behind Maria was James Green (1886 - 1957) and the one seated was Fred Green (1896 - 1974 my wife's grandfather). Fred spent his entire working life down the pit - with only a trip to war for a break!

Incidentally, one of the Green brothers who is not in the picture is Walter Green, father of the Walter Green who started Green's Carpets.
Comment by: elizabeth (margaret finch)nee Green on 11th January 2008 at 16:50
did they all survive the war
Yes, all four survived. As you will see from the original comment Bill and Jim Green both died in 1957 and Fred Green died in 1974. John Pennydied in 1940 aged 44.

My grandfather was Jim Green (standing behind Maria) and he was gassed in 1917. He was hospitalised and then sent to a convalenscent home in Southport for a couple of years. Altogether though he had 7 years of treatment for the gas.
Comment by: citor on 24th April 2008 at 02:57
Are any of these Greens related to the Ellen Green who married Jon Orrell?
Comment by: Carol on 24th April 2008 at 13:25
No. There were two sisters, Ellen and Elizabeth. Ellen married Thomas Podmore in 1911.