Photos of Wigan
Photos of Wigan
Album Contents
Album Contents
Wigan Album
casino
11 Comments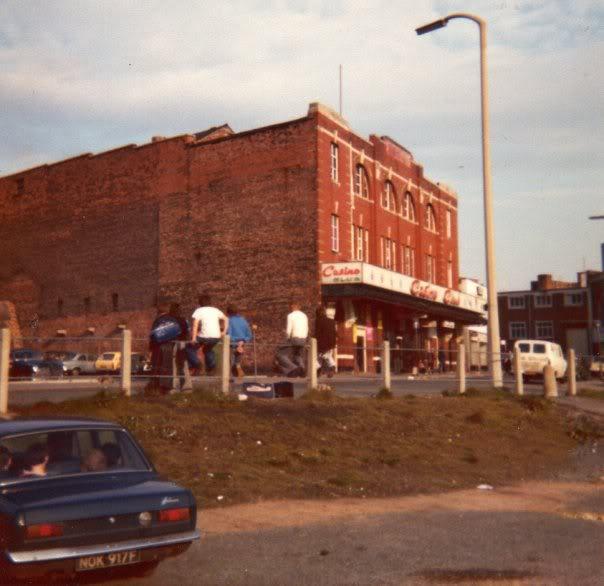 casino
Photo: simon
Views: 2,522
Item #: 21586
come across this, i dont think i have seen it on WW site yet.
Comment by: Joan Beckett-Wilding on 4th October 2012 at 15:53
Had some great nights there x
Comment by: Tony G on 4th October 2012 at 17:35
This is a delight!!!! Think the artist, David Barrow hashad hold of this!!!! Ihavea print in my home of the painting he did. If not hemust have had asimilar phot. Apure gem for us soul boys and gals!!!!! Keep the faith!!!!
Comment by: tommy on 4th October 2012 at 18:21
They are either waiting to be picked up and going home,or they are ready to queue up for the next marathon.definatley in the 70.s.
Comment by: simon on 4th October 2012 at 21:37
tony it would be great if you could post a copy of the painting!
Comment by: Roy on 6th October 2012 at 09:38
The car in the foreground F registered 1967, so like you say it,s later than that.
Comment by: Jarvo on 6th October 2012 at 12:53
What happened to my comment? This website is biased!
I wish I was back there. But like everything else in Wigan, once the council wants rid, it goes. There's nothing left of Wigan now.
Comment by: SUE B on 9th October 2012 at 20:20
OH HAPPY DAYS , WIGAN BATHS FOR A SWIM AND A BOTTLE OF MILK TO FINISH IT OFF
This year, 2013 will see the release of a new Northern Soul film, I was lucky enough to be on the set and it looks great.I also came away with part of the film but, I'll have to keep that to myself for now.
Happy days! I wish we could re-wind our lives and be back there...I remember when it was the Empress Ballroom and at least 6 bands would play live on a Saturday night...never short of female company ;-)
Comment by: Linda Massa on 1st October 2015 at 13:11
This is the land of lost content,I see it shining plain, the happy highways were I went and cannot come again.