Photos of Wigan
Photos of Wigan
Album Contents
Album Contents
Wigan Album
Margery Booth
18 Comments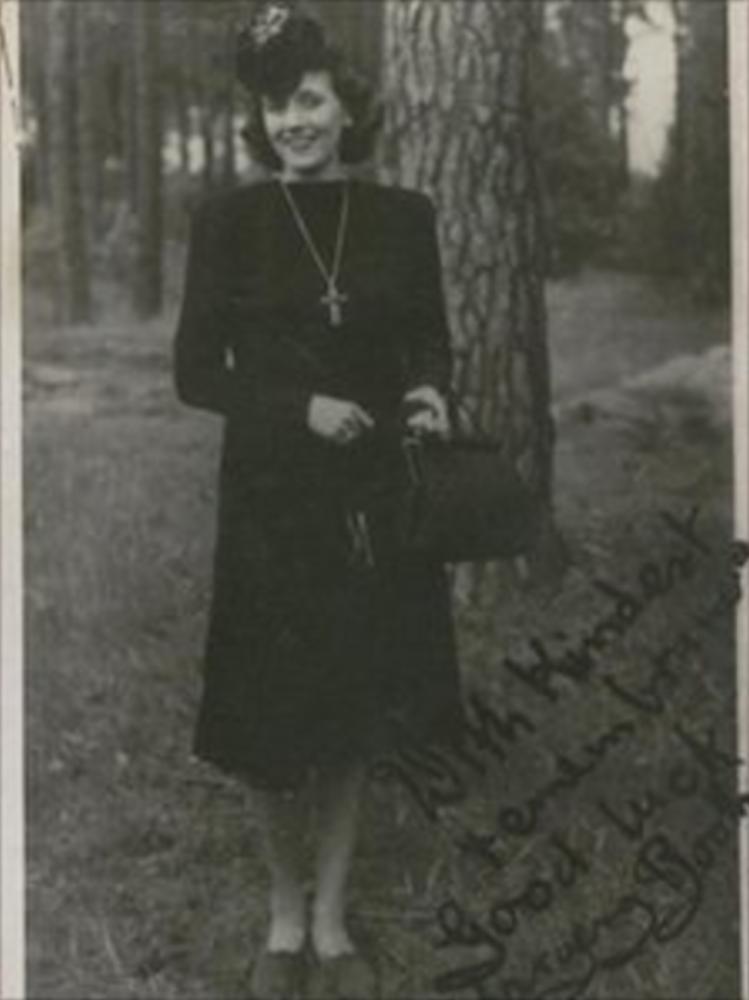 Wigan's spy Margery Booth
Photo: RON HUNT
Views: 3,580
Item #: 21385
A photo of a little-known World War II spy who sang for Adolf Hitler while concealing secret documents in her knickers is to be sold at auction.
Wigan-born Margery Booth was a renowned singer with the Berlin Opera after moving to Germany before the war.She was allowed to perform for British prisoners of war and, unknown to the Nazis, ferried secret information out.
The picture is one of a series taken at Stalag IIID POW camp in Berlin.
It shows the singer in a wood and on it she has written the words "With kindest remembrances, Good luck, Margery Booth", with "Freigegeben Stalag IIID" stamped on the back.
Her story was revealed in the memoirs of Stalag IIID prisoner John Brown. The photographs have emerged from a private collection.
The singer made her debut at Covent Garden opera house in London in 1936, and went to Germany after marrying Dr Egon Strohm.
It is astonishing that the heroic activities of this opera singer are not widely known about"
The Nazis hoped that by letting her sing for the British prisoners it might persuade some of them to switch sides and fight against the Soviet Union in a "Britischer Freikorps".
She performed a variety of English folk songs, but the Germans were rather less happy when she sang Land of Hope and Glory to round off her appearances.
At Stalag IIID she met Brown and agreed to help him get information out of the camp so it could be relayed back to Britain.
Brown gave the false impression to the Nazis that he was a sympathiser, and as a result he knew details about British traitors and the Britischer Freikorps.
Unaware of her activities, the Nazi leadership held Booth in high regard and she once sang in the presence of the Fuhrer with secret information hidden in her underwear.
Brown was found out towards the end of the war and Booth was arrested and tortured by the Gestapo, but was released after it failed to prove anything.
Booth escaped Berlin during a bombing raid and returned to Britain, where the information she provided helped in the Old Bailey trials of traitors William Joyce, known as Lord Haw Haw, and John Amery, who were hanged for treason.




Comment by: Helen on 31st August 2012 at 07:07
What a story, WW2 might seem like light years away to some people but these new stories keep coming to light.
Brave lady.
Comment by: Josh on 31st August 2012 at 08:40
I agree, fascinating story. her full name was Margery Myers Booth born 1906 Wigan, her mother's maiden surname was Tetley. Sadly she died aged only 41 in 1947, while living in Southport. It does make you wonder if those war experiences took their toll.
Comment by: Mick on 31st August 2012 at 10:44
I believe she actually died of cancer in New York in 1952, Josh.
Comment by: Josh on 31st August 2012 at 13:15
I stand to be corrected Mick. I got my info' from The London Gazette of 22 August 1947, it reads.......Strohm, Margery Myers (known as Margery Booth); Germany; Concert and Opera Singer; 17, Man- chester Road, Southport, Lancashire. 30 June, 1947. She had married a German named Strohm.
Comment by: irene roberts on 31st August 2012 at 15:02
A fascinating story of a brave lady. Isn't she attractive, and SO smart! Helen, you know what I'm going to say next, don't you?.....LOVE the oufit! Wish I could borrow it for the 1940s day at Darwen tomorrow!
Comment by: Keith Guest on 31st August 2012 at 15:27
Subject: RE: Hitler: Folk Songs part in his downfall
From: GUEST, Sminky
Date: 13 Sep 10 - 09:57 AM

I've looked a bit deeper into this story - the ending is not pretty.

Margery Myers Booth's birth is registered at Wigan in 1906.

On August 8th, 1936 she marries Doctor Egon Strohm at All Saints church, Southport.

After her exploits in Germany she escapes to Bavaria where she is picked up by the advancing US Army.

She divorces and goes back to England where she makes her information available for the Old Bailey trials of William Joyce (Lord Haw Haw) and John Amery. Both men are hanged.

She recovers her British nationality and returns to live in Wigan. However, because of her German connections she is treated like a pariah by her neighbours and she emigrates to the United States.

She dies of cancer in New York in 1952 at the age of 47.

There is no record of her ever singing again after the war.

Bless her heart, she didn't deserve that.
Comment by: Maureen Andrews nee McGovern on 31st August 2012 at 17:16
She was indeed a very brave lady..Iv'e always admired the bravery of people like her and the resistance fighters...and as for lord Haw Haw..didn't he make a reference to the R O F factory in Beech Hill during one of his broadcasts,he said that they knew where they were.
Comment by: grannieannie on 31st August 2012 at 19:29
I have always found Margery's story both inspiring and moving. I feel sure her career suffered after the war, as Gracie Field's did, from blind predudice.
The comment about Lord Haw haw may be true,some years ago I met a lady who told me that her Uncle had been the architect for the ROF, either at Beech Hill or Euxton, and in 1936 had sold the plans to the Germans.She said he had spent the war in prison on Dartmoor.Asked what would have happened if it been during the war she said cheerfully that he would have been hanged for treason! My Dad said the story was true but I have never been able to verify it.
Comment by: Andy on 31st August 2012 at 21:25
Just to take the story back a little it looks like her parents married in Hindley at All Saints Church in 1901, Levi Booth, married Florence Beatrice Myers Tetley.
Comment by: Stan on 1st September 2012 at 11:20
In 1911, Margery was living with her mother at the home of her gt. grandparents (The Myers) in Barnsley St. Her father, Levi was at 25 & 27, The Wiend, second generation of a family of brush manufacturers. He died at the Wiend in 1933. This Wiend address looked familiar. Ezra Sidebotham, the printer.
Both Margery's parents remarried in the third quarter of 1920. Levi to Ada Sidebotham (Ezra's sister) at Hope Congregational and her mother Florence to William Fairhurst at Ormskirk Register Office. (A Wm. Fairhurst was a witness at the first marraige at Hindley)
I thought divorce was very difficult at that time?
In 1925, Levi is recorded at 31, Millgate jointly as a brush manufacturer and Temperance Bar.
Comment by: Shirl on 1st September 2012 at 19:05
What an absolutely fascinating read, and isn't she striking to look at? Thank you Ron. And Irene - I've no idea if it still exists, but I used to travel to Eastwood to what seemed like an Aladdin's cave full of some stunning 40s outfits, dressing gowns, shoes, bags, etc. Did you know of its existence?
Comment by: irene roberts on 2nd September 2012 at 16:41
Hello Shirl, and thankyou. I haven't been on the computer since Friday due to the 1940s day at Darwen yesterday, so have only just seen your comment. I will certainly look into it, and thankyou.
Comment by: irene roberts on 2nd September 2012 at 17:05
Shirl, where is Eastwood, please, and is there a name of the retro clothing place that I could put into Google? I just keep coming up with CLINT Eastwood and a place called Eastwood in America.
Comment by: Shirl on 2nd September 2012 at 20:16
I don't remember the name of the place Irene, but it was Nottingham way if I remember rightly. The first time we found it was by chance as we were simply driving through to get to somewhere else (Lord knows where - got a memory like a sieve now). It sat in a very quaint setting with a stream right behind it. Will ask Steve and see if he remembers. I don't come on here very often but if I do get a prompt answer I will get back to you x
Comment by: Jono on 3rd September 2012 at 00:01
Eastwood is about 10 miles north west of Nottingham. It's just west of the M1 motorway and a good 90 miles from Wigan.
Comment by: irene roberts on 3rd September 2012 at 14:00
Many thanks, Shirl and Jono. There are quite a few 1940s weekends in that area; we haven't been to any that way yet but will bear it in mind for future events.
Comment by: Jarvo on 4th September 2012 at 15:04
Irene: Eastwood is the birth place of D.H.Lawrence. There is a museum there in the house that he was born in. I visited it on a study day at Nottingham University a few years ago when I did my creative writing Open College certificate...Very interesting: you MUST visit soon...And get your dresses as well...Best wishes, John...
Comment by: Irene. Roberts on 4th September 2012 at 16:14