Photos of Wigan
Photos of Wigan
Album Contents
Album Contents
Wigan Album
CHAPMAN FAMILY
9 Comments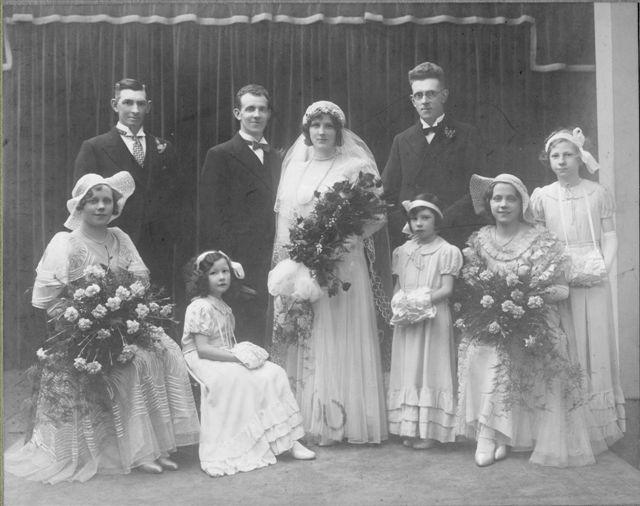 CHAPMAN/SHARROCK WEDDING
Photo: FRED FOSTER
Views: 1,605
Item #: 21069
The bride is Lily Chapman and her father was John Erasmus Chapman, one time licencee of the Saddle inn in Newtown. The bridegroom is Tom Sharrock. The man to the left of the pic is Tom's brother who lived at Gathurst. He was at one time the winner of the Irish sweepstake.The small bridesmaid on the right is Lily Owens who was married to Ivor Owens. The other small brdesmaid is Betty Sharrock, the daughter of Tom's brother who is on the right of the bridegroom.She later married a policeman named Jack Tennant. The bride's brother was Sammy Chapman who played at scrum half for the old Wigan Highfield team.He was Lily Owens Father.The pic was lent to me by Lily Owens who is my neighbour. I think that the wedding was around 1932.The pic was taken at Foley and Scott in Wigan.
Comment by: irene roberts on 19th July 2012 at 20:05
This is lovely! Thankyou for posting.
Comment by: ken on 19th July 2012 at 20:40
Was Tom's brother on the right named Jack and lived on Ormskirk Rd. Newtown.
As far as I know his name was Jack and he did live in Ormskirk Road, so Mrs Owens tells me.
Comment by: Helen on 20th July 2012 at 08:10
Foley & Scott....a magical name. Loads of my family's studio portraits have the logo of Foley & Scott at the bottom.
One of my Mum's relatives married a Sharrock. They lived in Daniels Lane Upholland. Any connection?
Comment by: marie on 20th July 2012 at 13:01
Oh that was a posh wedding lovely photo
Comment by: fred foster on 20th July 2012 at 16:31
Just another bit of info on the Chapman family.John Erasmus lost his father in the 1877 explosion at Blundells colliery at the same time that my great grandfather was killed. There were 5 children left fatherless in the Chapman family, and 3 in the Bradshaw family.I had been reseaching the explosion when I realised that Lily, who is my next door neighbour had lost her great grandad at the same time that mine had died.
Comment by: maggie on 21st July 2012 at 13:38
sorry, I should have said Digmoor, not Upholland.
Comment by: josie on 25th July 2012 at 00:02