Photos of Wigan
Photos of Wigan
Album Contents
Album Contents
Wigan Album
WALSH FAMILY
7 Comments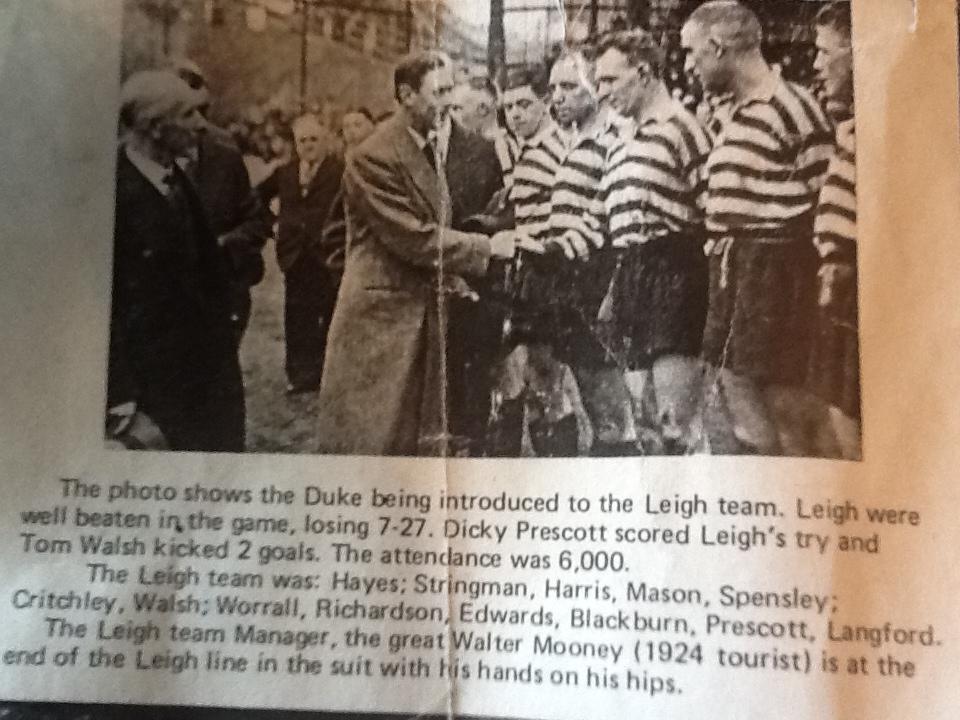 My Dad Tom Walsh and the Duke of York
Photo: TOM WALSH
Views: 1,823
Item #: 20613
My dad TOM WALSH 5th from right.
Comment by: Scholes Malc on 3rd May 2012 at 15:17
what year was this Tom and who were they playing?
Bet this pic makes you proud every time you look at it!
Comment by: Tom Walsh on 3rd May 2012 at 16:10
Scholes Malc ,I am not sure of the exact date it was before 1936,as the Duke of York became King George VI in that year. I think it was against the Australians,I have a cup when played for Castleford against the Aussie 1937,I will post a photograph on the site.
Comment by: Keith on 3rd May 2012 at 20:03
Could it be the 1934 match against Broughton Rangers, played at their ground (the Cliff) on October 20th, the score 7 - 27 and the attendance was 6,000. Prescott scored Leigh's try and Walsh kicked two goals. Leigh had beaten Broughton at home just over 4 weeks earlier by 32 points to 24.
Comment by: Tom Walsh on 3rd May 2012 at 20:56
Keith ,was it a cup match? ,it seems unlikely the Duke of York would have attended an ordinary league game.I would be grateful for any information you may have, Thankyou .
Comment by: Keith on 4th May 2012 at 08:49
Hi Tom, it was a League match but the Duke of York, later King George V, was paying a visit to Manchester playing fields which included the Cliff. I have even better news for you if you go to http://www.britishpathe.com/video/duke-of-york-in-manchester
you will see your father on film. This is similar to my experience when i found a 1944 film of my father playing for Wigan against Bradford in the 1944 Cup Final at Odsal. Best wishes, Keith.
Comment by: Tom Walsh on 6th May 2012 at 18:42
Keith,I've just watched the film,you mentioned,it was truly amazing to watch my dad some 78years ago,it seems surreal and unbelievable.My children and grandchildren will be equally amazed. THANKYOU VERY MUCH !
Comment by: Keith on 7th May 2012 at 11:25
Hi Tom, good to hear you got my message. I know just how much these things mean since, I, like you, had a father who played the greatest and hardest professional game ever invented. However, unlike you, talent skipped a generation in my case, and I had to content myself with a 40 year stint at the "chalkface". Best wishes, Keith.