Photos of Wigan
Photos of Wigan
Album Contents
Album Contents
Wigan Album
David Simm Photography
12 Comments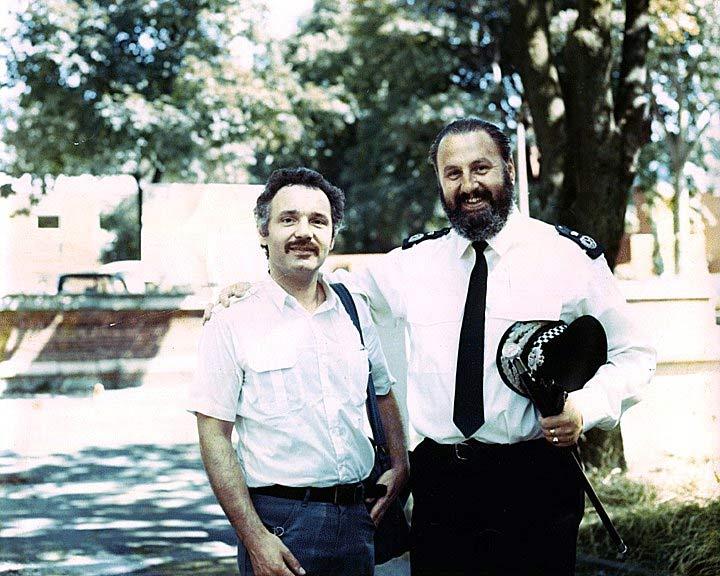 Chief Constable James Anderton
Photo: David Simm Photography
Views: 3,578
Item #: 20241
If yer gonna get yer collar felt, better be sure it's being felt by a suitably impressing cop.
One day in late seventies or early eighties, I was summoned to Manchester's Jammia Mosque to photograph an official visit of the Chief Constable. During the conversation he discovered taht we grew up just a few streets apart, him in Goose Green me in Newtown, seizing the opportunity,
Mosque President, Abdulla Azaad, picked up my camera and snapped this shot of the top cop and me.
Comment by: Scholes Malc on 18th March 2012 at 20:54
"swirling in a cesspit of their own making"
Comment by: Mark Conroy on 18th March 2012 at 22:02
"God's Cop"

What a raving nutter James Anderton is/was , ashamed to say he was an ex-Wigan Grammar School boy.
Comment by: Art on 19th March 2012 at 00:51
One of self important Andersons first jobs was to send a squad of 30 officers to raid a pub near Oldham....Offence? Drinking after time. Just what you can expect from Methodist Lay Preacher AKA: "Back o't doo'er supper".
Surrounded the pub and actually caught the landlord serving the single barman, after a busy night behind the bar.
The worst Chief Con G.M.P. ever had......Total bloated Bigot
Comment by: David Simm Photography on 19th March 2012 at 12:22
When I'm shooting an assignment, it's not my job to judge, on this occasion I was working for the management of Jamia Mosque in Victoria Park, who were (and very likely still are) in incredibly nice group of people.
The situation was quite spontaneous The Chief Constable knew the time that the phone call went out and the time I arrived, when he discovered where I had driven from he made a comment about where I had parked the helicopter and that was how the conversation started.
It was the only time we ever met and the only conversation we ever had. I found him to be personable and easy to work with, we were both the guests of the Imam and the community leaders and all treated each other with the appropriate courtesies.
Comment by: horace on 19th March 2012 at 13:32
Must be the only photo of Anderton without his head up his own backside !
Comment by: Gerry on 19th March 2012 at 18:09
You do look like my mate Vince Turton David he worked in Johnsons cleaners in wallgate in the 60s/70s
Comment by: Carol on 20th March 2012 at 17:05
A proper copper. Wish there were more like him.
Comment by: Mr T on 20th March 2012 at 22:05
Well said Carol, better than the political desk-jockeys we tend to have today.
Comment by: Keith T on 21st March 2012 at 09:43
Mark Conroy sounds like a gullible chap who believes all the drivel he obviously reads in the gutter press.And he certainly sounds like someone who has never had to deal with a real "nutter", as so many vulnerable people are now having to do in this once law-abiding Christian nation.
Comment by: Art on 22nd March 2012 at 00:44
Keith T...Did you actually know Anderton?
The ones he was in charge of couldn't stand him....BTW, not gutter press opinion.
Could it be that you're one of the "back o't doo'er supp'ers? ;o)
Comment by: A Bolton on 2nd April 2012 at 16:17
James Anderton was one of the best....I wish we had him now to bring back some justice to the yobs who now get away with almost anything crime they wish!
I remember having a job interview with David Simm in early 1965. Having not heard anything for a while I emigrated to Canada in July. I never became a professional photographer but now that I am retired I am shooting some good stuff and have shot some great photos in Canada over the years. Now living in Cumbria I may just go pro. Best wishes to David.