Photos of Wigan
Photos of Wigan
Album Contents
Album Contents
Wigan Album
David Simm Photography
17 Comments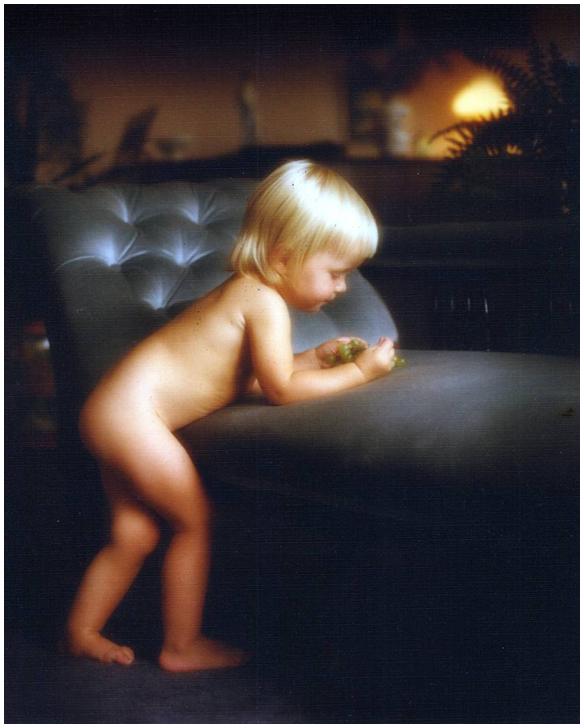 Davinia
Photo: David Simm Photography
Views: 3,613
Item #: 20229
This little 18 month old was portrayed in her parents home on Merseyside, the family subsequently moved to Appley Bridge and the little girl grew up to by a nationally famous actress.
For the technically oriented the picture was shot on a Rollei SL66, with standard lens at f2.8 it was captured by available light, the child being lit by window light, I had switched on the reading lamps in the background for ambiance.
Comment by: Judith Hodson (Hutchinson) on 15th March 2012 at 08:43
Is that Ms Murphy? She was and still is beautiful. She lived at Roby Mill a few houses away from my ex brother in law Roland McCrea, he still lives there.
Comment by: Iris on 15th March 2012 at 10:02
Mr David Simm Photography
Are you trying to tell us that you're a professional with your "ambience" and "available light?"
Comment by: Judith Hodson (Hutchinson) on 15th March 2012 at 10:54
Of course he's a professional! He's David Simm,he was very much in demand in the 70's and 80's. Have you never heard of him?
Comment by: Gerry on 15th March 2012 at 11:43
My mate Vince was always told he looked like you David in the 60s/70s tight cropped curly hair and glasses ..... (ring any bells)
Comment by: Maureen Andrews nee McGovern on 15th March 2012 at 18:53
David..this is a beautiful shot and it's sheer professionalism.
Comment by: mj on 15th March 2012 at 18:57
David did you attend Highfield Sec Mod before the Thomas Linacre?
Thanks for all the kind comments.
Yes: I have to confess for my sins, I am a professional photographer.
Yes I went to Haghfield for about six months before going into Wrightigton Hospital, I returned to Highfield at the end of the first year, all about the time my class mate Billy Tweedale (RIP) passed away and Alfie Smith with to live in the Isle of Man. I had a good few fiends at that school, some of whom I kept in touch with for years after.
Not sure about Vince, I knew a few people called Vince back in those days
Comment by: Gee H on 16th March 2012 at 12:06
Its a fabulous photo, I wouldnt question if the photographer was professional!! but have been an ex pat for many years,who is Davinia Murphy?
Comment by: peter on 16th March 2012 at 14:29
top class shot David
it doesnt matter whether you are professional or not
still a good picture
Comment by: Graham Taylor on 16th March 2012 at 15:05
For Gee H the ex-pat.... Davinia Murphy is an actress and socialite and made her name in the soap Hollyoaks. She was born in Wigan in 1977 and her stage name is Davinia Taylor. She studied theatre and performing arts at Winstanley 6th Form College.

She married football agent Dave Gardner in 2003 and David Beckham was best man.

Last year she opened an upper class hair and beauty salon called 'Taylor Made' in London.

ps. no relation by the way
Comment by: JM on 16th March 2012 at 15:10
David you are on the Highfield Sec photo on the schools page, and the late William Tweedale.
Comment by: David Simm on 7th April 2012 at 03:11
JM, Are you Jimmy Muldoon, who used to live close by the Bourne Twins and Jimmy Fellows? I seem to have lots of memories coming from the back of my mind about my brief stay at Highfield
hi david are you David simm who used to work at foxfield garage shevington, i am sure you took all my wedding photos in the early seventies
Comment by: David Simm on 8th April 2012 at 01:05
Foxfield Garage, in Shevington, was own by my second cousin James Berry, and I used to spend a lot of time there during the seventies. I also lived next door to the service manager Roy, the longest serving mechanic Tom Seed used to let me tinker with simple tasks. I used to love the place.
Comment by: gordyboy on 8th April 2012 at 11:44
hi david yes you did do my wedding photos in what is now almon brook hotel, i am gordon winstanley i was paint sprayer at foxfield for many years, i remember a little red sports car what you brought up to the garage, hope you keeping well daid kind regards Gordon
Comment by: David Simm on 8th April 2012 at 15:47
Hi Gordon, Nice to hear from you after all these years. Hope all is well with you.
Comment by: gordyboy on 8th April 2012 at 20:38
nice to hear from you David i am still painting cars for a living glad to see your still into your photography you were always brilliant at it, take care of yourself best wishes Gordon