Photos of Wigan
Photos of Wigan
Album Contents
Album Contents
Wigan Album
great war photo
13 Comments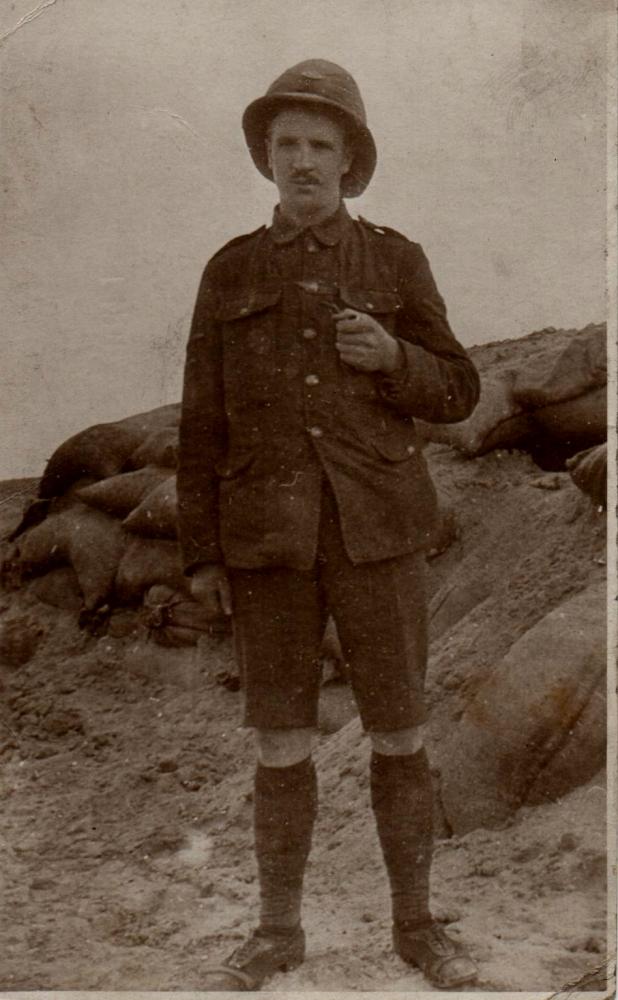 great war
Photo: eric lowe
Views: 3,978
Item #: 20207
photo of sergent william crowther boden died march 7th 1917 age 24 years does anyone know him or anything about him
No information about him, but St Mary's Registers has a widow, Alice Boden, marrying an Edward Pugh in November 1904 - and her father's name was Peter Lowe.
Comment by: Mick on 11th March 2012 at 22:39
Eric - at the time of his death, he was 24 yrs old, and a Lance Corporal in the East Lancashire Regt., service number 15177.
Grave or Memorial Reference Number 19, in Worsthorne Methodist Chapelyard, near Burnley.
Comment by: geoff k on 11th March 2012 at 22:53
Sgt. William Boden
15177 3rd East Lancs Regt
Died 7 Mar 1917,aged 24, pneumonia.
Lived 9 Tennis Street, Burnley.
Buried Worsthorne Methodist ChapelYard

Source www.burnleyinthegreatwar.info
Comment by: eric lowe on 12th March 2012 at 02:30
thank you very much david and mike the photo was in some of my wifes mothers collection trying to find the connection to that side of the family . thanks very mutch again
Comment by: eric lowe on 12th March 2012 at 02:35
Comment by: heritagelass on 12th March 2012 at 13:26
Western Front Assocation website: "A member of the corporation tramways office staff, one of the early enlistees into the 'Burnley Pals' (Z) company of the 11th East Lancs. Regt. in September 1914. Served in Egypt, then
France and was wounded by shrapnel on 1st July 1916 in front of Serre.Spent several months in hospital in St. Albans then returned to serve with 3rd (Reserve) Battn. at the Plymouth depot. Contracted pneumonia there and died
in hospital there.States that burial ground is 'Wesleyan
Burial Ground, Worsthorne'.
Comment by: eric lowe on 12th March 2012 at 16:27
thank you heritagelass that is very helpful
Hi Eric.

What an excellent photo and thank you for sharing it. It's always a pleasure to see a photo of one of the Accrington Pals. The following link includes a transcription of the Battalion war diaries for July 1916 when the attack went in on Serre on the first day of the Battle of the Somme on 1 July.

http://www.pals.org.uk/pals_e.htm

The information on the WFA website was provided by Dave O'Mara and you should consider getting in touch with him at his website. I guarantee he will be delighted to here from you:

http://www.pathsofglory.co.uk/

Jonathan
Comment by: Graham Taylor on 15th March 2012 at 20:05
The Medal Roll Index Cards show that his rank was Acting Sergeant and he was awarded the British War Medal and the Victory Medal.

William was born 1892 in Burnley. James his father was born 1867 in Aspull, Wigan. His mother, Mary Jane Crowther was born 1868 in Worsthorne, Burnley. They were married 28 May 1887 at St. Stephens Burnley. Both gave their address as 46 Eliza St, Burnley. Mary Jane's father is Wiliam and the witnesses were Henry Crowther and Sarah Jane Pickard.

William's grandparents James and Elizabeth Boden were born in Radcliffe near Bury.

On the 1881 census all the family are living in Walk Mill, Cliviger, Burnley.

On the 1901 census William along with his parents is living at 8 Mitella St, Burnley. I can't find them on the 1911 census. None of the records looked at show his middle name of Crowther.
Comment by: Graham Taylor on 15th March 2012 at 20:41
William's mother Mary Jane died in 1912 aged 44 so thankfully didn't have to go through losing a son in the Great War. James his father died in 1928 aged 60.
Comment by: eric lowe on 16th March 2012 at 00:28
thank you johnathan and graham i have got further on this site than i have for 6 weeks trying. i have the war medals and i will drop david o meara aline thank you very much
Comment by: James Boden (William's Father) on 21st April 2012 at 15:07
Hi Eric, Fran here

William Boden's father James was indeed born in Aspull, and i have an entire history of James Boden's brother Matthew Boden. It seems that the whole family have connections from Aspull to Radcliffe then to Burnley.

Here is some info about James Boden, and his parents:

name: James Boden
age: 14
gender: Male
birth year: 1867
birthplace: Aspull, Lancashire, England
relationship to head of household: Son
marital condition: Single
profession/occupation: Coal Miner
address: Walk Mill 0
census place: Cliviger, Lancashire, England
disability:
record type: Household
family history library film: 1341996
the national archives reference: RG11
piece/folio: 4156 / 34
page number: 1
Household Gender Age
parent James Boden M 54
parent Elizabeth Boden F 50
Jonathan Boden M 26
Matthew Boden M 20
Rachael Boden F 18
William Boden M 16
James Boden M 14
Sarah J Boden F 11

Interesting stuff..,i will keep digging and let you know what i have found next time i call over.

Fran
My great grandfather was Matthew Boden born in Radcliffe in 1838, brother of James Boden born in 1827. My research of the Boden family has taken me back to the mid eighteenth century. Would be interested in finding out more about the Burnley/Aspull branch of the family.