Photos of Wigan
Photos of Wigan
Album Contents
Album Contents
Wigan Album
WIGAN LANDLADIES
6 Comments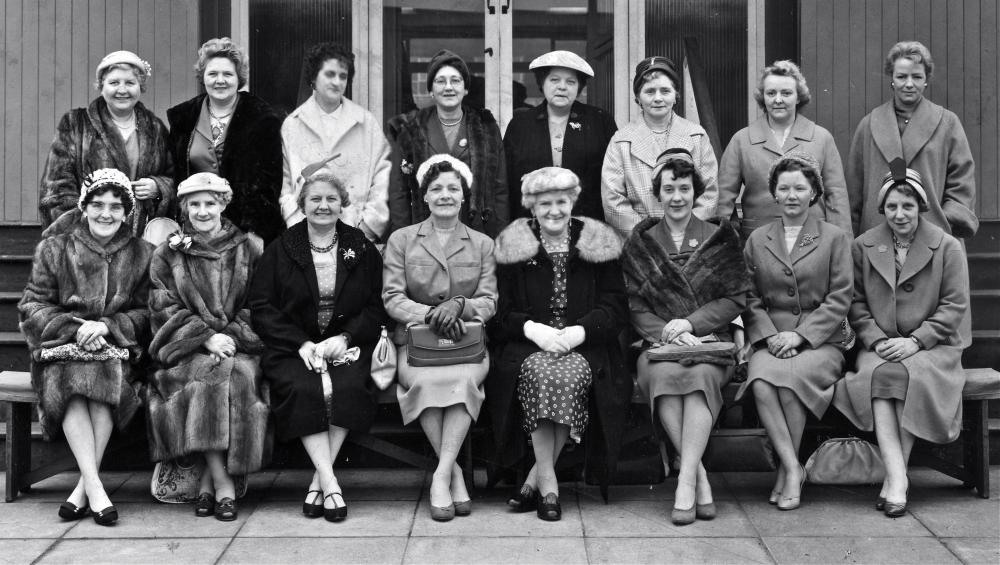 Wigan Landladies 1960
Photo: Keith
Views: 2,923
Item #: 19007
A visit by the Ladies Auxiliary group of the Wigan and District Licensed Victuallers' Association, on April 5th 1960 to Arthur Guinness Son & Co. (Park Royal) Ltd., The Park Royal Brewery, which was based in London.
My mother Phyllis Bowen, Landlady of the Wellfield Hotel at the time is seated at the front, second in from the right, and next to her, third in from the right is Mary Lowe. Landlady of the Crispin Arms who with her husband had taken over from my mother and father at the Crispin Arms in 1956. The only other name I can offer is my Auntie, Dorothy Brown (nee Wilcox) who was married to my mother's brother, my Uncle Jack, unfortunately I cannot recall their pub's name, she is standing second in from the right. Dorothy is still with us, she lives in Poulton-le-Fylde with her son and is well into her nineties.
Comment by: irene roberts on 25th November 2011 at 14:21
Just look at the care and pride they have taken with their appearance and how elegantly they are seated. What a difference to some of the sights you see now.
Comment by: Patrick on 25th November 2011 at 14:43
Wondering if anyone knows if Lydia Unsworth is in this picture? Apparently she and her husband Richard Unsworth ran either the Squirell or Fox Tavern on Ince Bar, dont know which. Anyone know? thanks! Lydia would be 48 at the time of this photo.
Comment by: Judith Hodson (Hutcchinson) on 25th November 2011 at 17:56
Lovely picture reminded me of Annie Walker off Corrie, she was proud to be a member of the licensed victuallers.
Comment by: Mark Calter on 25th November 2011 at 19:14
Front row left to right The first landlady is Eunice Dootson of the Bamfurlong Hotel
Mary Lowe was my Great Aunt. My grandmother, Elsie Hartley (Lowe) is the fourth lady from the rift on the top row. She was brought up in jem Lowes pub in Pemberton and was a Landlady of the Bridge water Arms in both Wallgate and in Marsh Green.
Comment by: Phil on 7th January 2017 at 23:15
Does anybody happen to know how old Elsie Hartley is in that photograph? Cheers.