Photos of Wigan
Photos of Wigan
Album Contents
Album Contents
Wigan Album
wood family
11 Comments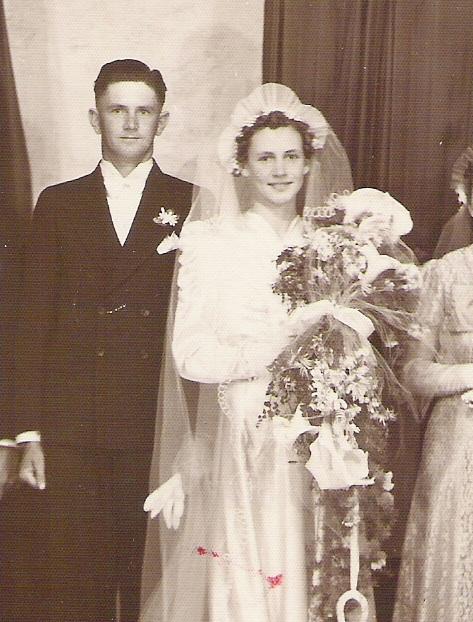 My mother, who was the grand-daughter of William Wood.
Photo: Sheryl B
Views: 1,571
Item #: 18631
This wedding picture of my mother Daisy Wood-Lewis (and my father) was taken in Australia in 1940, her parents having emigrated from Wigan. Her parents both born in Wigan. I have hesitated to put this up until now, but decided to because my mother was so proud of her heritage all of her life, and would have loved the idea of having her pic on WW. Hope it meets the criteria! Sorry if it rankles anyone! :/
Comment by: Ken on 9th October 2011 at 00:20
A lovely couple, and I don't see why it should rancle anyone. Your Mum has every right to be proud of Wigan.
Comment by: GeorgeB on 9th October 2011 at 08:34
She's such a pretty "Sheila", we'll forgive you!
Comment by: Sheryl B on 9th October 2011 at 09:27
Thats nice of you both :)
Sadly, my mum died at age 73, but she was only 19 when she was married. They had nearly 54 years together. She bought her wedding dress with war coupons and I know she loaned it out afterwards to other brides while the war was on. My father and mother were married 2 weeks and then he went straight back to his Regiment for 9 months during the war before they saw each other again.
Comment by: alan roughley on 9th October 2011 at 12:30
The name Wood is firmly rooted in Wigan's history. Many were concentrated in and around Wigan Centre with generation upon generation appearing in Wigan Parish Church records. It would probably be a simple matter to trace your "Wood" roots. My own mother was a "Wood" and had a great grandfather called William although there were/are lots of Woods in Wigan.
Their photos really do belong on this website.

Regards
Comment by: tricia on 9th October 2011 at 15:40
I also have a William Wood in my Family Tree. He was my 3 Gt Maternal Grandfather and is buried at St John the Divine in Pemberton.
Comment by: GeorgeB on 9th October 2011 at 20:24
My comment, just in case it was misunderstood, was only "tongue in cheek", but your mum is still very attractive! Your photo is absolutely what the wiganworld site is all about, a pictorial history of the people and places of Wigan.
Comment by: Alan Roughley on 9th October 2011 at 21:31
Sorry George, I didn't post with your post in mind. I'm sure everyone knew you remarks were light-hearted.
Regards
Comment by: Sheryl B on 11th October 2011 at 05:29
to allan and tricia; I would love to find out either of you is part of the same Wood family, but I don't think so. William Wood was born in Scotland and I have gone back several generations there with much to be still researched for Scotland. William had 2 surviving children in Wigan, George and Daisy (my mother's mother). I know William Wood married an Ellen Hill in 1878 in Wigan(I have details) and when she died, he remarried a Mary Lyon Robertson. He and Mary had no children as far as I know. Also George Hill Wood married Gertrude Moorhouse, and they had no children as far as I know. The Lewis side is today well-represented down the line in Wigan and surrounds. I will put up my g grandfather William Wood's obituary here on WW. He was buried
Comment by: tricia on 11th October 2011 at 18:24
Hello Sheryl
Sorry but as far as I know my William Wood has no connection with Scotland. I have also checked this out with my friend Freda, who married into this side of my tree and did most of the work tracing the line back.
By the way, your Mother's dress is beautiful. Such lovely lace veils they had in those days. Good luck with your search for more information. Regards, Tricia
Comment by: Pew1010 on 6th December 2011 at 21:56
Hi, I also have a William Wood in my family, I did my family tree around 3 years ago and got back to 1787 which only took me to Ashton-In-makerfield so no where near Scotland, so you could say i'm a proper Wiganer!
I do remember finding relatives in Australia, my grandfather told me about a George Wood and William Wood that left around 1925 ish? I did manage to link my family tree up with a James Wood in Australia and we chatted, our family tree matched up which was awesome, this was 3 years ago and unfortunately i've not been in much contact since
My husbands mother was a Woods from Ince.She had brothers Richard John and William .Her parents were Lily and John Woods .Have photo's and info if any interested at all .Just E mail me