Photos of Wigan
Photos of Wigan
Album Contents
Album Contents
Wigan Album
Lilian's husband
8 Comments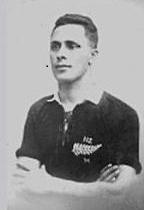 Lilian's husband
Photo: Keith
Views: 2,681
Item #: 16855
A photo of Albert (Alby) C Falwasser, a 1926 All Black tourist and leading scorer, who played for Wigan RL 1930-1932. He played 28 matches and scored 14 tries. However, the main interest from a Wigan point of view is that he married a lady from Ashton in 1932 named Lilian May Edgar and after playing for Rochdale Hornets and then coaching a French RL side Albert and May left for New Zealand in 1946.
In 2009 Lilian celebrated her 100th birthday, Albert having passed away some years previously.
Comment by: Keith on 24th January 2011 at 13:08
Apologies already, two of them.
Lilian's maiden name was Dixon, not Edgar, she was Lilian May Dixon from Ashton when she married Albert in 1932, who was referred to as Alby.
Edgar was Lilian's mother's maiden name.
When Albert toured England in 1926 it was with the New Zealand Maori not the New Zealand team, although commentators said that he should have been chosen for the full New Zealand team.
Comment by: Keith on 24th January 2011 at 14:34
I've now found out that Albert Falwasser died in 1992, he was in his 90th year.
In New Zealand he'd attended public school, was a fine athlete, running as a professional in the 100, 220 and 440 yards competitions and winning many trophies.
He was also famous for his "corkscrew" running style in rugby.
My Father (Ed Murray) served with Albert Falwasser in WW2, He was with the Royal Army Service Corps (I believe as a tank transporter driver), in Normandy, Belgium, Netherlands, and Germany.
Alby was my great uncle, having married a Wigan Lady who I believe was my grandmothers sister. Obviously I'm too young to have seen him play, but he visited my home in the 1970s. He was a total gentleman, with a handshake grip of iron! I'm proud to be related to him.
Comment by: j Coulston on 18th August 2015 at 07:05
We met Albert in the 1970's he was the Uncle of my friend Jean. We were very pleased to have met with them both Albert & Lillian who is related to Jean & Family. He was a real gentleman. J.C.
Rugby Union---NPHSOB New Plymouth----Maori Agriculture College Hawkes Bay--Ponsonby-College Rifles Auckland--Represented--Taranaki--Auckland--Hawkes Bay-NZ Maori 1926/27


Rugby League:
Wigan---Rochdale Hornets--Taranaki Coach 1947/48/49/50/51/52

Albert Falwasser Cup 1953-2018 competed between Taranaki Maori Iwi (Tribes) annual knock-out competition.

Falwassers were in the scrap-metal business in England.
Albert and Lilian Falwasser settled on the Gold Coast Queensland.
We are second cousins on my father side my Koro (Grandfather Hamarama Wairinga Watson) and Alberts mum were 1st cousins from Muru Raputu Bell Block Taranaki.
Albert Auckland rugby club was Manukau----delete College Rifles and PONSONBY ON MY FIRST PROFILE ON ALBERT
(sorry for my english)

It was the same player who played in Bordeaux in 1934 to 1938 ? France's champion en 1937 ? with Louie Brown ?