Photos of Wigan
Photos of Wigan
Album Contents
Album Contents
Wigan Album
STEVEN WILLIAM DARBYSHIRE
27 Comments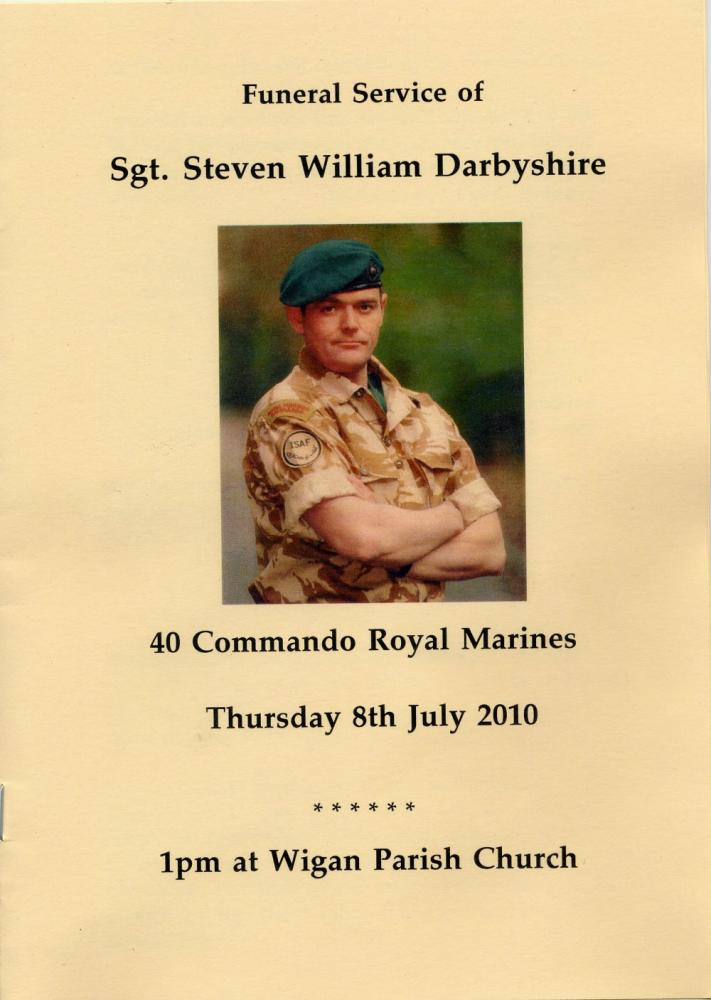 Steven Darbyshire Funeral
Photo: RON HUNT
Views: 21,944
Item #: 15248
The cover of the Funeral Service Proceedings for one of our own, who gave his life for his country
Comment by: janet on 8th July 2010 at 14:58
God Bless him and may he Rest In Peace.....
Comment by: Wigwann on 8th July 2010 at 15:24
Brave beyond compare,rest in peace Wigan lad.At the going down of the sun and in the morning we will remember him.
Comment by: A.J. on 8th July 2010 at 16:00
Our thoughts are with his family at this very sad time. God Bless you Steven, a true hero.
Comment by: irene roberts nee griffiths on 8th July 2010 at 16:03
God Bless him and his family.
Comment by: pat dobson on 8th July 2010 at 18:28
a true hero god bless him
Comment by: Maureen Andrews [nee Mcgovern] on 8th July 2010 at 18:33
Comment by: Tony on 8th July 2010 at 19:51
Comment by: barry on 8th July 2010 at 20:24
RIP Stey ..... a true hero
Comment by: catherine on 8th July 2010 at 20:28
so very very sad...R.I.P. Steven
Comment by: Wanner on 8th July 2010 at 21:26
Comment by: Vicky on 8th July 2010 at 21:42
RIP - you will be missed by all your family and friends. x
Comment by: Jimmy m on 8th July 2010 at 21:44
Comment by: Eileen on 8th July 2010 at 22:29
His family should be proud of him as we all should rip
Comment by: Freda on 9th July 2010 at 19:07
I agree with all of you, but am I the only one who thinks that this is a tragic waste of young lives.
Comment by: brenda lowe [nee mcguire on 10th July 2010 at 01:04
GOD BLESS YOU STEVEN R.I.P
Comment by: tricia on 10th July 2010 at 13:10
I also feel very sad, like all the other posts. I agree with Freda though. I have read these comments every day to show respect for Steven but this war cannot be won and is turning into another Vietnam.
R.I.P. dear Steven, and may your family find the strength to cope in the days and months that follow.xx

When you go home, tell them of us and say
For your tomorrow, we gave our today
Comment by: Catherine bromilow on 11th July 2010 at 20:10
R I P Steven May God bless and watch over your family. May He also keep you in the palm of His hand, until you are all together again in hevan. I totaly agree this war should NEVER HAVE BEEN.
Comment by: Dave Lewis on 11th July 2010 at 23:27
Rip steven, well done your country is proud of you.
Comment by: Martin Pearce on 12th July 2010 at 23:29
Its a long road before the end of this conflict is over, keep his picture in your mind because, I know I will. It has to be worth it our way of life depends on young lads and girls like this. "If there is a God.....you need to work harder."

The love you took with you will be shared with your family every moment they think of you. Sleep well.
Comment by: brian on 12th July 2010 at 23:50
one more family lost loved one how many more before they bring our troops home god bless son r.i.p
Comment by: Bobby on 13th July 2010 at 15:18
Breaks my heart every time you hear one of our lads has lost their life, Watching the coffins on the TV at Wootton Bassett with all family and friends lining the street. R I P brave men everyone of them
Comment by: JOHN on 15th July 2010 at 17:09
R.I.P. STEVEN.MAY GOD BLESS YOU & KEEP YOU.
MAY HE GIVE YOUR FAMILY & FRIENDS THE STRENGHT TO CARRY ON.
ARE THOUGHTS GO TO YOUR FAMILY. ALL MONEY RAISED AT OUR HELP THE HEROES DAY FUN DAY AT THE AMBERSWOOD TAVERN ON 8 TH AUG WILL BE GIVEN TO HELP THE HEROES ON YOUR BEHALF.
Comment by: GARRY R on 18th July 2010 at 03:01
MAY YOU REST IN PEACE.NEVER TO BE FORGOTTEN TRUE HERO GOD BLESS
Comment by: Dansdad on 30th July 2010 at 19:48
I & my family will never forget you & your sacrifice.

No person can hurt you now.

Rest in peace,forever an immortal hero.
Comment by: Dave Thomas on 12th September 2010 at 22:08
This young brave man lived next door to me as a child my heart and my thoughts go out to his mum and his dad Barbera and Derek and his brother Neil' also to his own family who i don't know but who i feel so sorry for there loss RIP STEVEN.
These lads are true hero's we must never forget them, ever.
God love and keep you.