Photos of Wigan
Photos of Wigan
Album Contents
Album Contents
Wigan Album
Picton family
20 Comments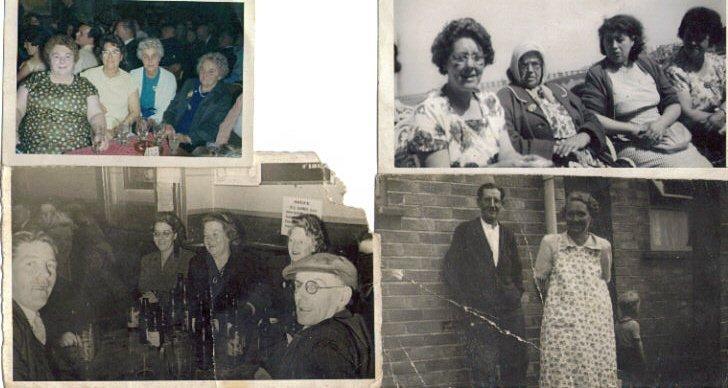 Picton family
Photo: Anne Caulfield
Views: 3,219
Item #: 14803
Picton family and friends.
Comment by: anne on 24th May 2010 at 15:29
FAMILY ORIGINALLY FROM TOWN GREEN. THEN LANDGATE AND BRYN ALSO FAMILY IN SCOTLAND
Hi, I`m Darron. I`ve not long started to trace My family line, My family tree. If You could supply any details of My family history, I`d be so grateful. My father was from Bryn, Ashton-in-Makerfield. His name was Ronald & I know tha some of His brothers were named; Eric, Norman & Robert. His sisters were called; Reenie & May. I`m made up that I found your site, I can read some more into the Picton name. Many Thanks. Darron W Picton.
Comment by: A CAULFIELD on 7th September 2010 at 10:51
HI DARRON JUST SEEN YOUR COMMENT. I WILL ASK OTHER MEMBERS OF MY FAMILY IF THEY HAVE ANY INFORMATION ABOUT THE NAMES YOU MENTIONED. I MYSELF DO NOT RECALL THE NAMES. BUT I WILL GET BACK ON THIS PAGE AS SOON AS I KNOW ANYTHING MORE
Comment by: A CAULFIELD on 12th September 2010 at 11:51
DARRON. I HAVE ASKED MY FAMILY MEMBERS IF THEY HAVE HEARD OF, OR KNOW ANY OF THE NAMES YOU MENTIONED, IN YOUR SEARCH FOR YOUR SIDE OF THE PICTON FAMILY BUT NONE OF THEM COULD HELP. WILL TRY AGAIN THOUGH
Comment by: DARRON WAYNE PICTON on 16th November 2010 at 23:47
Thankyou so much. I`ll be looking forward to hearing from You. Darron.
Comment by: anne on 26th November 2010 at 10:51
SORRY DARRON STILL NOT LEARNED ANY MORE OF YOUR FAMILY MEMBERS YOU WISH TO TRACE/ WILL KEEP TRYING THOUGH
Hi Darron.your dad was my uncle , My dad was Ronalds brother Noman Picton my dad passed away may 1985. Frank
Comment by: ANNE on 30th August 2011 at 19:47
HELLO FRANK, I AM GLAD. AFTER QUITE A WHILE TO SEE YOUR COMMENTS ON YOUR REPLY TO ANOTHER PICTON. ARE YOU IN ASHTON OR WIGAN AREA AS WELL I THINK DARRON WILL; BE PLEASED TO SEE YOUR COMMENT
Nice to see these photo of Uncle Ted and Auntie Annie .
Hi Darron . So sorry not coming back sooner . I live in Golborne married son aged 30 - daughter aged 32. also work in golborne which is very handy . Darron ave you managed to trace back any more family history. tell me a bit about yourself. i hope you and your family are all well
take cake . Frank
Comment by: frank on 23rd April 2013 at 22:16
spelling mistake last message take care not take cake lol
Comment by: Andrea whalley (nee picton) on 31st July 2013 at 17:51
Not sure if we are the same pictons my dad lived downall green Arthur picton
I`d just like to thank Ann & Frank for taking time out to help me trace my fathers side of my family. i.e.Picton. I`m still trying to gather more information about the PICTON family line. My father & his parents were from Bryn, Ashton-in-Makerfield. I`d be so made up to hear from anyone that can help. Thanks. DARRON
Comment by: Carolyn Picton on 16th April 2014 at 21:52
I Darron I'm married to Keith Picton son of Eric Pictont
Comment by: ANNE on 17th April 2014 at 11:06
WELL DARRON HERE IS ANOTHER PICTON ADDED TO OUR LIST.
HOPE YOU REC. MORE INFORMATION ABOUT YOUR FAMILY SOON.
I STILL HAVE MY EARS OPEN. WILL LET YOU KNOW IF ANYTHING COMES ALONG ABOUT MORE PICTON MEMBERS.
Anne, Keith`s wife. Thank you so much for getting back in touch & letting me know that you are related to the Picton family. I`ve not been back on this site for a while. But it`s good to see people are still looking on this site.
Aye and its me in Scotland !!! Andrew Picton.
Looks like my grandad and grandma in these pictures.
Hi Darron
I am your cousin, we met as young children when you visited with Uncle Ronald. I have done our family tree on ancestry.