Photos of Wigan
Photos of Wigan
Album Contents
Album Contents
Wigan Album
Gregory family
5 Comments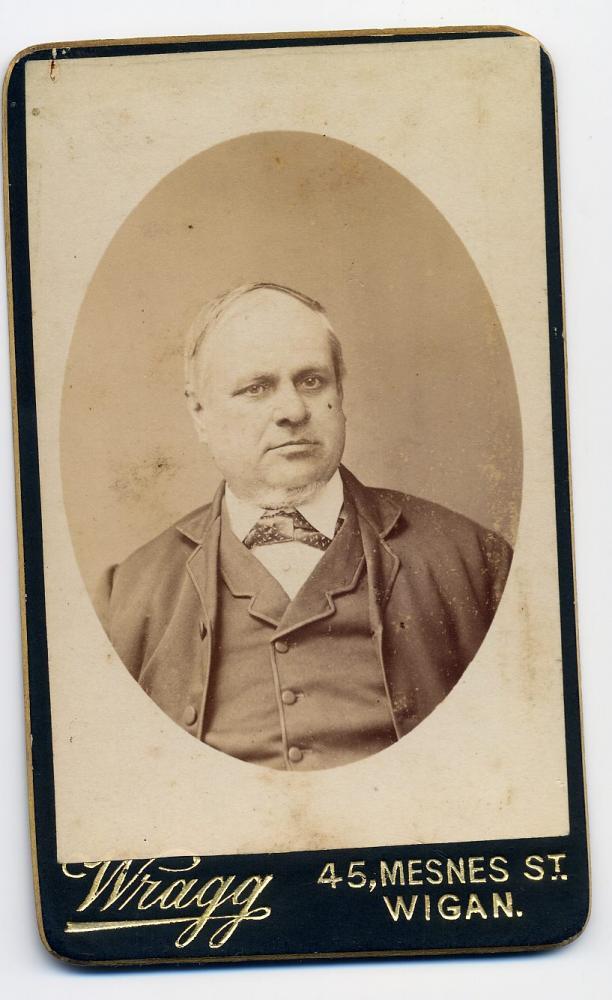 Unknown - believed to be John Gregory
Photo: Graham Taylor
Views: 1,691
Item #: 13960
Ron,

This photo is one of a set of six unknowns by H. Wragg photographer you put on WW about a month ago.

I have in my possession a copy of this one and the one of the lady. They have been painted over to look like a colour print. H. Wragg offered this service on the business card you printed.

They were given to me by a second cousin who worked in Beech Hill library. We believe them to be our G/G/Grandparents John Gregory (1828-1902) and his wife Elizabeth (nee Green 1839- 1918). John was a well known Wigan businessman and owned property, grocers shops and a bakery in Kirkless St near St. Catherines church.

The other four photos of the young men also have a passing resemblance to John and Elizabeth. They could be their sons as they did had 8 boys in total.

Thanks for putting them on, it can pay to publish unknown photos.

Graham
Comment by: RON HUNT on 10th March 2010 at 19:12
Hi Graham What a coincidence. If you want the photos let me know. I would rather they belong to the immediate family.
Comment by: Graham Taylor on 11th March 2010 at 14:39
Hi Ron

Where did you aquire the originals from, I would love to have them. If you purchased them I will gladly refund you the price.

Do you still have my address?

Cheers

Graham
Comment by: RON HUNT on 11th March 2010 at 15:51
Hi Graham sorry I don't have your address. You can e.mail your details to me
ron@wiganworld.co.uk
Graham,
John Gregory (1829-1902) is also my G/G/G/Grandad. Could you please email me the other photos you mention. You say his wife was Elizabeth (nee Green) my dad has her as Elizabeth (nee Seddon) m.1857 b.1835. I think he might have married twice.
Steven Gregory.