Photos of Wigan
Photos of Wigan
Album Contents
Album Contents
Wigan Album
Griffiths
4 Comments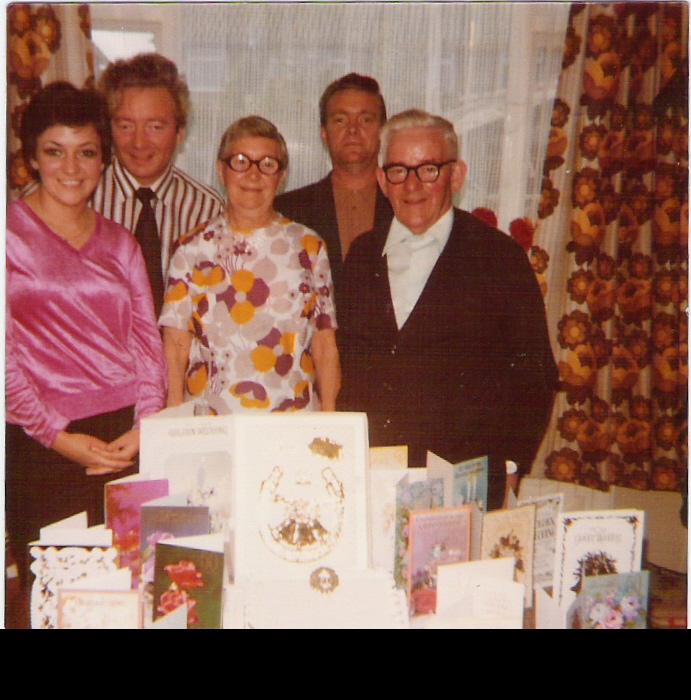 Bob and Tizzie Griffiths' Golden Wedding, October 1980.
Photo: irene roberts nee griffiths
Views: 1,499
Item #: 13628
My Mam and Dad's Golden Wedding, Pictured are Mam and Dad, my brothers Colin and Ronnie and myself. Only Colin and me left now, but lovely memories.
Nice one Irene, your mam and dad where two of the nicest people I have ever met. Genuine folk with hearts of gold.
Comment by: irene roberts nee griffiths on 17th February 2010 at 09:24
Dennis, did you see my article "My Mother's Eyes" in Past Forward last year? I ended it with the birth of my grand-daughter, Edie, remarking on how I could see my Mam in her. When Peter saw my posting of "Little Irene", (further down the album ), he said "Look at HER";I said "It's ME, you fool!", and he said "I thought it was Edie".....isn't that odd?
Comment by: joyce tierney was griffiths on 21st February 2010 at 20:30
i remember uncle bob and aunty tizzie, i wasnt so old but i always remember how nice they were
Comment by: irene roberts nee griffiths on 22nd February 2010 at 15:54
Hello Joyce, and I just want you to know you've made my day! Thankyou so much for your lovely comment on my Mam and Dad. I posted a photo of Uncle Jimmy on some time ago; look under "people", then "Griffiths". I also put Auntie Annie and Uncle Matt on there , and our Grandma, Annie, (nee Monks). If you go into "Assorted", then into "Weddings", you will see a pic captioned "a 1960s Wedding".....That is my brother Colin's wedding and Auntie Sally and Uncle Bill are on it. Auntie Alice is also on the "Griffiths" pics....her daughter Christine put them on. I wish you and yours all the very best for 2010 and will you please give my love to the family? Irene.x.ps...do you have any photos you could add, Joyce?