Photos of Wigan
Photos of Wigan
Album Contents
Album Contents
Wigan Album
Griffiths
18 Comments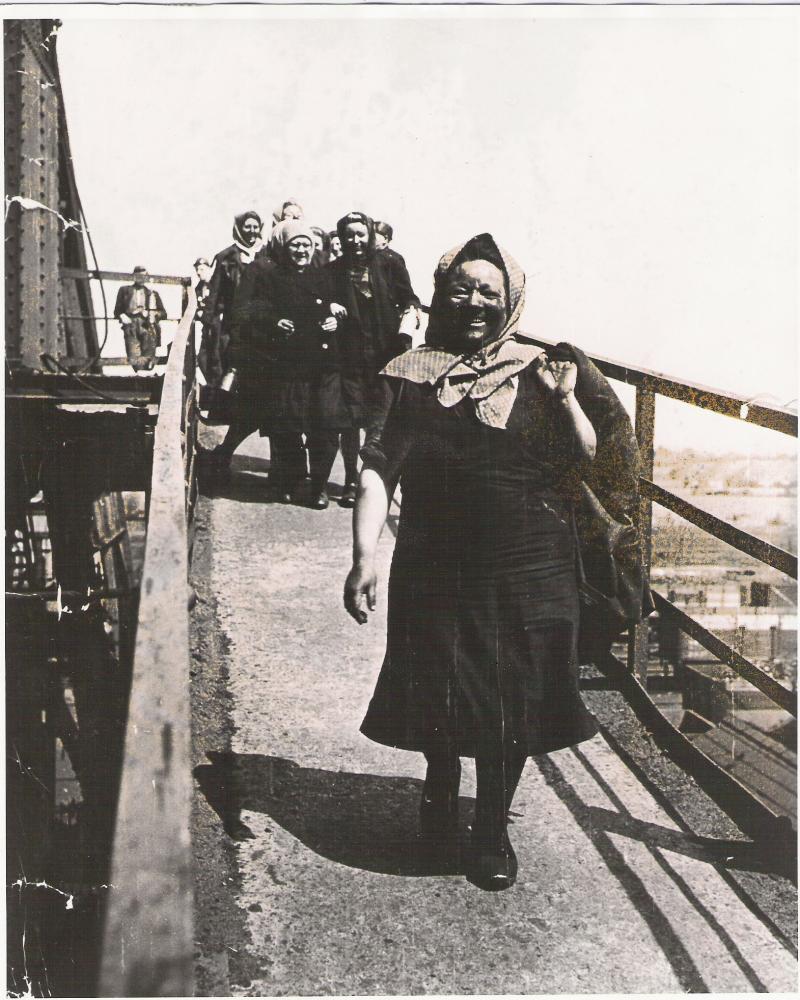 Sally Gittoes (nee Griffiths)
Photo: irene roberts nee griffiths
Views: 2,370
Item #: 12824
My Aunty Sally Gittoes, nee Griffiths, finishing her shift as a pit brow lass,sometime in the 1950s I think, wearing her pit clothes, clogs, coal dust, and her ever-present smile! Anyone know which pit it is?
Comment by: winder on 12th December 2009 at 16:40
Irene, the same pic is in a book compiled by Alan Davies called The Pit Brow Women of the Wigan Coalfield.
Alan says that the location is "probably" Giants Hall.
Does that sound right?
Comment by: irene roberts nee griffiths on 12th December 2009 at 17:59
I had been told by Alan Davies that he thought it was Giants Hall but he wasn't sure...I just wondered if anyone might know for definite. Thankyou so much for your reply.
Comment by: Art on 13th December 2009 at 14:06
Two things make think that isn't Giants Hall.
I lived in Giants Hall Rd. my mother used to work on the screens, so any spare time...Hols etc. I used to go a spend time there. During & post war, before & after the NCB took over. I don't remember any sloping gantry, but steps, the only gantry was from the screens to the dirtrook including tub rails. Another thing, I never saw my mother or any of the Pitbrow women in full head squares/scarves.
They always had turbans (check out the first pic in album>work>mining) All including my mother in turbans...This was after she left G/Hall & went to Standish Hall Drift.
Comment by: irene roberts nee griffiths on 14th December 2009 at 16:29
Hi Art, just wanted to thank you for your comment. Wherever it was taken, I love the photo, and all those of pit brow lasses everywhere.
What a amazing photo! She looks fantastic, more like this please!
Comment by: irene roberts nee griffiths on 16th December 2009 at 15:14
She was lovely! Thanks for your comment.
Irene... in answer to your email...

Yes... she does look like your dad!
Comment by: joyce tierney was griffiths on 21st February 2010 at 20:32
i remember aunty sally and uncle bill, remebered going in her caravan when i was younger. loved them both to bits!
Comment by: Michelle Charlotte (Griffiths) on 22nd February 2010 at 00:15
I remember going seeing my Mums Aunt Sally when I was very young, I seem to remember at the time she was living in a bungalow but cant remember where. She was so lovely and yes had a big smile and just reminded me of my grandad. She showed me a photo and said to me "who's that" and I replied "me" to which she laughed as it was actully a picture of my Mum when she was about the same age as I was. My Mum and her brothers and sisters always did speak very fondly of her so this is really lovely to see and made up I can print off and keep.
Comment by: irene roberts nee griffiths on 22nd February 2010 at 17:29
I adored Auntie Sally. Once, she was going on holiday and asked what I'd like for a present. For some strange reason I asked for an egg-whisk?!.....Well, any other of my Aunties would have said "Is our Irene going potty?", but back came Auntie Sally the following week with an egg-whisk, and no questions asked! She was a Star! Look uder "Assorted", then "Weddings", and there is a pic titled A 1960s Wedding. She and Uncle Bill are on it with a funny story about the reception. Bob, Thomas, Jimmy, Annie, Sally and Alice.....God Bless them all. x.
Comment by: irene roberts nee griffiths on 22nd February 2010 at 20:25
Michelle, with regard to you thinking the photo of your Mum was a photo of yourself: look at the one of me on this page, "Little Irene".....my husband thought it was our grand-daughter, Edie.....they live on in us, Michelle; looks, mannerisms, everything. It's a nice feeling!
Great picture of the gitoes grandmother .my dad ,and auntie shiela would have loved to see this photo of their mum.Iwas born in 1956 and spent my 1st 2or3 years living at 13 hope st spring view.the home of sally and billy gittoes.
Comment by: Michelle Charlotte on 28th February 2010 at 23:32
Irene the pic of you is so nice I bet your grandaughter is a little picture and your right it's a lovely thought to know they live on in us even my little sons got my grandad's eyes its amazing.
Comment by: Michelle Charlotte (nee Griffiths) on 4th March 2010 at 21:05
Hi Stephen so if I'm getting this right your grandmother and my grandad were brother and sister. Even though I was really small when I saw my Mum's Aunt Sally I do remember her...I remember her big smile and her loving welcome, she seemed very much like my grandad and I bet she was just the best grandmother - my Mum and her brothers and sisters always did and still do speak very fondly of her and the rest of their aunties and uncles x
that sounds correct.I remember joyce lorraine and william living in taylors lane spring view. i think jimmy and harriet were their parents.
the photo is Maypole at abram asked me mum when i saw it on a wall in a pub up pem
Comment by: irene roberts on 29th June 2012 at 15:16
Comment by: Veronica on 26th July 2017 at 15:02
Auntie Sally looks as happy as 'Larry' after her shift is done!