Photos of Wigan
Photos of Wigan
Album Contents
Album Contents
Wigan Album
Green Family
7 Comments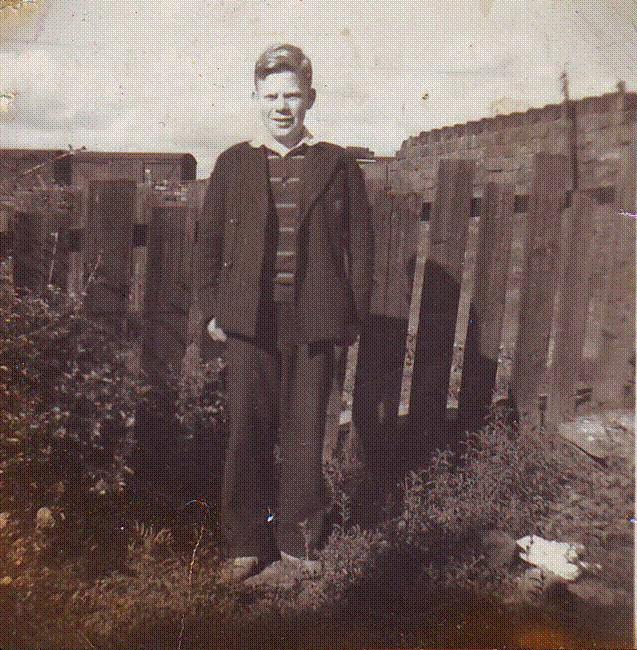 Brian Green
Photo: David Ratchford
Views: 2,112
Item #: 12678
My grandfather Brian Green at the age of 14 years in the rear yard of number 7 The Kays Houses, Little Westwood
Comment by: Evelyn on 29th November 2009 at 20:41
Hi David, I am related to your grandfather. Brians grandad and my grandad(Thomas Green of James Street Lower Ince)were brothers. We met Brian and Jean a few years ago.We haven't seen him for a while now and heard that he hasn't been well,so we hope he gets better soon.
Comment by: David Ratchford on 30th November 2009 at 12:30
My grandad is doing fine now, he has recently come back from Turkey. I have been doing some of the family tree and come across your grandfather. Uncovered a skeleton or two aswell
Comment by: Evelyn on 30th November 2009 at 21:40
Oooooooh David,--- SKELETONS?
Comment by: David Ratchford on 1st December 2009 at 11:07
Well my grandads grandad John Green married Elizabeth Kearsley. Elizabeth's father William Kearsley and his step brother Elija Winstanley took part in a infamous murder of a railway police officer in wigan in 1895
Hiya David. Great photo, please let me know if you have any more. And tell Evelyn to email me if she wants to hear anymore of the skelton's from the Kay's cupboard.
Speak soon
Your grandfather is my uncle Brian. My dad Alan died in 1970 and my mum Nellie remarried Ken Beckett in 1072. Over the years we have lost touch, but I met the Green Family again a few years ago at Elaine's 50th. I have lived in Lancaster for over 30 years and was back in Wigan yesterday which prompted me to look at this site. I'm so glad I did. In the early 70's I remember going for Sunday tea at Grandma Green's and the whole extended family would be there. It would be good to hear about other family members
My mum was Muriel Green.Brian was my Uncle.I am Still intouch with my Auntie Lily We are always on the phone to one another. I am A grandma my self now.I have the green nose and ears, My sons have.Also even my grandson has got the green looks