Photos of Wigan
Photos of Wigan
Album Contents
Album Contents
Wigan Album
Pearce family Upholland Nr Wigan
7 Comments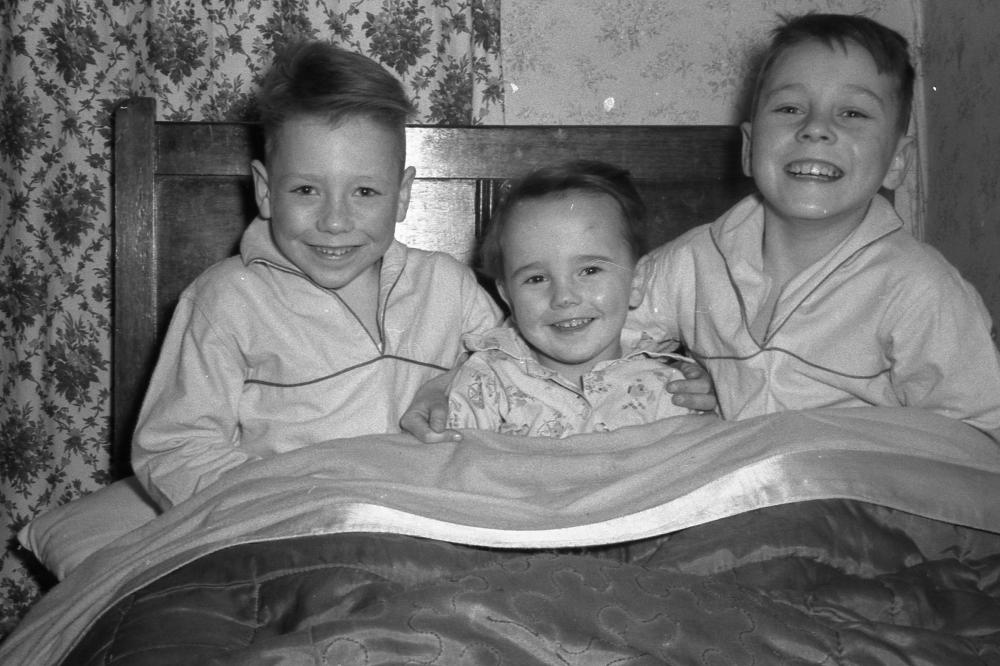 The three of us
Photo: Martin Pearce
Views: 1,112
Item #: 11700
Robert , Martin and David Pearce.
All in the one bed at 73 Alma Hill Upholland Nr Wigan. Early in the 1960's cold winters, coal fires until we got GAS.Great Christmas times wish I could go back.
Comment by: RON HUNT on 3rd September 2009 at 19:22
That was a time when Christmas meant something to kids. The excitment of going to bed Christmas Eve after a bath with clean pyjamas on. Trying to stay awake to see father Christmas. Was OVER THE MOON with what you got Christmas morning. Although most of it didn't cost much. It was A treasure to you. As you rightly said Martin, I wish I could go back to those days. Sadly they have gone. NEVER to return. Just glad I was around to have been a part of it.
I feel sorry for kids today there is no age of innocence anymore. They will never know what they have missed.
Comment by: janet on 3rd September 2009 at 20:11
I agree 100% Ron. Born in the early 40s, when we had nothing, I still treasure my memories of Christmas and my childhood..
Comment by: Helen on 3rd September 2009 at 20:46
Well scrubbed, happy, smiling faces. Your Dad left a true legacy for you Martin.
All that Ron has said is sadly true, Christmas was ' different' back then and so were all the other holidays like Easter, Halloween, New Years Eve. The young today will never know what has been lost.
Comment by: James on 3rd September 2009 at 22:05
Totally agree with everything you say Ron. The kids today don't know what they missed. Great picture Martin I can remember Christmas eve bath new pyjamas and bed early except kept waking up to look through the window to see if I could see the big fellow.
Comment by: Barbara Sherrington (Webster) on 3rd September 2009 at 22:35
What a great photo! When mum was young there were 12 of them, now I bet that was squashed but cosy :)
Comment by: Gerry on 4th September 2009 at 11:15
when we wre little we had to sleep two to a bed, my brother always weed in bed so I slept in the shallow end
Comment by: Maria Ryan on 21st September 2009 at 17:00
I cant help but keep coming back to this photo, its guaranteed to make me smile...