Photos of Wigan
Photos of Wigan
Album Contents
Album Contents
Wigan Album
Miller Family - Platt Bridge
6 Comments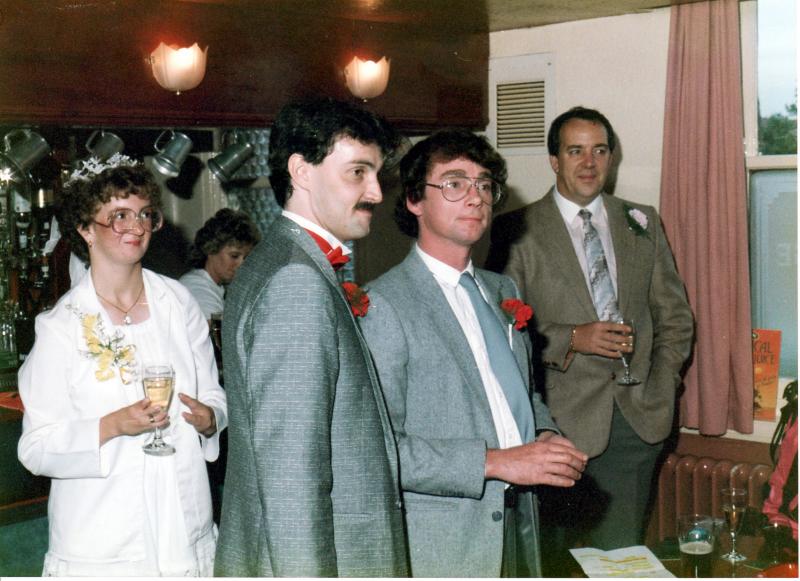 My Wedding - 1985 - Platt Bridge Inn
Photo: Dennis Miller
Views: 1,530
Item #: 11330
Left to Right...

The new Mrs Miller (Susan Waterhouse), myself, Colin McDonald (my best man) and Alan Waterhouse, my new father-in-law.

Taken in The Platt Bridge Inn.
Comment by: Irene Roberts on 30th July 2009 at 09:27
I've been waiting to see these pics of you and your "lovely lady" as you proudly (and rightly) named Susan on the Platt Bridge Inn pics, and how strange it seems to see the interior of The Inn, as if it's still there. Do you and Susan have a family, Dennis?
We have three grown boys Irene... 22, 20 and 19. They still live at home and the beggers will not move out! >:-[

We are waiting for them all to be out at the same time and we are gonna flit! ;-)
Irene, if you check out the Photo-a-Day section for Friday 12th September 2008... you will a candid shot of my youngest lad dashing for shelter during a rain storm. It was taken by Oy of ShutterNutters. Oy had no idea it was my lad, he just grabbed a candid moment.
Comment by: Irene Roberts on 31st July 2009 at 12:32
What a brilliant pic of your son, something to treasure! They must have it too cushy at home to want to leave! Our son Jamie was 10 months old when I started at the Inn in 1977, and I left to have our daughter Ashley in 1981. Ashley has no children but Jamie has given us a little grand-daughter, Edie,(two), and a grandson, Oliver,(4 months).So nice to catch up with your news. Irene.
... and I just bet you are a glamorous granny into the bargain, hey Irene! :-)

There is no chance of me becoming a granddad at the moment it seems, Mark, my youngest is courting but he wants to get uni out of the way before wedding bells. Adam the eldest to much into his own pursuits to bother will lasses just yet, unless she is good at computer games and likes rock festivals and is prepared to get a round in. Paul, the middle one is autistic and very much into his own thing.
Comment by: Irene Roberts on 3rd August 2009 at 07:45
Yes, I am glamorous, Dennis.....(in my dreams!). Our Jamie was thirty when my grand-daughter was born.....you're day will come!