Photos of Wigan
Photos of Wigan
Album Contents
Album Contents
Wigan Album
Harrison family
15 Comments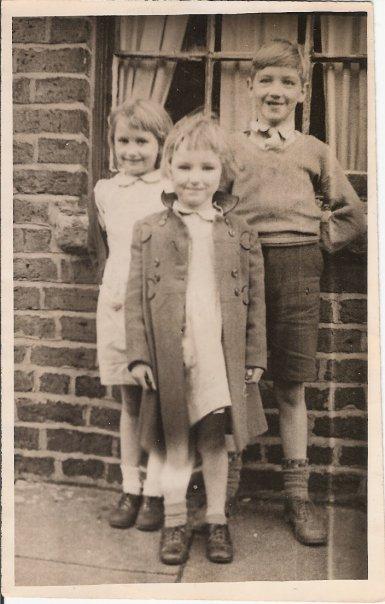 Jenny, Frances and John Harrison
Photo: Jane Roby nee Harrison
Views: 2,348
Item #: 11158
Children photo Jenny, Frances and
John Harrison taken at 6 Frances St Belle Green Lane, Higher Ince, 1946
Comment by: Irene Roberts on 9th July 2009 at 09:30
Hello, Jane, what lovely pictures! Do you, or does anyone you know, have other pics of Francis Street? A friend of mine in London, whose father was born in Frances Street, and whose Grandfather kept Cain's cake shop,is very keen to get photos of Francis Street, the cake shop on Belle Green Lane and any of the surrounding area.I was born in Ince Green Lane and would love to see photos of that area, and surrounding streets as well. Any photos out there anyone?
Comment by: Jenny Harrison on 10th July 2009 at 11:15
Hi Irene can you tell me the name of your friends father i may know him as it was a small community.
Comment by: Irene Roberts on 10th July 2009 at 12:35
It was before your time, Jane, in the 1920s. Neil's father was Jack Cain. You will probably recall the cake shop however at 10, Belle Green Lane. It was run by the Ashurst family fron around the 1940s I think, but many people still called it Cain's from when my friend's grandad, Jimmy Cain, ran it.Neil would love to get hold of photos of the shop or of Francis Street. He has a great interest in Ince.Many thanks for your reply.
Comment by: Irene Roberts on 11th July 2009 at 14:01
Jenny, are you related to the Robys who have a photo of Aaron Roby's birthday in the "Assorted"part of Wigan World's Album? The picture is shown under Belle Green Choir Trip, and my friend has named some families his Dad knew in his young days in the accompanying comments. The Cain family ran the pie-shop from around 1930 and sold to Peter Ashurst after the war. At some point during their time in the shop the Cains moved from Francis Street to Holt St. over Rose Bridge. Isn't this a brilliant site, Jenny, letting us all share old photos and memories?
Comment by: Jenny Harrison on 11th July 2009 at 22:07
Hi Irene I remember Cains Pie Shop when Ashurts took over, they had a daughter I think her name was Vivienne she was in the same class as me at Rose Bridge School in 1954. If your friends dad was born in Frances St before the 1940's he may remember Lucy O'shea who lived there, or Mr and Mrs Hill (John and Jane) who were elderley and lived at the top of Belle Green Lane. John Hills photograph is on this page. Hope this helps Irene.
Comment by: Irene Roberts on 13th July 2009 at 07:52
My friend's dad sadly died a few years ago, but would have remembered Lucy.How fascinated he would have been, seeing all these wonderful old photos. My friend visits Valerie Ashurst in Careless Lane when he comes to Wigan. Vivienne lives down South somewhere. I was born in 1952, and my brother was 12 that year, so in 1954 he would have been 14 in the November, and attended Rose Bridge. His name is Colin Griffiths. Doyou recall him from school? Do you still live in Ince?
Comment by: Jenny on 13th July 2009 at 20:20
Hi Irene Colin Griffith's name does not come to mind, may know him by sight. Did not know many boys as we were seperated, boys one side girls the other. I still live in Ince on the Busy Bee Estate. Was not sure whether it was Valerie or Vivienne (sorry) who was in my class.
Comment by: Irene Roberts on 14th July 2009 at 08:00
Hi Jenny.....you must be fed up of me "mithering"! Which is the Busy Bee estate? My friend in London was thrilled with the copy of the photo.....even though it wasn't his Grandad's house, he was just so pleased to have a photo showing Fracis Street. He has asked me if you could tell him the location of The Cottage in Belle Green Lane, where the old gentleman on the other photo is shown.....could you say what's there now? Neil always drives up to where Francis Street stood on his visits here. Hope I'm not putting you to a lot of trouble. Irene.
Comment by: Jenny on 14th July 2009 at 12:05
Hi Irene back again. Busy Bee Estate is facing Ince Park near Morrisons. "The Cottage" If you go to the top of Belle Green Lane there are two big houses facing down the lane. To the left is a small lane leading into the fields where the cottage was. After my Grandad died my Grandma moved to Rose Bridge in the early 1950's. The cottage was pulled down because it had no Gas Electric only Oil burning lamps. They used to go to bed by candlelight. (Jenny)
Comment by: Irene Roberts on 14th July 2009 at 15:02
Jenny, thankyou so much for all the trouble you have gone to,and for answering all my queries.....both my friend Neil and myself can talk "Ince" for England! Irene.x.
Comment by: Irene Roberts on 15th July 2009 at 14:16
A quick PS.....Neil has spoken to Valerie (nee Ashurst) and she remembers you from school. Is the Busy Bee estate the one with Windermere Rd/Kendal Rd/ othee Lake District names? I had an auntie on Windermere Rd when I was a little girl, and my husband's brother lives in Arnside Ave. I have a penpal who I met through Past Forward in Patterdale Place,(sounds daft having a penpal two miles away, but we enjoy writing).
Comment by: Jenny Harrison. on 16th July 2009 at 12:20
When I was young I used to live in Windermere Road, what was the name of your Aunty? I may have known her. Yes the Busy Bee Estate is all names from the Lake District. Jenny.
Comment by: Irene Roberts on 16th July 2009 at 14:11
Hello, Jenny! My Aunty's name was Rachel Aspey. She was an elderly lady, or at least seemed it as she wore clogs and had her grey hair in a plait down her back. Her husband, Harry, was my Mam's brother. He also wore clogs and tended to shout as he was a bit deaf. They had a son, Dick, who was grown-up when I was a child, as were many of my cousins due to my parents being in their 40s when I was born. My husband's brother in Arnside Avenue is John Roberts, who is quite well-known as he was a postman for many years, and my penpal is Kath Meadwell (nee Molloy).I also had an Auntie in West Street when I was a child, Mrs. Mary (Polly) Ambrose.
Comment by: josephine pennington nee beckett on 29th September 2009 at 01:03
hello jenny. i am new to all this internet stuff ididnt know what iwas missing .how long did you live in frances st? lots of my friends lived there i l lived at 9 york st off frances st. there was six of us i was born 1950 but i have a sister madeline who was born in 1941 my brother raymond was was born about 1943 do you know them ? we lived there untill the houses were demolished about 61 62 we then lived in levens place on busybee estate we thought we had a mansion only just found out that it was called busy bee never heard it before doh and i thought i knew everithing about lovely ince . i was always at my friends house in frances st kathleen aspley she had one sister sheila mother molly a lovely fun lady they lived on the short side of the st mills chippy was on the end and at other end was a garage works ? i could carry on all night about up the lane wish i could go back in time but its all still here in my heart .hope you have a bit of info for me jenny also we went to st williams school . josie x
Comment by: Jenny on 6th October 2009 at 21:43
Hi Josephine iwas born in 1942 next door to Molly Aspley i left Frances St in 1950. I remember your Madeline and Raymond they would know me and sister Francis and brother John. We all went to Belle Green School nice to hear from you (Jenny).