Photos of Wigan
Photos of Wigan
Album Contents
Album Contents
Wigan Album
Unknown
7 Comments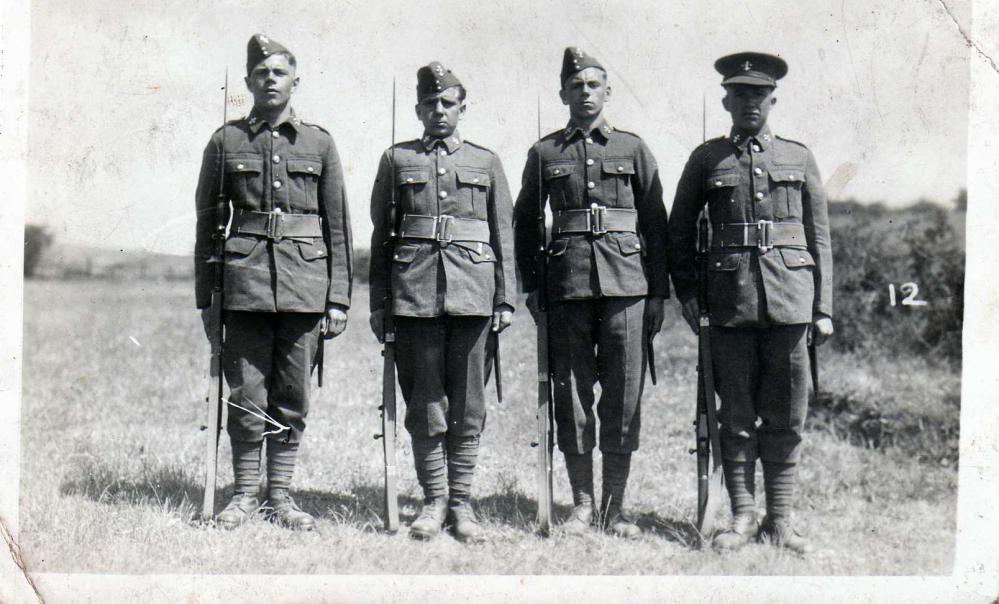 unknown forces men
Photo: Pat van Vliet (nee Johnson)
Views: 1,892
Item #: 10053
This was also in my parent's album, not a clue as to who the men are, anybody recognise any of them?
Comment by: Pat van Vliet on 25th March 2009 at 12:47
Maybe not completely unknown!! Just compared it with another photo of my dad in his forces uniform I uploaded a while back, I'm pretty sure he's the one second from the right. In which case I think it's the T.A.
Comment by: RON HUNT on 26th March 2009 at 23:05
They don't look like British uniforms to me...
Comment by: Pat van Vliet on 27th March 2009 at 18:06
Ron, there's another photo on here that I posted a long while back of 3 soldiers, one I know is definitely my dad because we have the same photo of him on his own. I've compared the caps, look the same to me.
Comment by: RON HUNT on 27th March 2009 at 19:54
It's the two buttons on the forage caps which aren't British issue caps.
Comment by: Pat van Vliet on 28th March 2009 at 10:19
This is confusing Ron, because my dad's sister has confirmed the lad 2nd from the right is my dad and far left is his cousin, they were in the British army.
Comment by: Pat van Vliet on 9th May 2009 at 22:12
Got more information on this photo: from left to right Jack Kelly, Tommy Tomlinson, Harry Johnson, Pam (nickname) Higham. According to another aunty it was the Manchester regiment, she thinks the 5th - so Ron, definitely British!
Having checked on the Web I don't believe the issue of 2 buttons is not a indication that the caps are not British uniform. This site shows similar caps with 2 buttons http://www.thefedoralounge.com/showthread.php?t=20792.