Photos of Wigan
Photos of Wigan
Album Contents
Album Contents
Wigan Album
Aspull
11 Comments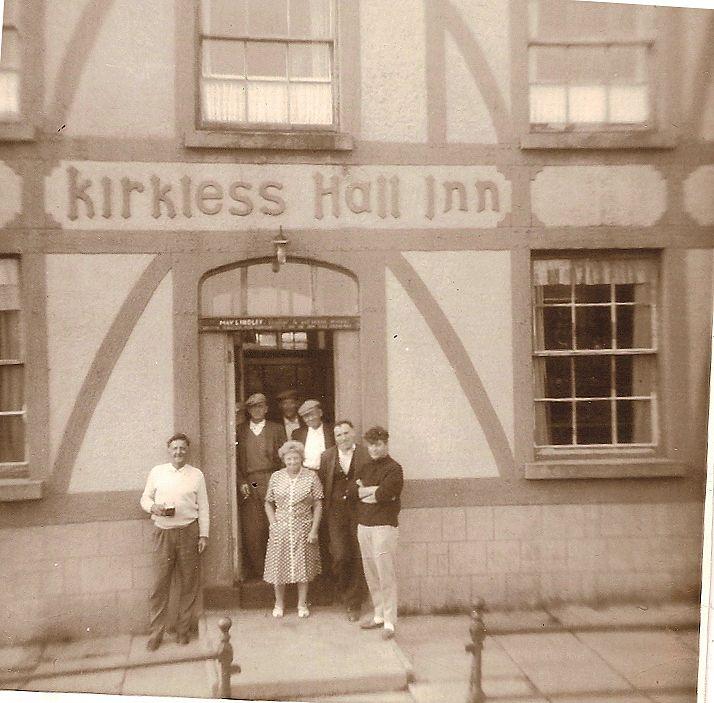 Kirkless Hall Inn, late 1950s.
Photo: Paul Green
Views: 4,544
Item #: 962
Kirkless Hall Inn, late 1950s.
the gent holding the pint front left is my uncle tommy.
tommy blake. what a man any top locker will never forget
characters,never be another like my uncle tommy.
cliff rogers right of landlady always wore clogs
and smiled all the time.
Comment by: old toplocker on 14th August 2008 at 20:50
Edwin,right of the landlady is Jack Abram father of john
and kevin.next to him i think it's Joe lowe billy'grandad
but not sure.
The man on the left is me father tommy Blakeley also know as "Puggy blake". Mrs lindley is in the middle with Cliff rogers on the right and think Mr lowe is one of them.
Comment by: felly on 25th January 2009 at 21:25
cliff rogers lived opposite us in withington lane with is 2 sisters had a pen facing big wall were he kept chickens.and worked on railway the man next to mrs L is not cliff.
tommy blake when i was a lad. went pikeing with my dad.
the gent at the front on right dark hair
george hall from jolly!s row
Comment by: oldtoplock on 22nd August 2009 at 21:39
Eddie. that's not george hall far to young and i never saw
george without a collar and tie he was always immaculately
dressed.
Comment by: Ada Lowe on 27th October 2009 at 18:27
The man in the white shirt and flat cap is my dad Joe Lowe.
Comment by: oldtoplocker on 27th October 2009 at 19:41
Think man in centre at the back is one of the Mailey brothers who lived in withington lane.remember they used to carry coal of the barges when they passed through top lock
Comment by: oldtoplocker on 28th October 2009 at 22:22
Ada.remember in early fifties when you lived in corner house in leeds st. your dad used to cut my hair he was my 1st barber.
Comment by: john lowe on 22nd November 2010 at 18:53
who is old toplocker i have seen your name several times on wigan album let me know please
Comment by: linda rutter ne hulme on 28th October 2012 at 12:30
hi marrion rember you when we worked at lostock long time ago your evlins husband ken goes in the ravin i will tell him ive sent you a message