Photos of Wigan
Photos of Wigan
Album Contents
Album Contents
Wigan Album
North Ashton
9 Comments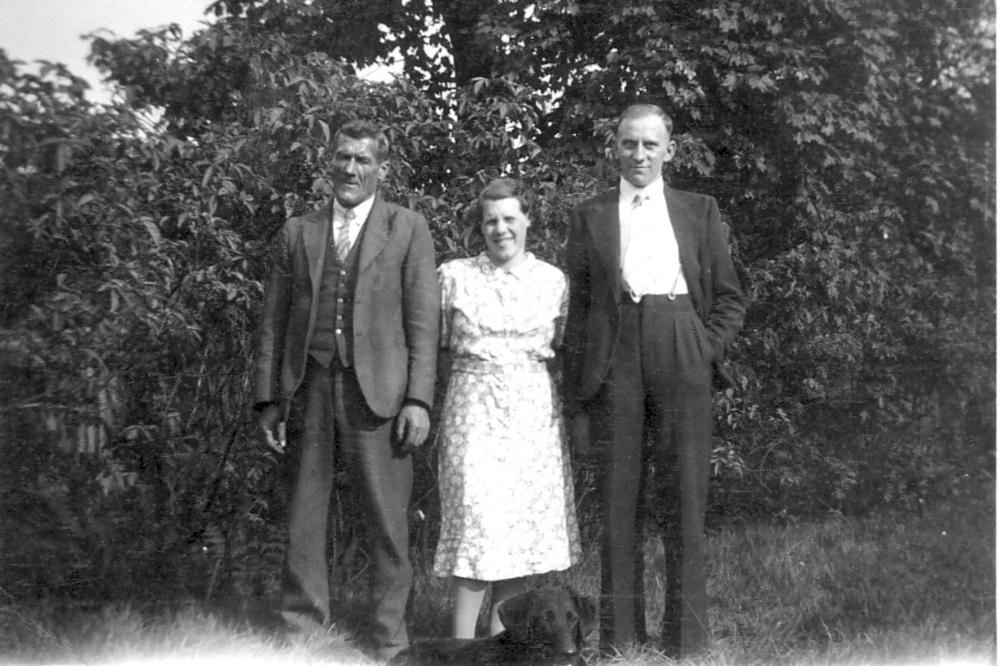 This ones for you Michaela Booths Brow North Ashton 1939
Photo: Janice Ryder
Views: 2,027
Item #: 9042
This photo was taken at Booths Brow around 1939 showing your Greatgrandad Jem Ryder his daughter, your Grandma Olive her husband your Grandad Miles Frodsham. Does anyone remember Miles from the days when he was the steward of the Legion before it became the S and S. He was a true gent.
Comment by: David Thompson on 3rd February 2009 at 19:24
I don't remember Miles Frodsham but I do remember my parents talking about someone called Miley Fratsam
I dont remember Myley from his stewardship days, but I well remember him from his days at Stones pit. He was one of the best legpullers that I have met. He worked in both the Orrell Yard and the Ravine and his practical jokes were legend!!
Comment by: Ged on 3rd February 2009 at 19:44
I worked at Stone's Pit at the same time as Miles, I still see Billy & Jimmy his sons,
Thanks Janice, made me cry!! Big softie I know! My youngest is called Benjamin Miles and he's a real Smiley Miley too xx
Comment by: Bert Thompson on 4th February 2009 at 11:07
i remember miley very well went to school and lived a few doors away from him.mated with robert .new all the family well. still see jim sometimes not seen billy for long time.
Comment by: trixie on 11th February 2009 at 18:11
i think miley was anne frodsham's dad who i think married bernard lowe.
Comment by: Kath Nicholson nee Roberts on 14th February 2009 at 16:47
Don't know if I am totally on the wrong track Michaela, but was your Mum called Mary (also known as Vera) Hesketh? from Ashton cos I think I went to school with her (Ashton Grammar)
Ann Frodsham did marry Bernard Lowe, my auntie and uncle. Still live on Poplar Ave, spent alot of time there growing up.
My mum is Mary, from Ashton (Bryn Street) and she is known as Vada.
Comment by: Edna Harris on 18th July 2014 at 00:57
Michaela Keeling, I am trying to contact your Mum Vada for a school reunion in Sept. Need her contact details.