Photos of Wigan
Photos of Wigan
Album Contents
Album Contents
Wigan Album
North Ashton
5 Comments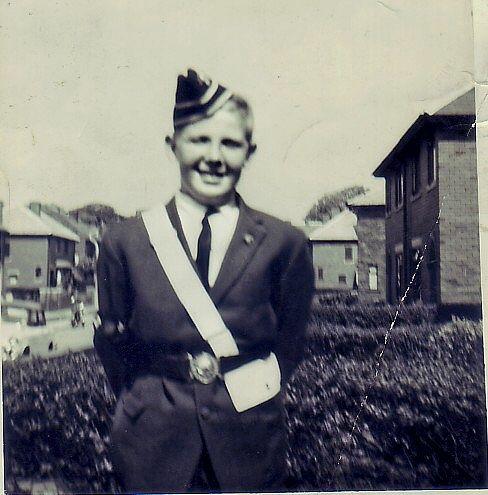 My brother George outside our house in Hawthorn Ave.
Photo: John Davies
Views: 2,704
Item #: 8932
My brother George outside our house in Hawthorn Ave., going to Boys Brigade. Notice the car outside Mcphersons house. What sort is it?
Comment by: Susan Atkins (nee Atherton) on 24th January 2009 at 11:55
Memories are made of this John. My Mum says she has a photo somewhere of our Brent and your George in their BB uniforms, will see if I can find it. I can see what was our house on this one. Great photo.
Comment by: John Davies on 24th January 2009 at 11:55
I reckon this was taken around 1960.
Comment by: shirley roberts on 27th January 2009 at 20:23
hi john,love looking at all the old photo's of downall green,i was born in birch grove,then lived at 12 hawthorne ave early 80,s thanx for sharing x
Comment by: John G on 3rd October 2014 at 20:20
It realy is great for me to look back on little downall green,I used to go to school and mate around with Colin McPherson,Ste Holland, Barry Fairhurst,used to cycle down from my grand parents in Simms lane end.I had a lovely childhood down there,enriched by the girls & boys I used to know.
Comment by: Barbara Gratton nee Davies on 8th April 2021 at 15:38
Love this photo of our George in his BB uniform ready for Jelly Sunday. Think he had been busy all morning polishing his brass belt buckle! Happy Days!