Photos of Wigan
Photos of Wigan
Album Contents
Album Contents
Wigan Album
North Ashton
9 Comments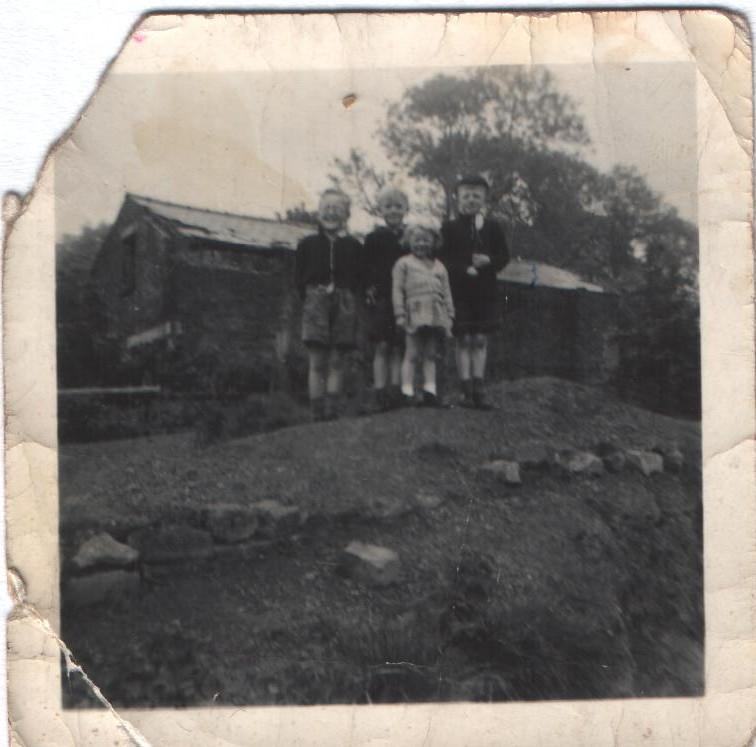 Booths Brow Road
Photo: Susan Atkins (nee Atherton)
Views: 2,957
Item #: 8760
This picture is of My 2 brothers Kevin & Brent, Brian Hardman and myself posing on top of the dirt rook at the back of our houses. This rook was next to Bill Jobs garage, which is where the infamous Pig Street once stood. We would have been looking towards the opening to the backyard to our houses. The graveyard would have been behind us so does anyone know what the old building in the background is? It seems to be where the new part and garden of remembrance is nowadays. I would date this picture about 1957/58.
Comment by: Janice on 16th January 2009 at 00:15
Hiya Susan, good photo, think the building in the background is the stables to the rectory. The pit dirt you are stood on came from either Windy Arbour colliery or Quacker House colliery, it was also dumped on Slaters pen and accross from Janet and Ste Lomax's house. Willy remembers coal picking off these dirt rooks as lads. Your Elaine would have only been a baby then would she? Is Kevin the boy on the Rt? I can see the large tree that Ste refered to in the photo of Pig St.
Comment by: Dave Lewis on 16th January 2009 at 07:52
Hi sue, you and janice are baffling me with these old pics i know where your stood but don't remember the building in the background, brian has'nt changed much nice one sue.
What a wonderful picture Susan. Memories are made of this.
Comment by: Susan Atkins (nee Atherton) on 16th January 2009 at 20:00
Thanks for the info Janice, I certainly didn't know about the stables, you and me both Dave. Kevin is on the right, then obviously me then our Brent and then Brian. Yes John there are a lot of memories in all these old photos, surely you must have some of you, George & Barbara, if so lets be seeing them on here, the more Downallgreeners the merrier lol.
Comment by: Janice on 16th January 2009 at 23:49
Thought that was your kevin on the right because Mark is the spitting image of his dad. All the pieces of stone that you can see around you in the photo are what was left of Pig St because that is what the cottages were built out of.
Comment by: ste lomax on 17th January 2009 at 21:57
great photo susan ! i was born in leyland green rd & never knew the buildng ever existed .thank god for wigan world
Susan
I've tried to put pictures on but without success up to now. One day I'll find a way.
Comment by: Janice on 19th January 2009 at 00:33
John, have you got adobe photoshop if so thats the easiest way.
Comment by: Lyndon on 19th January 2009 at 11:39
Hi Sue, another "Little Rascals" photo, pity it's a bit out of focus. It's just how I remember you, Kevin, Brent and young Brian Hardman. The building at the back was where Harry Hope, the graveyard keeper kept all his tools, wheelbarrows, headstones, etc. We used to try and sneak in because every year a Barn Owl made a nest upstairs but we never actually managed it.