Photos of Wigan
Photos of Wigan
Album Contents
Album Contents
Wigan Album
North Ashton
7 Comments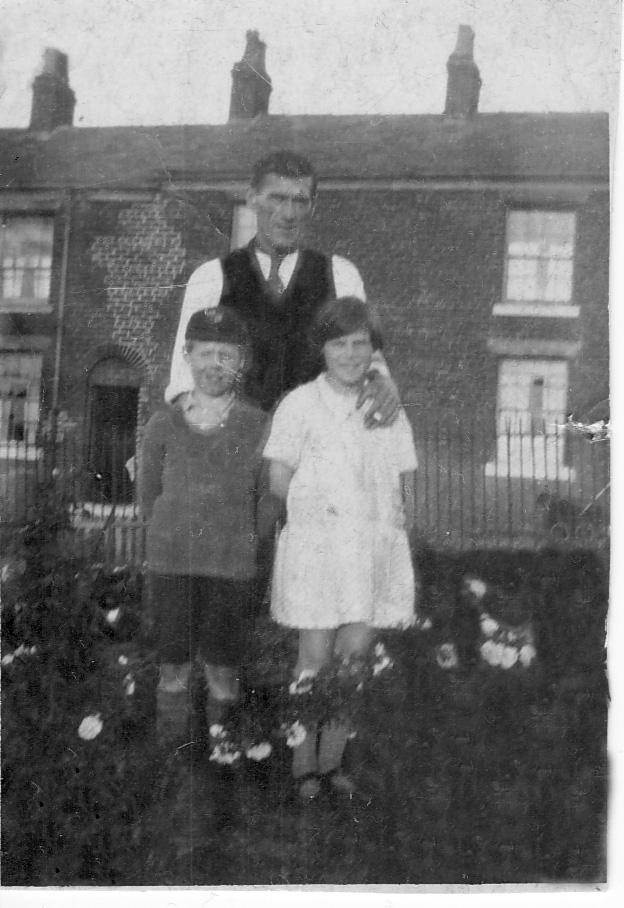 Houses on Booths Brow Road
Photo: Janice Ryder
Views: 2,633
Item #: 8622
As Stee points out the tree at the back of the houses in question is in the graveyard. If as you think these houses were on Booths Brow Road then that tree would be on Rectory Road. Yes Janet, Olive is stood in the top pen, but she is stood in the second entrance which led onto Slaters pen this is down the hill (opposite what would have been the entrance to the communal yard). It is the angle that the photo was taken at which is confusing people. I have put a photo on the album showing the houses on Booths Brow Road and you can see the windows in these cottages are different. On booths Brow Road there were only 4 cottages. this photo was taken in 1929/30 it shows Olive with her brother Harold and their Dad Owd Jem Ryder who died in 1949. They lived at number 1 then going down the hill at 2 lived Coopers 3 Cunliffs 4 Sudworths. The cottages in question at Pig Street (nicknamed this because someone kept pigs there) was a row of 9. This is about as clear as mud but i hope all you owd downallgreeners can understand it.

Comment by: ste lomax on 11th January 2009 at 13:47
oh no janice, not more cottages on booths brow !!!lol
Comment by: Dougie on 11th January 2009 at 15:30
I think this photo is of the same houses I remember them well, I have older sisters that would remember Pig St, We lived at the other end of Booth Brow road in the 30s where that big new house is built across from the farm, they had to walk past them every day going to school, me to from 1943 I also know the Davis family that lived in the last house in the 40s you can just see it in your photo,is that Olive that lived in Popular Ave
Comment by: ste lomax on 11th January 2009 at 17:01
oh no janice,more cottages on booths brow !!!lol
Comment by: janet on 11th January 2009 at 17:14
Okey Dokey Janice, these are the ones I remember, they have the right windows and they are right on Booths Brow. The angle of the first was confusing, I have an old survey map of DG, but the print is so small I can't make anything out, was hoping that would have helped me.. Ste, you keep repeating yourself, ha ha...Thanks Janice for clearing things up..
Comment by: Susan Atkins (nee Atherton) on 11th January 2009 at 17:23
Here we go again haha! When we lived in the houses the ones on Booths Brow Rd from the bottom one was Aspinalls, then Jones', then Coopers and Sammy Hardman, the back door to the chippy was next. The way I'm thinking is that the original photo was taken further down the brow and of course there would be no dirt rook then so it was all open. My Mums going to ask Arthur Winstanley as he lived in the cottages on Rectory Rd next to Sudworths shop. These cottages were side on to the road and his Dad grew flowers and sold them (think this is who Janet was refering to in the other posts) Oh well I think we'll get there in the end LOL.
Comment by: janet on 11th January 2009 at 17:47
Thank you Susan, I knew I remembered a greenhouse, I remember going in there,the smell of fresh flowers is one of my favourite smells, I loved going into that greenhouse and he grew the most beautiful Chrysanths. We may all have been 'financially challenged' back then, but I loved growing up in DG, it was a lovely place to live..Janice, maybe I'll get to meet you when I come over in May and we can have a laugh over this..
Comment by: Janice Rrder on 11th January 2009 at 22:44
Yes Olive did live on Popular Ave, and owd Jem Ryder moved to the Barrack houses late 30's or 1940 because his son Bill had the pen at the dam corner as a haulage yard which was later to become Sharples pen. But like i said their were only 4 houses on Booths Brow Rd and on Pig St their were 9. Thats right Janet you can see the windows are different from the 1st photo. The original photo was taken further down the brow Susan but the first photo had Pig St in the background. These cottages you refer to Susan i think were called Church Terrace and in the 40,s Bill Slater (of Slaters shop) lived in one of them. We have a photo of Church Terrace dated 1938/39 i will root it out and put it on the album. Yes Janet it will be nice to see you looking forward to having a good chin wag!!!lol