Photos of Wigan
Photos of Wigan
Album Contents
Album Contents
Wigan Album
Aspull
32 Comments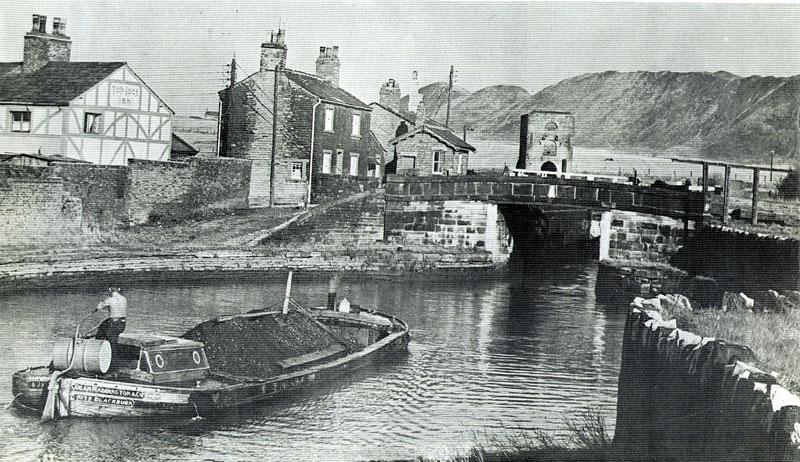 Top Lock
Photo: The Wigan Courier
Views: 8,859
Item #: 8447
Canal Barge at Top Lock, Aspull.
This is an excellent pic, showing the canal working like it should!
This pic is just the same now really, except it's missing the Top Lock in that was sadly demolished late 1970's.

If anyone has any more pics like this or more info on Top Lock Inn, please email me!
Comment by: peano on 8th January 2009 at 20:27
is that not the top lock pub on the left that was the first pub i ever drank in Pearl Barlow was the landlady at the time The woochy rook in the background devoid of the Fir trees
Comment by: Carol on 20th January 2009 at 11:59
my great uncle was the lock keeper for a while, Peter Ode, My grandad was a boatman, William Ode.....
Comment by: old toplock on 26th January 2009 at 15:29
Ronnie Ecclestons grand father was landlord of toplock inn
40s 50s used to have bulldogs .was call dog and gun prior to opening of canal
Comment by: Marlene Austin on 16th February 2009 at 13:07
Lovely picture my mother was from toplock Leeds street i believe sadley no longer there,Margaret Yardley was her name wonder if any old toplockers new her.
Comment by: John Bishop on 28th June 2009 at 16:07
There used to be a shop between pub & canal bank cant remember what they sold.
Comment by: old top locker on 30th June 2009 at 22:27
think you got it wrong John never a shop there.that's were when i was a lad they came out of pub and played pitch and toss.
Comment by: John Bishop on 20th February 2010 at 17:23
Sorry took so long to reply old top locker, Been onto my Mother & asked her about the shop which was next to the pub she is certain there was a shop because she used go through the shop to get to the living room, the family that lived there was Mrs dutton,Daughters Barbara, Evlyn,& son Harry.
Comment by: oldtoplock on 22nd February 2010 at 22:24
Hi John. the old shop was next to the kirkless on the canal bank.it had stables at the back.with long steps going down to the yard and cellars under the house and shop.bet you could see it from your back yard in leeds st.Barry Tomlinson
lived there.after they moved facing Colliers Arms.a family
named Kerr moved in.
Comment by: Oldtoplock on 22nd February 2010 at 22:34
Hi John.if you go to section on Leeds & liverpool canal you'll see a photo of the Kirkless and the house with the shop next to it
Comment by: John Bishop on 26th February 2010 at 17:50
Hello oldtoplocker poke to Mother she still thinks Duttons lived in the back of the shop,Also the shop near the Kirkless was owned or run by a Brother & Sister whos name was Edwards,She remembers a family named Tomlinson,Alice & Frank, who lived in the short street off withington lane also Pea ode,& someone named Betty Bates.Alice Tomlinson married someone from New Springs Billy Connoly, Frank Tomlinson worked in a shop up Millgate Wigan.Through out thier lives they lived in Top Lock till about 1955.Can you give me your name because Mother is sure to know your family.
Comment by: john fell on 26th February 2010 at 20:47
Hi John.remember playing with you as kids you lived in leeds st.
but you must have moved when you were very young.my parents
were Betty and Tommy Fell.lived next door to Edward think he
was your cousin in Withington Lane
Comment by: John Bishop on 27th February 2010 at 17:24
Hello John So are you oldtoplock,Spoke to Mother earlier she remembers your Mother & Father did you live in either 123 or 127 Withington Lane Also did you have an Uncle Harry.Cant bring your face to memory did you go to same school as me.
Comment by: oldtoplock on 27th February 2010 at 20:03
Hi john.i'm the same can't recollect your face but still
remember playing in your house in leeds st with Edward.had a uncle Harry lived in jollies row.your mother must be a good now.at what age did you leave top lock. i mated with Edward up to him getting married he lived at 125.we lived at 123.bosh cartwright lived at 127.
age.i went to Holy Family.
Comment by: John Bishop on 28th February 2010 at 16:07
Hello John My Mother just had her 90th birthday,Are You a member of wigan world, If so give brian your email & He will pass it on to me & I will contact you,It isnt wise to put emails openly on here.
Comment by: David Grindley on 18th May 2010 at 20:49
A great picture this.My Family lived at Leeds Street and then moved to Canal street. My Grandma was Maggie Corrigan(Nee Ode) and my Mum was Molly Corrigan Who married Jimmy Grindley. So if Carol Reads this we must be related
hi all great photo has anyone got anymore of toplock where myself and girlfriend who was anne holcroft grew up in liverpool st
Comment by: geoff ex canal st on 14th March 2012 at 22:25
david did you live at no 10 canal st. as i lived next door. i was in same class as your sisiter carol if so. if not sorry wrong person.
Comment by: Debbie Wilson on 22nd September 2012 at 17:59
My Grandparents lived near Top Lock in the 1920/30s. They were Sam and Ellen Price, (nee Hayes). They had 3 daughters at the time, Irene, Evelyn and Olive, (Evelyn died and was buried in a Church at the back of the village). Can anyone shed any light on the name of the church or does anybody remember anything about the family ?

Sam and Ellen married in St Catherine Church in 1920, and moved to Liverpool during the Great Depression, as Sam secured work on the docks. Any info would be very much appreciated.
Comment by: linda rutter ne hulme on 12th November 2012 at 21:34
you mentioned Pearl as the land lady did she come off Crawford AVE IF SO SHE WAS A NEIGHBOUR OF MINE
Comment by: Dean Scully on 30th August 2013 at 03:34
My Dad lived at 141 withington lane and my great Auntie Sarah lived at 161.
Comment by: peter scully on 14th February 2014 at 17:37
have photo taken on bowling green top lock pub party coronatio n 1953
Comment by: arburthnot on 28th August 2014 at 19:05
David grindley ... your mum molly was my mums bridesmaid in 1956
Comment by: carol on 14th May 2016 at 14:41
For david, sorry but just read your comment of 2010, I remember my mum talking of the Corrigans, yep we are related
I am the Barry Tomlinson mentioned. We lived in the former shop, next to the Kirkless Inn from the war until c. 1951. It was a former barge depot with shop, stables and was next.
My great grandfather (that is my mother's mother's father), William Bullen/Bullin was lock keeper at Top Lock from at least 1854 until his death in 1885. His wife, Ellen (nee West) who died in 1879 was also from a canal family and lived in Dover (nr Abram) before her marriage. The West family came from Yorkshire and appear to have gradually migrated along the route of the Leeds-Liverpool canal as it was being built. I expect they were 'navvies'. I'm not sure whether William was the first lock keeper, following the building of the canal, but he appears to have lived in the lock keeper's cottage for at least thirty years.
Comment by: julie .c. on 24th April 2017 at 18:31
the good old days,grew up in top lock,the picture of the top lock pub brings back memories,my mum,my grandparents my aunties and uncles and great grandparents were all toplockers,sadly no longer here,remember the shop run by the battles,i withington lane is where i lived with my mum and my grandparents.......remember pearl barlow very well,54 years on.times have changed there and not for the better sadly
Comment by: Keith Barlow on 11th February 2018 at 21:51
I grew up in Top Lock In when my Mum, Pearl Barlow ran it. She is now 82 years old, doing great and has a great outlook on life and loved the good old days of Top Lock. Thank you folks for your kind comments about her.
My relatives ran the Commercial Inn and lived on Withington Road. They attended Holy Family School and Church. They moved to Holly Road, Aspull. Family name - Gormally. Please share any memories.
Comment by: David Ode on 14th April 2019 at 09:20
My Granddad Peter Ode was lock keeper at top lock, I used to help him look after the locks in the summer holidays,
My dad was Tommy Ode, my mum and dad lived in one of the top lock houses I think it was No2 my elder brother Barry was born there, its been knocked down for many years
great memories of the old days
Did the lock keeper live at lock house? I have a postcard addressed to master Ivor Wellings Lock House Top Lock Wigan dated 29/7/1927 sent by Tom Hughes. Can't find anything out about the Welling family
Comment by: Sarah on 26th July 2020 at 20:26
Hi, I'm researching my family tree, & have discovered from the 1881 Census that my great great grandparents lived at 59 Leeds Street, Wigan. Occupations: Toolmaker & Mulliner / dressmaker & recorded as 'Staff'. Just wondering if anyone could shed any light on where they may have worked please? Does Leeds Street still exist? They resided in Wigan for around 10 years before moving to Oldham where they lived at 312 Middleton Road, & my great great grandfather is recorded as a furniture broker. They stayed in Oldham for a few years before returning to their home county of Worcestershire. Any information would be gratefully received.
Many thanks.