Photos of Wigan
Photos of Wigan
Album Contents
Album Contents
Wigan Album
North Ashton
12 Comments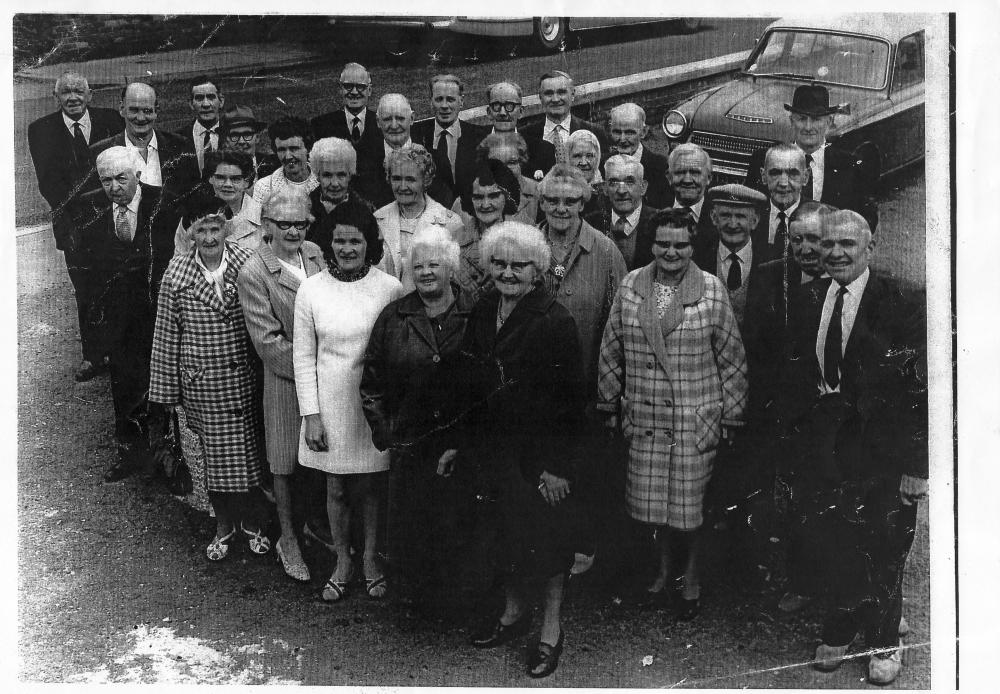 day trip from blue bell
Photo: janice ryder
Views: 3,672
Item #: 8408
A day trip from the blue bell north ashton probably to blackpool late 1960's all old downallgreeners. The lady front row 3rd from the left is Peggy Williams the landlady and the lady to her left is her mother-in -law Arthur's mum. The gentleman 2nd from the right with the bald head is Tom Fagan. Can anyone name anymore. Could the coachdriver have been Gerry Lewis.
Comment by: ged on 22nd December 2008 at 13:14
Far right front row Jack Prescott. £rd row far right Albert Partington.Second row second from right i think is Jimmy Fairclough.Back row far righr Fred Dillon,third from right back row Tommy Hilton
Comment by: janet on 22nd December 2008 at 15:00
Hi Gerard, No mistaking your Dad or Mr Prescott, I remember quite a few faces, mostly the ladies, but can't put names to them. Merry Christmas Gerard !!!
Comment by: Gerard Hilton on 22nd December 2008 at 18:45
Merry Christmas & a Happy New Year to you & family Janet,
Comment by: Gerard Hilton on 22nd December 2008 at 18:47
Janet, The lady second from the left is my Mother,
Comment by: janet on 22nd December 2008 at 20:53
So it is Gerard, I knew she looked familiar, it was the hair that confused me. I am coming over for a visit in May, maybe I'll see you around.
Happy New Year to you and yours..
Comment by: bert on 22nd December 2008 at 22:09
the gent with the trilby on is mr wright enids dad .the lady with the head scarf and the man at the side is mr and mrs parry out of elm ave.
Comment by: Kath Nicholson nee Roberts on 3rd January 2009 at 19:44
Hi Janet, what a great photo! I am fairly sure that the lady pictured 1st from left wearing check coat and dark hat is my friends' Diane and Denise Haselden's granny.
Comment by: Susan Atkins (nee Atherton) on 6th January 2009 at 20:47
Spot on there Kath I recognised their Gran straight away. Quite a few other familiar faces there too like Margaret Smiths Mum at the front at the side of Mrs. Williams xx
Gerard you should know the fellow in front of the bloke with the trilby on,you lived back to back to him.Albert Partington
Comment by: marilyn flecher on 27th July 2009 at 22:50
hi janice the gentleman with the grey hair on the left is my grandad master john cunliffe who lived in rectory rd
Hi janice, i do believe the coach driver on this occasion would have been tommy hilton, and the coach would have been unsworths of goose green.
Frank Tattum (My dad)is 2nd from left at the back with the bald head. Mary (Mum) is the last lady at the back on the left. They used to join all the Blue Bell trips and loved the days out. Arthur and Peggy Williams were great team as landlord and landlady. I always remember peggy taking orders in the snug and tap room at weekends with her little pinney full of change. My dad called it a brat