Photos of Wigan
Photos of Wigan
Album Contents
Album Contents
Wigan Album
Aspull
14 Comments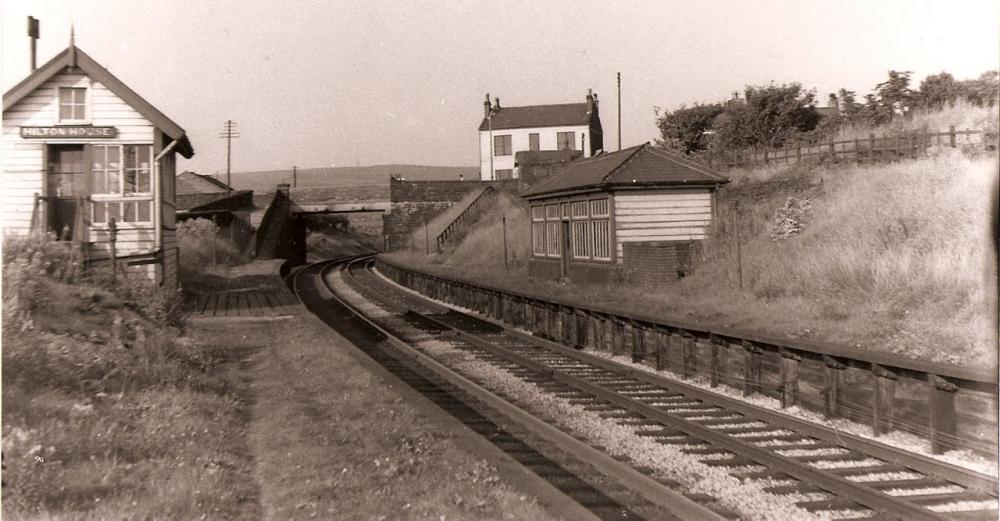 Hilton House Station, Aspull/Horwich 1960's
Photo: Steven Buckley
Views: 7,251
Item #: 8050
Hilton House Station was on the Dobbs Brow (Hindley) to Blackrod line which was used for trains avoiding Bolton. It shut in 1954 and the line closed in 1969. The station was located on the south side of the A6, virtually on the other side of the road from Georgian House. The A6 has been widened and the bridge removed - the cutting has since been filled in and no evidence remains whatsoever.
What brilliant pictures these are! Is the white building on this picture still there? I travel on the A6 regular>
Comment by: Steven Buckley on 22nd November 2008 at 23:24
Yes, it's next to Georgian House but right on the main road - you can't miss it. For years I thought it was the Station building, but it was originally a Pub/Hotel. It's now a private house.
Comment by: Kevin Higgins on 25th November 2008 at 20:29
Steven, if you look on Google maps and zoom in on the satellite view of Georgian House you can still see the route of the line to the North of the A6. There seems to be a farm occupation bridge still in use about 100m from M61. If you zoom out over the Southern section you can just about see the route through the discolouration of the vegetation.
I remember the line but not in any detail.
Comment by: Steven Buckley on 25th November 2008 at 21:17
Yes - it looks so different from above. I've walked the southern section down to Dicconson Lane and on the ground it's hard to pick anything out until you come to the beginnings of the embankment
Hi

These photos of the Hilton House line are great. I run a website about Blackriod Station and the surrounding routes, and have a page covering the Hilton House branch. Finding photos of that line is difficult and it would be nice to be able to use them on my website. Can I ask who I should approach to ask permission?

Regards,
Adrian Bradshaw
www.blackrod.org.uk
Both Hilton House and Dicconson Lane stations closed in 1954. The track can clearly be seen in excellent condition in this photograph as B.R. used the line as a Bolton avoiding route for fast expresses to Manchester well into the 1960s, especially the Windermere service.
Comment by: Philip Heyes on 13th June 2013 at 20:18
To clarify that the line through Hilton House opened in 1868 and was initially used by trains from Wigan to Chorley and Blackburn. The line left the Wigan to Bolton line at Crows Nest Junction. The link from Dobbs Brow Junction which enabled trains from Manchester to Chorley and Preston to avoid Bolton opened in the late 1880's. The Wigan - Chorley and Blackburn trains finished in 1960. Expresses continued to use Hilton House route until September 1968. Latterly, these included some Manchester - Glasgow services. I believe the evening Manchester - Windermere train used the Whelley Loop (Hindley to Standish Junction) to access the West Coast main line and Preston rather than the Hilton House route.
Comment by: Terry halsall on 14th December 2014 at 19:24
We moved from Ince to Aspull around 1968 and I never knew this line existed! What an amazing network of railway lines there was in those days , public transport at its best , no wonder the roads are so congested today.
Comment by: Stuart on 4th March 2015 at 13:06
I can clearly remember the Hilton House Station section of the cutting being filled in, I think it was during the summer of 1981.
I lived near there as a child. We often went trainspotting on the station and at the junction with the Blackpool line.You can see where the bridge used to be on Dicconson Lane and also Wigan Raod in Westhoughton near the stables.
Comment by: jeff hackett on 22nd February 2018 at 16:12
I was born at the white building 1940 which was aclub belonging to Lancashire electric power dad mother was stewerd stuardess till 1962
Comment by: Harry on 22nd March 2019 at 00:03
Were you on the S&T Jeff?..on the telecoms side?....if you were then it was you who traced & rectified a fault as you fixed my protowire signalbox telephone concentrator at Crow Nest Jct back in the 1990s........In fact it must be over 21-22 years since I last saw you whilst on nights at a resignalling job at Manchester Vic......
Comment by: jeff on 24th February 2020 at 15:01
yes it is me who was on the s,t 1955 till 2005 bolton and manchester
Comment by: A on 19th August 2020 at 22:22
Sadly Jeff passed away in June 2020 aged 80.