Photos of Wigan
Photos of Wigan
Album Contents
Album Contents
Wigan Album
Beech Hill
9 Comments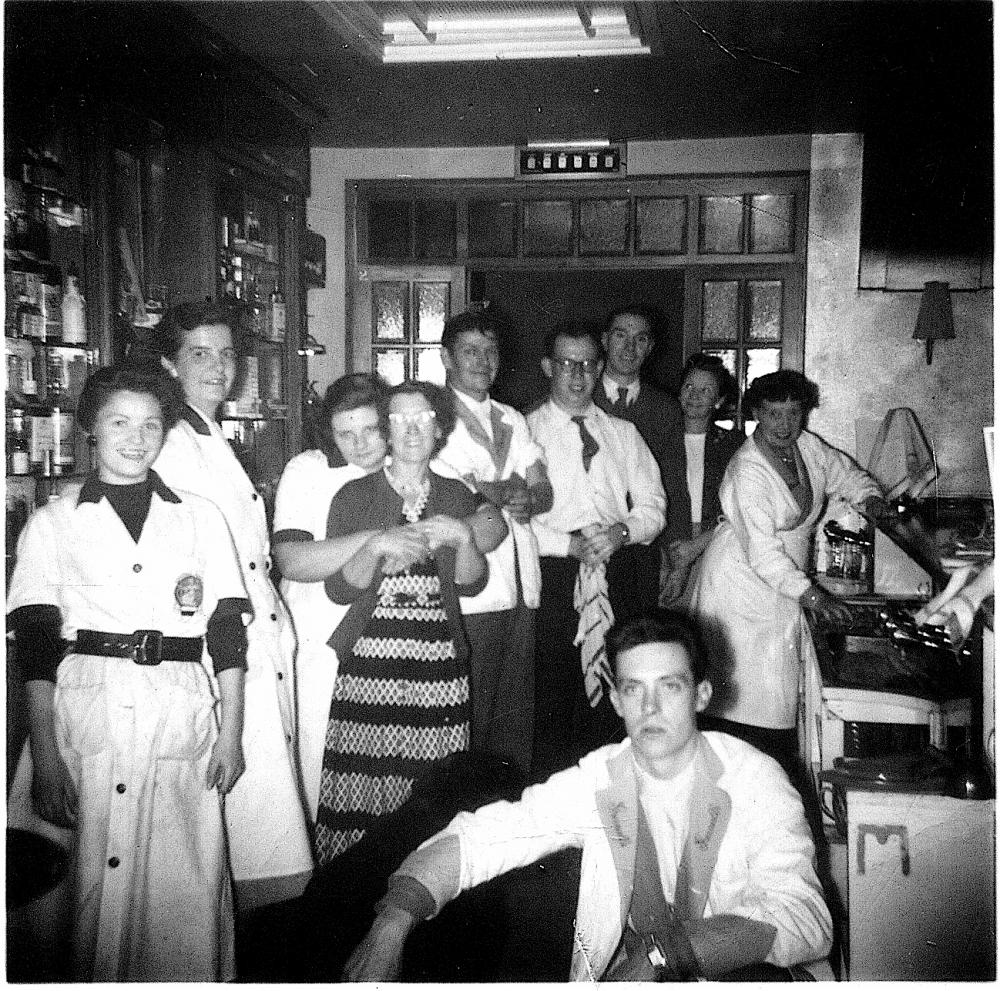 Wellfield Hotel, Beech Hill, bar staff in the early 1960's.
Photo: Keith Bowen
Views: 3,219
Item #: 7911
In reply to a previous comment by Danielle I believe your nan, Nora Mitchinson, is in this photo of the Wellfield Hotel bar staff taken in the early 1960's. She's third in from the left. Left to right, Josie (my aunt), Mrs Hatton, Nora, Molly and Cliff Makin, Robert Hastings, my parents Jack and Phyllis Bowen, Mrs Mason and at the front Jimmy Horsfall.
Comment by: Danielle Mitchinson on 23rd November 2008 at 20:30
Aww, Thanks for putting it on.. I'll have to show my mum!
Danielle, your Nan lived at 32 Wellfield Rd, next door to me at 34. She was always in our house with her sister Emily, they were very friendly with my mum May Taylor. I remember old Mrs. O'Leary their mum. Whats your mums name by the way?
Comment by: Danielle Mitchinson on 12th August 2009 at 10:43
Yeah my nan was lovely from what I can remember, my mum is Kath Mitchinson x
Comment by: Danielle on 14th August 2009 at 11:32
My mum said she remembers your mum and Dad and you an Julie, she was next to the youngest, the blonde girl, she thinks you might remember Jaqueline better though, the oldest who lived with my great grandma at the time
Comment by: Graham Taylor on 7th January 2010 at 14:10
Hi Danielle

I don't really remember your mum but I remember Jacqueline very well with her living with her nan like you say.

Regards

Graham
Comment by: Julie Harrison (nee Taylor) on 6th December 2010 at 00:38
Danielle, I remember your Mum Kathy. Your Nan used to live in Comet Road, Marsh Green. I used to go there with Jacqueline a lot
Comment by: Sheila Morris (O`leary) on 23rd December 2012 at 20:19
I also lived on Welfield rd with my sister Kathleen, my Mum and dad were Mary and Alan O`leary, Nora Mitchinson is my Aunty as was Emily. Kathleen is my cousin not seen her for years, I now live on the isle of Wight. Graham, Barry, Philip and Julie were some of my best friends. I am up north for Christmas and reminiscing with my sister Joy. Hope you are all doing ok
I would like to meet up with Nora sister of The late Frank Daley if anyone can pass this on to her I would be grateful
I would like to meet up with Nora sister of The late Frank Daley if anyone can pass this on to her I would be grateful