Photos of Wigan
Photos of Wigan
Album Contents
Album Contents
Wigan Album
Beech Hill
11 Comments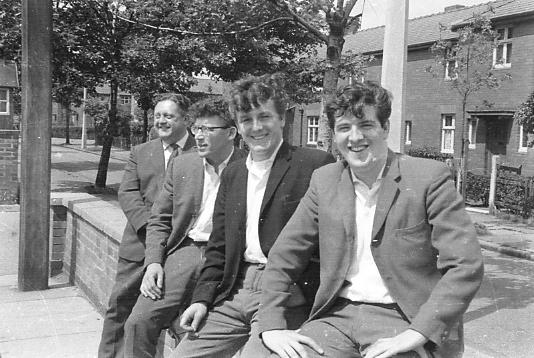 Four Wellfield Hotel Regulars, early 1960's
Photo: Keith Bowen
Views: 3,716
Item #: 7888
Wellfield Hotel clientele in the early 1960's photographed on a Sunday afternoon just after closing time.
Left to right, Gerry Kenyon, Dennis Clarke, __ Gallagher?, Barry O'Brien
Comment by: k charnock on 4th November 2008 at 19:18
eddie is the name you are missing
Eddie Gallagher, of course. It's so easy once you've been reminded, many thanks.
Comment by: bloo on 4th November 2008 at 22:39
We dressed well those days, imagine 4 lads now sittin on that wall sunday afternoon after closin, no dont, dont blame you, we were no angels but we dressed well.
Comment by: b.o,brien on 20th January 2009 at 20:24
sadly den & gerry no longer with us.me & eddie still going strong.
Comment by: Keith Bowen on 21st January 2009 at 18:34
Hi Barry, sorry to hear about Dennis and Gerry. Myself and my father, Jack Bowen send you and Eddie our best wishes.
Comment by: barrie o'brien on 23rd January 2009 at 19:16
great to hear from you keith,amazed that jack is still snookering his rivals at 93.we should arrange a reminiscent pint.maybe keith charnock could pop along!
Comment by: Keith Bowen on 26th January 2009 at 23:48
Hi Barrie, a great idea, unfortunately since the start of last November dad has been unwell otherwise he'd have been more than ready for a get together, I live near Wolverhampton, retired after 40 years of teaching. Dad still has great memories from those Wellfield days.
Comment by: b.o'brien on 28th January 2009 at 11:09
sorry to hear about Jack,Keith. just like to say thanks for posting these memories.
Comment by: Keith Bowen on 29th January 2009 at 18:24
Thank you for your comments Barrie, I've thoroughly enjoyed placing them on the Wigan World site, just sorry to hear that some are no longer around to share them.
id be glad to have a pint just name the day
Comment by: b.o'brien on 6th February 2009 at 11:36
Keith,just name the pub,day&hour and i'll be there!